XCMG targets global high-end segment
Share - WeChat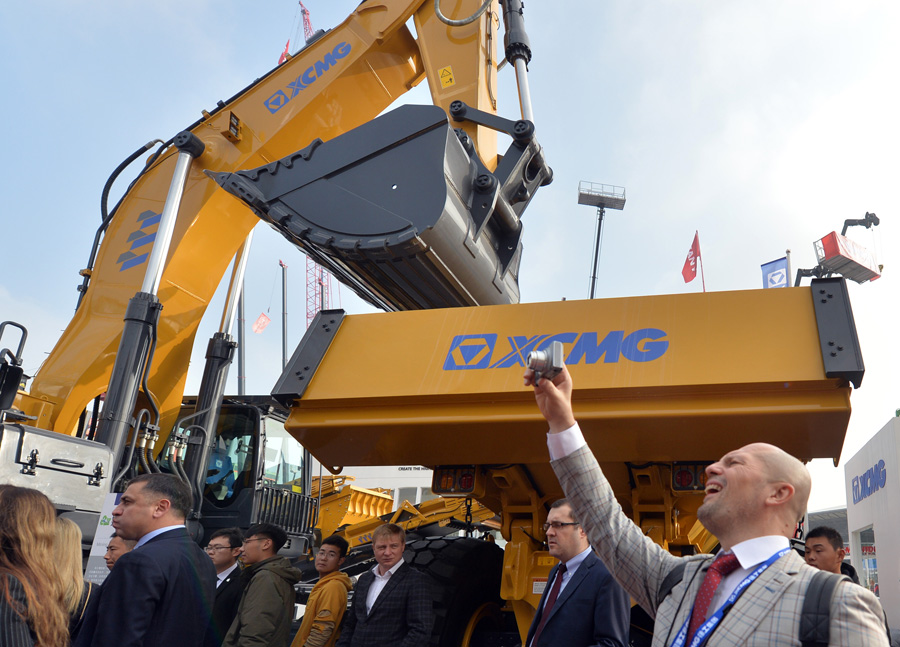 Construction machinery maker rides reform and opening-up wave to chase big goals
Xuzhou Construction Machinery Group has benefited hugely from China's reform and opening-up, its executives said.
From a company with annual revenue of about 300 million yuan ($43.4 million) in 1989, XCMG has evolved into China's leading machinery giant with a revenue of around 100 billion yuan in 2017.
"Overseas markets and the high-end market are the key to the future development of China's construction machinery manufacturing. A brand having competitiveness in the global high-end market will be seen as a world-class company," said Wang Min, chairman of XCMG.
For years, XCMG has been exploring overseas markets through exports, plants abroad, cross-border mergers and acquisitions, global research and development, as well as building a global talent team.
In 1990, XCMG exported for the first time. The order was for 100 road rollers to the United States. Since then, XCMG's exports gradually expanded from sale by distributors to a more diversified business model, including cooperation with foreign leasing companies. It has also built its own overseas marketing and sales team.
"XCMG has set up a global R&D system targeting state-of-the-art construction machinery manufacturing with five bases in China, the United States, Germany, Brazil and India," said Wang.
After 2010, the group's globalization accelerated. It set up manufacturing bases in Brazil, Germany, India, the US, Uzbekistan, Poland, and Kazakhstan.
"Consistent reform and innovation has helped XCMG to grow from a company with less than $10 million in overseas revenue to an industrial export leader with more than $2.3 billion yuan in overseas revenue a year," said Wang.
The Xuzhou, Jiangsu province-headquartered XCMG has formed a complete service and management system that covers the whole product life cycle. Its 30 overseas subsidiaries, 40 overseas offices, and more than 300 foreign distributors cover 182 nations and regions.
According to Wang, $1.05 billion worth of XCMG-branded products were exported in 2017, up 87 percent year-on-year. The growth is nearly seven times that of the second-largest Chinese construction machinery exporter. Its international income now contributes 35 percent of the group's revenue.
Between 2012 and 2016, the Chinese construction machinery manufacturing sector was confronted with a recession as market demand slipped more than two-thirds. Many industrial enterprises had to undergo restructuring or make adjustments.
"Challenges and competition can only make strong companies stronger," Wang said. XCMG converted the slump into an opportunity to review its weaknesses and come up with corresponding solutions.
By shifting its products to the high-end segment, the group is becoming stronger, he said.
On the back of a recovery in the construction machinery manufacturing sector in 2017, China's top 25 machinery manufacturers reported a growth of 99.5 percent in sales of excavators, totaling 140,303 units. XCMG saw its 2017 profit surge 350 percent from 2016.
The market maintains its upward momentum. The group posted almost 92 billion yuan in sales revenue from January to October this year, with profit surging 76 percent year-on-year.
According to KHL Group's rankings of the world's Top 50 construction machinery manufacturers earlier this year, XCMG ranks No 6, up two places from last year.
The group has held its top position among China's construction machinery manufacturers for 29 consecutive years.
With Chinese leadership advancing the opening-up policy to a higher level, XCMG is eyeing even greater achievements.
One of Wang's ambitions is to make XCMG the world's fifth-largest construction machinery manufacturer in 2020, and one of the top three by 2025.
In order to achieve such goals, XCMG will stick to reform and innovation, he said, adding that the group allocates about 5 percent of its sales revenue to research and development even during downswings.