Targeted financial products a blessing for newlyweds
Share - WeChat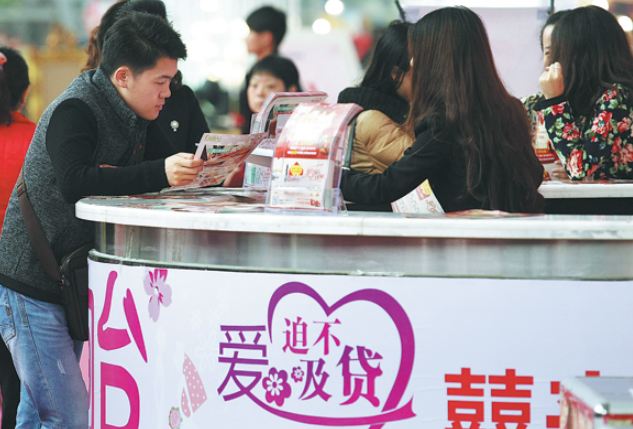 For low and middle-income young couples in China, getting married can cost a considerable sum of money, and so "wedding loans" can be a blessing for them.
The financial products, initially issued by banks and later by e-commerce platforms, offer repayments in installments for couples who plan to get married.
Cao Qiang, chief risk control officer at Gome Finance, said statistics from the past two years show there were on average more than 10 million couples getting married in China every year.
"With all costs included, such as marriage home decoration, home appliances, a wedding car, the wedding ceremony and the honeymoon, the average spending for a new couple is roughly 100,000 yuan ($14,380)," Cao said.
"Multiplied by the 10-million-couple consumption group, this is a trillion yuan market," he said.
As early as 2014, the Shandong branch of China Construction Bank launched a wedding payment installment service tied to its Long Credit Card for newlyweds in Shandong province.
The service looks to consolidate all the wedding costs into one lump sum, which can be paid off in multiple installments. Discounts with selected retailers are also offered.
Later, the Agricultural Bank of China joined hands with online wedding service provider bxhq.com to issue a special credit card for weddings.
In such structures, the banks are responsible for risk control and lending the money, while the wedding service platforms establish the connection with customers, according to market insiders.
With the e-commerce market booming, many e-commerce platforms have also got involved. In June 2016, online wedding service platform jj365.com.cn partnered with China Construction Bank to launch a wedding loan product. The limit is as high as 300,000 yuan, and repayments can be made in up to 36 installments.
Next followed JD Finance, which worked with online wedding service provider Hunliji.com, to offer wedding repayments by installments. When conducting wedding-related purchases, couples could use JD Baitiao, which offered credit of up to 50,000 yuan. The couples could repay in up to six installments.
However, the product is no longer available. Indeed, many market participants' optimism is cooling. Many players who had entered the market developed slowly, or have already closed. For example, jj365.com.cn now only operates in Shanghai.
The reason is that wedding resources are widely dispersed, as numerous businesses are related to wedding services, industry insiders said.
"The one-stop wedding loan service requires resource integration from all directions," Cao said.
With numerous intermediaries involved in wedding scenarios, the related risks also go up, he said.
"Using archived wedding video clips, wedding companies can fraudulently apply for loans. Jewelry and wedding dress companies can also falsify transaction records to launder cash," Cao said.
However, some players remain confident. You Haike, co-founder of online wedding service provider Hunlimao.com, said the wedding installment repayment market could grow as big as the financing market for cosmetic surgery.
"Limited by the low penetration rates among wedding service platforms and user habits, it is unlikely that the market boom will occur in the short term," You said.
"If leading internet service platforms can adjust their processes and conduct risk control, the market can yield high value," he said.
Xu Liaoyuan, chief operating officer of 91fd.com, a fintech company operating in the wedding industry, agreed.
"The market for wedding payment installments is not only big, but safe as well. The clients that we serve are from young families, which are of high (credit) quality," Xu said. "In addition, the customer profile is clear."