BRICS members urged to help maintain world economic stability
Share - WeChat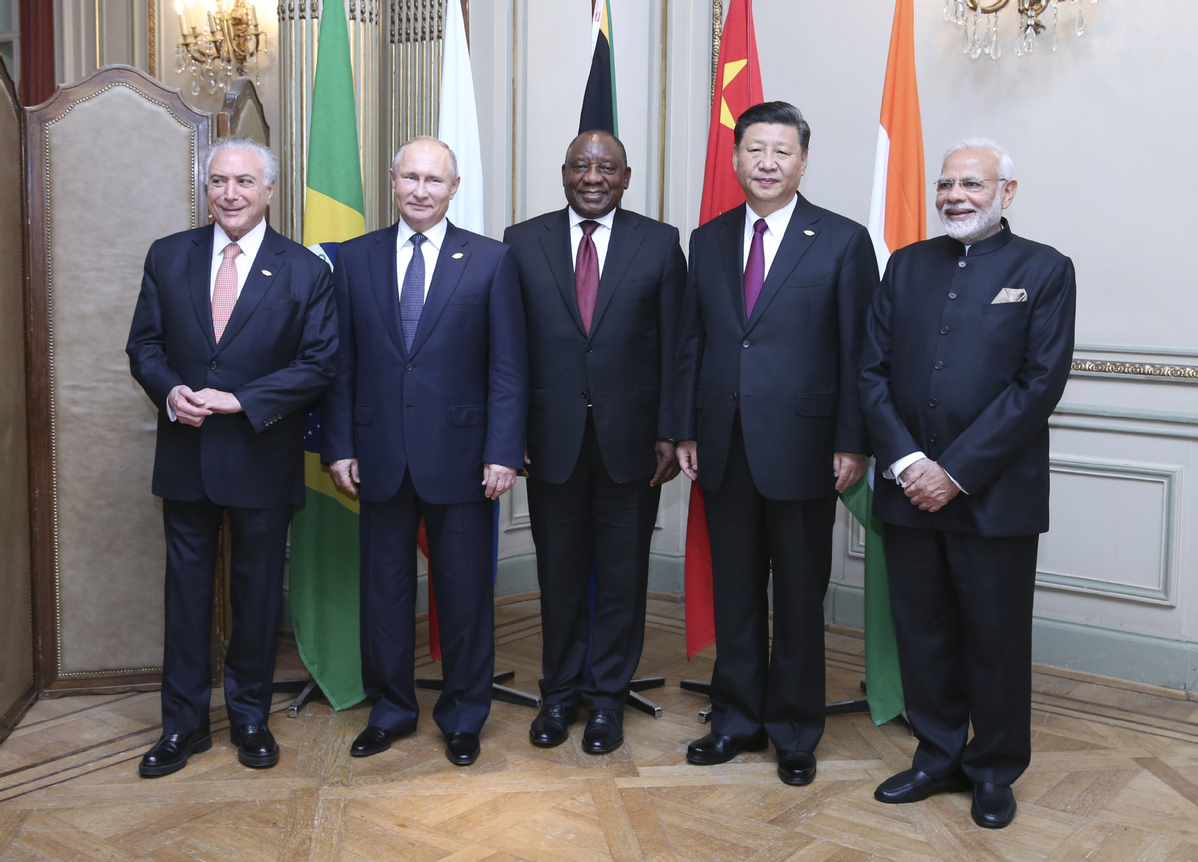 President Xi Jinping called on BRICS countries on Friday to make joint efforts to maintain the stability and prosperity of the global economy at a time when the multilateral trading system faces challenges.
He made the remarks while attending an informal meeting with Brazilian President Michel Temer, Russian President Vladimir Putin, Indian Prime Minister Narendra Modi and South African President Cyril Ramaphosa in Buenos Aires on the sidelines of the G20 Leaders' Summit.
The leaders of the five countries reached numerous agreements after exchanging in-depth views on the global economic situation and cooperation between BRICS members.
Xi said the risks facing the global economy are rising and the multilateral trading system is being affected, which goes against the common interests of the international community.
He called for joint efforts by BRICS members to strengthen unity, enhance communication and coordination, shoulder their responsibilities and promote global governance to develop in the right direction.
BRICS countries should firmly uphold multilateralism, enhance coordination under the frameworks of the G20, the United Nations and the World Trade Organization, jointly safeguard international order based on multilateralism and oppose protectionism and unilateralism, Xi said.
These countries should be dedicated to improving global economic governance, he said, adding that the WTO should be reformed in the right direction.
The core values and basic principles of the WTO should not be discarded, and the special treatment enjoyed by developing countries must be guaranteed, Xi said.
He urged that reform of the international monetary and finance system should be pushed continuously, and that representation of emerging markets and developing countries should be further improved.
Xi proposed that BRICS members take a leading role in promoting emerging markets and developing countries to make development a top priority.
They should also push the developed countries to fulfill their commitment to development aid and provide capital, technology and capacity-building support for developing nations, Xi said.
BRICS countries should enhance pragmatic cooperation, jointly cultivate new driving forces for economic growth and release the potential of BRICS Plus to make other emerging markets and developing countries benefit from BRICS cooperation, Xi said.
BRICS Plus refers to a diplomatic way of inviting non-BRICS countries to a BRICS summit.
Noting that all BRICS nations are important members of G20, Xi said the five countries should work together to support this G20 summit, achieve positive outcomes that are responsible for the world and its peoples, and send a strong voice of enhancing global cooperation and promoting mutual benefits.
The other BRICS leaders said at the meeting that global politics, economy and trade are facing grave challenges, and the trend of unilateralism and protectionism is worrying.
The leaders agreed that the BRICS countries should improve unity and strengthen cooperation in areas such as trade, energy, technology, finance, people-to-people exchanges and health.
Today's Top News
Editor's picks
Most Viewed