Jilin opens its doors wide to winter sports season
Share - WeChat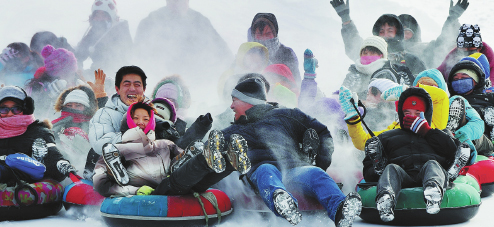 Dynamic northeastern province is on the rise as China's hottest ski destination
After heavy overnight snowfall in Jilin earlier this month, many ski resorts in the northeastern province, including Beidahu and Changbai Mountain, announced they were opened for business on Nov 11, with diverse activities and celebrations prepared for this year's winter season, which lasts from November to next March.
The province's low temperatures are perfect for outdoor winter sports, giving local resorts significant appeal to large numbers of tourists, both domestic and foreign.
Vanke Songhua Lake Resort, for example, is expected to attract 450,000 visitors during this winter season. During the 2017-18 winter season, the resort received 340,000 tourists and skiing enthusiasts from across the world.
Statistics from the Jilin Department of Culture and Tourism showed that the province received nearly 62 million tourists between November 2016 and March 2017. Tourism revenue during the period hit 116 billion yuan ($16.72 billion), a surge of 27.12 percent year-on-year.
Jilin has long been a strong player in China's winter sports scene, due to its high-quality facilities and rich snow and ice resources.
The province has some of the country's most beautiful snowflakes and the kind of light powder snow that skiing fans love best of all. It also boasts the largest skiing resort in China and the best courses for competitive skiing, said Yang Andi, head of the department.
Beishan Mountain Ski Resort, for example, is the first cross-country ski resort that can be used in all four seasons in Asia. In the world, only three other countries-Finland, Sweden and Germany-have such four-season cross-country ski resorts.
The Jilin resort, whose construction started in September last year, now serves as an important training center for China's national-level winter sports athletes. Supporting facilities for the athletes, such as apartments, a gym and a rehabilitation and physiotherapy center, will also be constructed near the Beishan Railway Station.