Spanish tourist sites increasingly attractive
Share - WeChat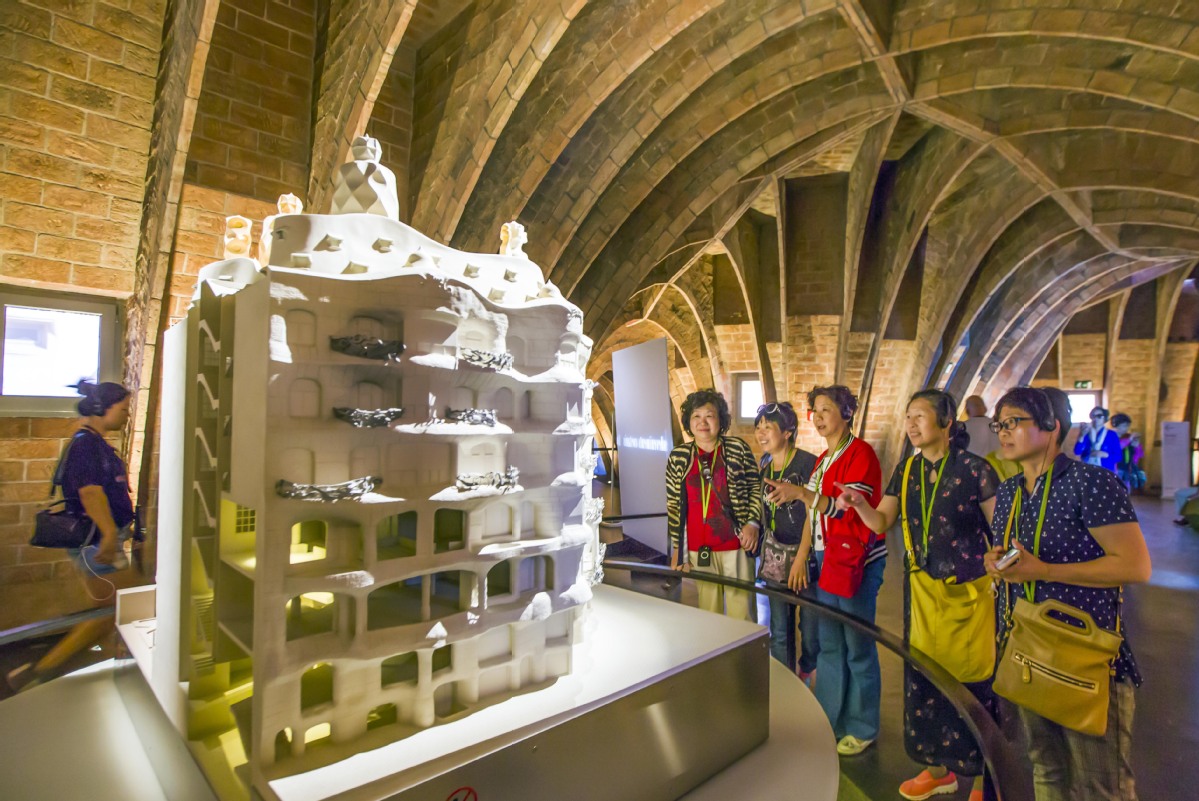 Spain is taking advantage of a rapid growth in Chinese arrivals as travelers from China become more sophisticated and independent, seeking out new experiences in European destinations.
Last year, Spain saw a record number of 514,000 Chinese tourists visit the country, a surge of more than 290 percent compared with five years earlier, according to the China Outbound Tourism Research Institute, which has branches in Beijing and Hamburg, Germany.
Average per capita expenditure last year by Chinese visitors stood at 946 euros ($1,067), making them the biggest spenders among all nationalities, according to the institute.
Christopher Ledsham, chief communication officer at the institute, said the geographic location of Spain meant earlier waves of Chinese visitors to Europe often overlooked the Iberian nation in favor of relatively closer destinations such as Germany, Italy, France, Belgium, the Netherlands and Switzerland.
"Thanks to Spain's relative isolation, today it is benefiting from the perception of being a trendy destination among typically more experienced travelers seeking out places to visit in which they can live out more novel experiences less known by other Chinese tourists," he added.
Ledsham said this is further supported by the fact that 67 percent of Chinese visitors to Spain traveled as free independent travelers in 2017, putting it ahead of France (56 percent), Italy (51 percent) and Germany (42 percent).
Spain was the second-most popular tourist destination worldwide after France last year, according to the World Travel and Tourism Council.
The United Nations World Tourism Organization estimates the number of Chinese visitors to Spain will rise to about 1 million by 2020.
Lyu Fan, China's ambassador to Spain, said the growth of Chinese visitors to Spain in recent years has been fueled by the opening of 12 new Spanish visa centers in China as well as seven direct air routes linking Chinese and Spanish cities.
Travel industry experts said there has been an obvious shift in focus among Chinese travelers, with an increasing number looking for more unique and authentic experiences, and this factor represents an immense potential for countries such as Spain.
To take advantage of this growing trend, it is necessary to offer "immersive experiences that combine culture, leisure and gastronomy, aligned with the expectations of the traveler, to increase loyalty to the destination," said Juan Carlos Ruiz, marketing director of Comar Group, a Spain-based tourism and leisure company.
Liang Xiao, a 28-year-old teacher from Changsha, Hunan province, spent her nine-day annual leave in Spain with friends in November.
"My friends and I stayed at a bed-and-breakfast in Barcelona where the host cooked delicious paella. It was really good to experience the lives of Spaniards," she said.
Rafael Dezcallar, Spain's ambassador to China, said that tourism matters a lot to the Iberian nation, and the embassy is working to facilitate more convenient visa application procedures for Chinese travelers.