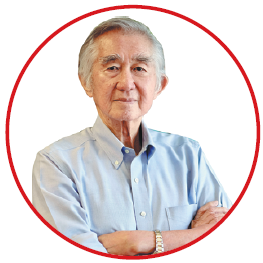 Liu Thai Ker
Urban planning adviser
BORN:

Singapore, Feb 23, 1938

EDUCATION:

1962: Bachelor of architecture, University of New South Wales

1965: Master's in city planning, Yale University

1995: Doctor of science (honorary), University of New South Wales

CAREER:

1969-89: Chief architect and CEO, Housing and Development Board of Singapore

1989-92: Chief planner and CEO, Urban Redevelopment Authority of Singapore

1996-2005: Chairman, National Arts Council of Singapore

2000-09: Chairman, Singapore Tyler Print Institute

1992-2017: Senior director, RSP Architects Planners and Engineers

2008-present: Founding chairman, advisory board of the Centre for Livable Cities

2017-present: Chairman, Morrow Architects& Planners

AWARDS:

2001: Medal of the City of Paris, France

2014: Business China Excellence Award

2015: Singapore Institute of Planners' Distinguished Lifetime Achievement Award

MAJOR PROJECTS IN CHINA:

1997: Fuzhou Changle International Airport, Fujian province, 120,000 square meters

2002: Huafa Xincheng, Zhuhai, Guangdong province, 450,000 sq m

2011: Weifang Cultural Center, Shandong province, 294,000 sq m

2011: Guilin Watermark Lijiang Residential Development, Guangxi Zhuang autonomous region, 116,000 sq m

AWARDS FROM CHINESE AUTHORITIES:

2011: China Construction Engineering Luban Award for Weifang Workers' Hall and Youth Hall

2015: Jinan Wenbo CBD Planning Award

2016: Weifang Planning Award
The man who helped design China's urban landscape
Since meeting with Deng Xiaoping in 1978, Singaporean has helped plan nearly 50 cities nationwide
Low Shi Ping in Singapore
Architectural history
A more recent project is one in Xi'an that was approved in 2016. It is a master plan for a new central business district that will connect the capital of northwestern China's Shaanxi province with Xianyang, a neighboring historic city to the west.
Integral to the plan is a line linking the central business district to a site dating back to the Northern Zhou Dynasty (557-581).
Rather than ignore such an ancient site, Liu included a pedestrian walkway along the line that will be paved with contemporary buildings designed in architectural styles progressing from the Northern Zhou Dynasty to the Qing Dynasty (1644-1911).
"When you walk along this line, you walk through China's architectural history," he said.
Liu has planned close to 50 cities in China over almost 35 years. More are in the pipeline, in places such as Qingdao, Yantai and Jinan, all in Shandong province.
Two years ago, he was appointed chief planning adviser to Yunnan province and has been busy working on plans for greater Kunming, Shangri-la and Dali.
He said urbanization in China has become more sophisticated, thanks in part to the Chinese people and their extensive travels. This has inevitably affected the way Liu designs master plans for his Chinese clients.
"I have to provide a greater range of urban facilities to satisfy their needs," he said "For example, I have to show them more clearly the education plan, such as the location of the universities.
"In the past two to three years, President Xi Jinping has been emphasizing more than before about the importance of the protection of ecological areas. They are also more specific about what they want to use the space in the cities for."
Even as he works, Liu is conscientious about imparting his knowledge of urban planning to Chinese planners. He often uses the analogy of cooking, saying there are three things required to design a good city.
The first is good raw materials. Most cities in China have outstanding ones by way of historic buildings and gifts endowed by Mother Nature.
Second, the recipe must be well-written. Chinese urban planning needs help in this area, which is why he goes there to help them "write the recipe".
Third, good cooking skills are important. This means the implementation of the plan has to be strictly enforced.
"I describe the Singapore urban planning experience used by me as being updated, Asianized, Western planning theory," he said. "While the concept of urban planning originated from the West, it cannot be used wholesale in Asia, since 60 percent of the world's population lives on 30 percent of the world's land area - making it high-density. The demands on urban planning are more complex than before. For example, there are challenges like industrialization, pollution and traffic.
"This approach is not well understood in the West and China, therefore I feel they have not quite reached the level of understanding we take for granted in Singapore."
Still, Liu said he feels other Asian countries have plenty to learn from China.
"In the context of urban planning, China has four strengths," he said. "It has a strong government so if you have a good idea, it will be implemented. It has total ownership of land. If you want to develop, the most important capital of development is the land. China is economically well off. Whenever there is the need for infrastructure investment, they can afford to do so.
"Finally, there has been a large amount of urbanization in the past four decades. The planners in China are more experienced and sophisticated than in many other places, which have not gone through the same process."
Liu often tells his Chinese clients that China, in the near future, will be the best country in the world in terms of its military, economics, culture and science. To complete the list, they must create good cities. "That part is their biggest challenge," he said.
For China Daily