Hail the blackstocrats
Share - WeChat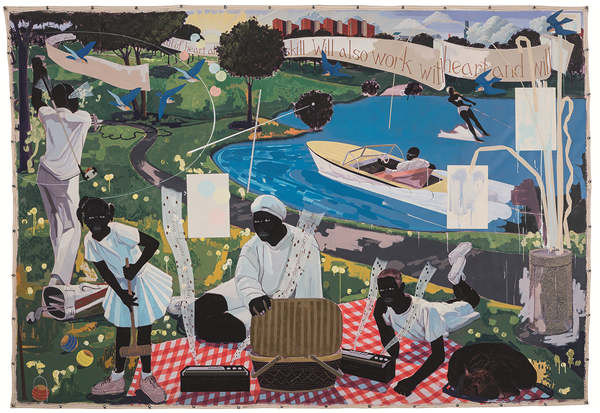 It's art, but not as the hierarchy knows it - and all the better for black creators on the rise
Unless you've been sleeping under a rock of late, you might have noticed there's been a meteoric rise of black influence on the global commercial art world - and it's only getting faster and further-reaching.
Last year's Soul of a Nation: Art in the Age of Black Power at Tate Britain shined a light on the vital contribution of black artists to a dramatic period in American art and history, opening with 1963 at the height of the civil rights movement and its dreams of integration. In its wake emerged more militant calls for black power: a rallying cry for American pride, autonomy and solidarity, drawing inspiration from newly independent African nations.
It was a landmark show, but more retrospective than futuristic. It's no small irony, and one little promoted, that of all American artists, the highest price paid for any was not Warhol, but his black protégé, Jean-Michel Basquiat, whose Untitled (1982), a painting of a skull, sold for $110.5 million to 42-year-old Japanese collector Yusaka Maezawa in 2017.
Contrast this with contemporary Britain, where black work is art's new mantra. Afrofuturism, Afropolitan and even Afrotrash work is entering the galleries, the language and the lexicon as writers like Zadie Smith pen pieces for Vogue about the new cultural trope.
Then there's curator and writer Bolanle Tajudeen, who runs Black Blossoms, a collective celebrating and giving a platform to the work of young black hipster artists, with its exhibitions since 2015 including Dionne Ward, Sarina Mantle, Camilla Daniels, Sharon Foster and Dorcas Magbadelo. Unfortunately, Tajudeen's storage cupboard was raided in March this year; 20 pieces of work in preparation for an upcoming exhibition were stolen.
Undeterred, she and Tate Britain put black art at the forefront again this year, starting from October with Art in the Age of Black Girl Magic, a course investigating the paucity of black women in the art world. With good reason, too - forecasters in 2016 said African art's value had risen by 200 percent since 2012. While the current art culture doesn't want to label "Chinese artists" or "Korean artists", so too is the case with "black artists", except that their very blackness has often rendered them invisible in art's ivory-towered world.