Chinese spirits makers toast another vintage year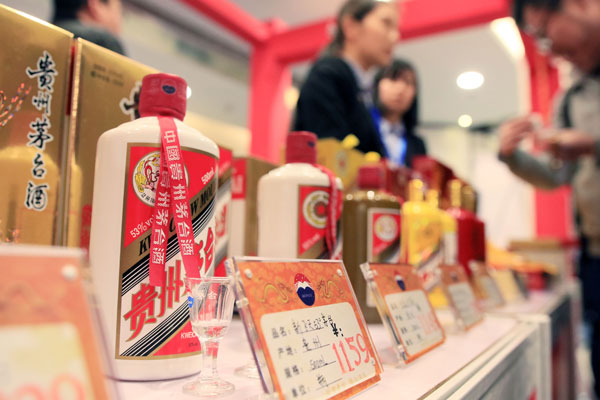 Baijiu, the distinctive type of alcoholic Chinese drink, is leading the world in terms of brand value among spirit drinks, with high-end baijiu maker Moutai successfully defending its number one position in a new report about the sector.
The 2018 World's Top 50 Spirits ranking, released by the London-based consultancy Brand Finance, shows the top three spirits brands in terms of value are Chinese baijiu makers: Moutai, Wuliangye, and Yanghe.
Moutai increased its value by 73 percent, to $21.2 billion (16.56 billion pounds). Second-ranked Wuliangye was also the fastest-growing brand in the ranking, up a whopping 161 percent year-on-year, to $14.6 billion.
Because of its popularity among customers across the country, Wuliangye has been dubbed the 'magic liquor of China'.
A testament to its prominence, Wuliangye will shortly follow Moutaiin becoming only the second commercial brand worldwide to have an airport named after it, when Yibin Wuliangye Airport joins Zunyi Maotai Airport later this year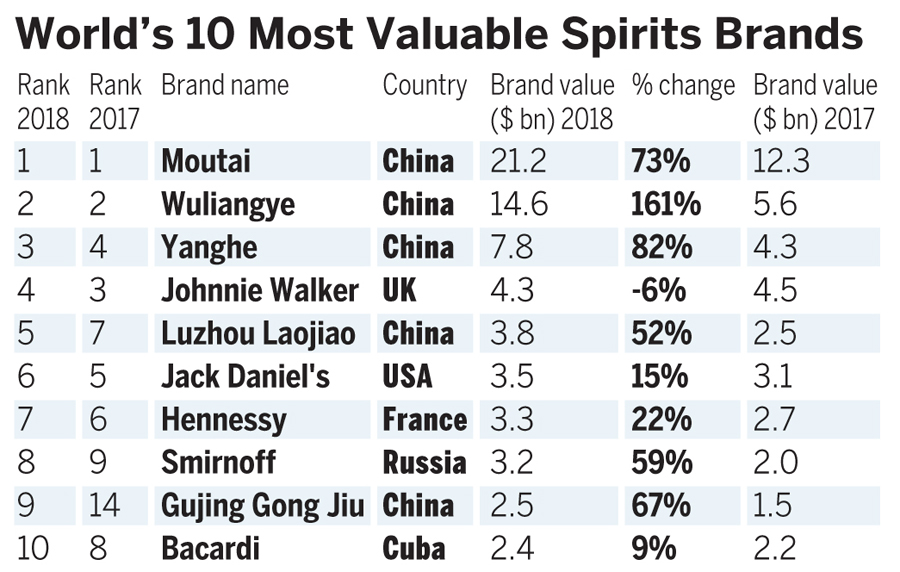 Baijiu brand Yanghe, up 82 percent to $7.8 billion, leaped into third place in the listing, ahead of Johnnie Walker, which was down 6 percent in value to $4.3 billion.
Baijiu, which is usually distilled from sorghum and rice, contains 40 percent to 60 percent alcohol by volume. With more than 5,000 years of history, it is a mainstay of special occasions in China and popular at Spring Festival dinners, weddings, and business banquets.
David Haigh, CEO of Brand Finance, said: "The big three Chinese baijiu brands have taken the podium because of the extraordinary celebratory culture that the Chinese customers hold for their products. These are brands that have remarkable value based upon centuries of tradition. It will now be interesting to see whether they will translate this success across China to global markets as they make their first steps in Europe, the United States, Canada, and further afield."
While Moutai, Wuliangye, and Yanghe filled the top three positions in the listing, two other Chinese brands made the top 10: Luzhou Laojiao (up 52 percent to $3.8 billion) and Gujing Gong Jiu (up 67 percent to $2.5 billion).
With an aggregate value of $49.9 billion, Chinese spirits accounted for 54 percent of the total brand value in the league table.
Although 12 United Kingdom brands were included in the top-50 ranking, compared to China's five, the combined value of the British brands, at $10.4 billion, was around one-fifth of the value of the Chinese brands.