Wuzhen shows glimpse of a digital future
Share - WeChat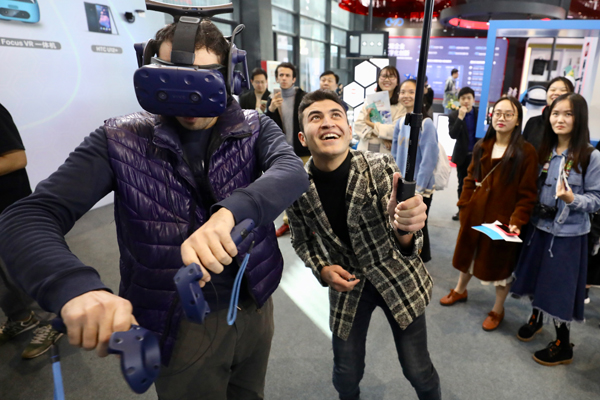 Host town for annual gathering symbol of China's rapid advances in internet industry
HANGZHOU-As the World Internet Conference wraps up its fifth year in the river town of Wuzhen, East China's Zhejiang province, technology once seen as far-fetched flights of fancy are trickling out into peoples' everyday lives and fueling China's nascent digital boom.
Held from Nov 7 to 9 in Wuzhen, this year's conference aimed to advocate exchanges, mutual learning, cooperation and sharing in the digital fields, and to push for peace and development in global cyberspace.
"As we can feel in Wuzhen, China's digitalization is speeding up and the town is becoming more and more international," Pony Ma, chairman and CEO of Tencent Group, told participants at the conference's opening ceremony on Wednesday.
"It's fair to say that Wuzhen has become an epitome of China's booming internet industry," said Ma.
About 1,500 guests from 76 countries and regions, including government representatives, heads of international organizations, leading figures of internet companies, online celebrities, experts and scholars, attended the conference.
Changing lives
"To many, retired elderly people are supposed to sit quietly while reminiscing about their old days, but the internet has changed everything," said Wuzhen resident Hu Hui.
By sharing dressing tips, square dance classes and performing Shaoxing Opera with fans, the 80-year-old senior citizen has gained about 10,000 views on the Chinese video-sharing app Douyin.
Many of her neighbors are also enjoying a youthful lifestyle-shopping online, paying with smartphones and sharing their daily life on live streaming platforms.
As are conference attendees. Face-scanning technology has replaced the gate pass. While guests can check-in at the Binzhi AI Hotel by only swiping their ID card and scanning their face.
In this digital town, some of the latest technological innovations, once viewed as the stuff of science fiction, are becoming reality.
At the Light of Internet Expo held during the WIC, a model demonstrated how grocery stores can operate without cashiers. Cameras, powered by visual identification technology by ArcSoft Inc, identify fruit chosen by customers, allowing them to grab goods and checkout on their own.
Visionox Co demonstrated a foldable smartphone with two 7.2-inch flexible screens that can be flipped open like a book, or folded to fit into a pocket.
Chinese tech giant Baidu Inc also showcased its newly developed self-driving bus named Apolong at the expo.
With no need for a human driver, the bus is able to smoothly navigate roads, while avoiding pedestrians and other vehicles.
The inside of the vehicle resembles an entertainment room where passengers can watch movies, sing karaoke and enjoy a carefree ride.
The bus began mass production in July and has been put into operation in semi-en-closed and enclosed areas, such as scenic areas and industrial parks, in Beijing, Xiamen in Fujian province and other Chinese cities.
"I see tens of thousands of self-driving vehicles running on connected roads in the future," said Zhang Yaqin, president of Baidu. "This will bring fundamental changes to the relationship between men, vehicles and cities."
Looking to connect them all is the world's largest telecommunications equipment manufacturer Huawei Technologies Co Ltd, which used Wuzhen to demonstrate its latest 5G technology.
Digital boom
The conference also brought news of the sizeable boom China's digital economy is going through, with the release of the World Internet Development Report 2018 and China Internet Development Report 2018 on Thursday morning.
In 2017, the size of China's digital economy grew to 27.2 trillion yuan ($3.9 trillion), accounting for 32.9 percent of the nation's GDP, up 2.6 percentage points on the previous year.
In all, the booming digital economy contributed about 55 percent to the country's GDP growth in 2017.
As of December 2017, China has a total of 102 listed internet enterprises at home and abroad, up 12 percent year-on-year.
As of June, the number of China's netizens reached 802 million, among which 788 million are mobile phone users.
The reports also found that the volume of information consumption more than doubled, from 2.2 trillion yuan in 2013 to 4.5 trillion yuan in 2017, with year-on-year growth of 20 percent.
"In the last five years, we've seen China move into the heart of the digital economy, not just in numbers, but also with innovation," said Fadi Chehade, senior consultant to the executive chairman of the World Economic Forum.
The conference on Wednesday unveiled the top 15 latest global scientific and technological achievements, selected by a committee of 40 Chinese and foreign experts from about 400 entries.
Among them are WeChat mini-programs from Tencent Group, an artificial intelligence processor from Huawei, the intelligent cybersecurity protection system from the 360 Group, and an AI open platform for smart homes from Xiaomi.
"Digital economy means an open economy. It has no future without opening-up. China views the digital economy as a common opportunity for global development," said Zhuang Rongwen, director of the Cyberspace Administration of China and deputy director of the State Council Information Office.
"We are willing to deepen cooperation with other countries to further promote the digital economy, and achieve greater development through cross-border e-commerce and open markets," Zhuang said.