An opportunity for expansion
Share - WeChat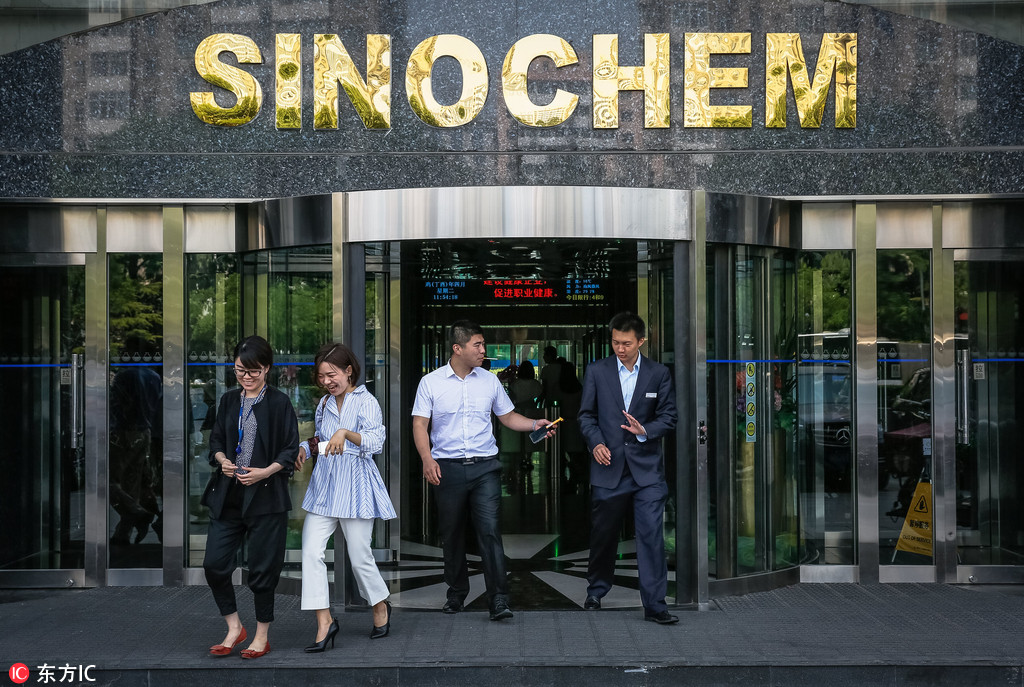 Event provides a platform for ideas, innovation and further exchanges
The first China International Import Expo has built a comprehensive platform for the country's State-owned enterprises to raise import volume and expand cooperation with global companies in areas from equipment procurement to production capacity cooperation in the third-party markets, said SOE regulators and business leaders.
The State-owned Assets Supervision and Administration Commission has organized a general purchasing group and 95 teams formed by China's centrally administered SOEs to participate in the CIIE. They have taken part in 58 supporting events and activities during the Shanghai expo.
Peng Huagang, deputy secretary-general and spokesman of SASAC, said a total of 1,400 central SOEs and subsidiaries with more than 17,000 purchasers have applied for the expo, as high-tech products and technology are set to draw the spotlight at imports during the expo.
"As China is on the way to further upgrade its industry structure, SOE purchasing groups seek suitable products from industrial robots and aviation electronics to machine tools and radiation therapy equipment in the expo as many global companies have brought their latest technology to the event," said Li Jin, chief researcher at the China Enterprise Research Institute.
Ning Gaoning, chairman of Sinochem Group, said as many parts of the world are facing challenges created by protectionism and isolationism, the expo is a practical measure for China to facilitate global trade flow and the group plans to import more quality crude oil, fertilizer and high-end chemical products to meet China's growing demand for different industries.
Sinochem imported 349 million metric tons of fossil fuel, mainly crude oil, with total cost of $180.54 billion between 2003 and 2017, while it also purchased 42.44 million metric tons of fertilizer and 2.78 million metric tons of plastic goods from global markets.
Lin Wei, a KPMG partner in China, said the CIIE helps the world understand that SOEs are commercial for-profit organizations like other Fortune 500 companies.
He said SOEs, as a key feature of the Chinese economy, and certainly have a need to purchase goods and services at the right price. While they are under government ownership, they also have obligations to their other shareholders. Mixed-owner-ship reform of the SOEs that have been ongoing is a process to make the SOEs more market-oriented.
"SOEs expanding and acquiring businesses overseas is another aspect of globalization and market orientation. Their participation in the CIIE will help the expo participants develop a better understanding of the SOEs," said Lin.
Yu Xubo, president of COFCO Corp, China's biggest agricultural products supplier by revenue, said with enhanced partnership with global companies from various sectors, the expo boosts the proportion of production capacity cooperation and industrial chain building in the central SOEs' business categories to develop markets related to the Belt and Road Initiative in the long run.
Weng Jieming, SASAC's vice-chairman, said the SOEs will expand their collaboration with capable global companies and domestic private companies to form commercial groups to develop overseas markets.
Though energy and infrastructure development still account for a major part of the operations for SOEs working in economies related to the initiative, Weng said they will transfer more technologies and practical service solutions to partners to pursue win-win and sustainable growth.
Official data released by the SASAC showed that centrally administered SOEs own 10,791 subsidiaries in 185 countries and regions with total assets exceeding 7 trillion yuan ($1 trillion), by the end of 2017. They gained 4.7 trillion yuan in sales revenue and 106.4 billion yuan profit last year.
Weng added SOEs have undertaken 3,116 projects in sectors such as railway and infrastructure construction, airport development, telecommunication, shipping and power generation in markets involved in the Belt and Road Initiative since 2013.