Healthcare executives praise deeper reform and opening-up
Share - WeChat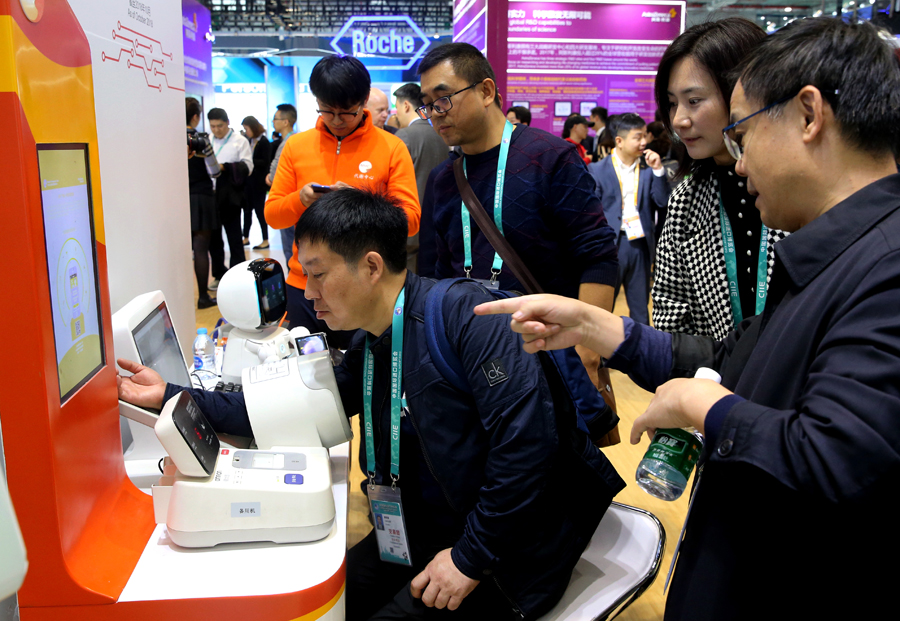 Top executives of multinational healthcare companies have praised China's efforts to deepen reform and opening-up, saying the ongoing expo in Shanghai is a symbol of growing change that provides greater exchanges and cooperation in the global healthcare industry.
"The China International Import Expo is a major move by the Chinese government to firmly support free trade and economic globalization, and actively open the Chinese market to the world," said Yin Xudong, president of Novartis Group China.
"We believe that open, fair and free trade is conducive to economic growth, value creation and promotion of innovation. The Chinese government's continuity in the reform and opening-up policy has given us the confidence and impetus to continue to deeply cultivate the Chinese market."
Novartis is interested in the future development of China's healthcare industry, paying great attention to localized innovation, and is willing to make its own contribution to innovation in the country's healthcare industry, Yin added.
Leon Wang, executive vice-president of AstraZeneca, an Anglo-Swedish multinational pharmaceutical and biopharmaceutical company, said CIIE provides a platform for companies from around the world to communicate and learn from each other, and the event will facilitate friendship among countries and regions, and accelerate the upgrade of the healthcare industry.
"CIIE is orderly and well-organized," he said. "CIIE gives companies like AstraZeneca a channel to tell our stories in China, and also provides a platform to enhance understanding among different participants coming from all over the world."
As the expo is an open market and platform through which China actively sources products and services from overseas into the domestic market, Wang said he believes CIIE sends out a clear message that China is determined to deepen reform and opening-up, and shows the country's strong confidence, capability and sense of responsibility in the global arena.
"CIIE not only displays the development and rise of China under the policy of reform and opening-up but also presents a national image that is open, innovative, inclusive, reciprocal and committed to promoting the development of regional and global economies in the new era," he said.
"For 25 years, owing much to the tremendous opportunities arising from China's reform and opening-up, we have kept our 'In China, for China' promise, by closely following the country's health development blueprint and joining hands with external partners to create a new win-win healthcare ecosystem in China, and have become a key player in working toward Healthy China 2030," he added, referring to the government's objective of promoting better healthcare in the coming decades.