Dutch dairy giant upbeat on prospects
Share - WeChat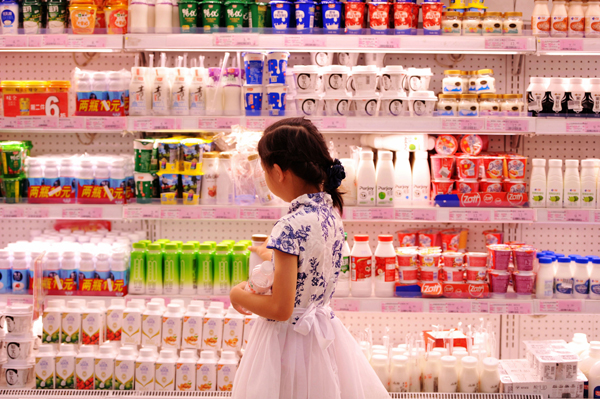 Sales of premium dairy products will grow in China as people demand a wider range of high-quality food and drink, senior executives from Dutch dairy giant Royal FrieslandCampina said at the ongoing China International Import Expo.
The company is showing more than 50 products in three major categories - consumer dairy, specialized nutrition and ingredients - at its booth at the expo in Shanghai. Its Friso infant and toddler formula has been popular in China since its debut in 2008, and it has introduced other infant formula brands since then.
Rahul Colaco, president of FrieslandCampina China, said it is considering bringing a wider range of products to the Chinese market, including cheese, cream, butter and specialized products meeting the nutritional needs of athletes and the elderly among others.
"We have a big booth at the CIIE, showcasing some of the new products we intend to bring to the Chinese market," Colaco said on Monday.
Products on display include a spray dairy cream, a protein-rich sports nutrition range and calcium-rich, sugar-free milk drinks without artificial flavors.
The company, which traces its origins back to the founding of Dutch dairy cooperatives almost 150 years ago, predicts that the consumption upgrade underway in China will see the local dairy market develop steadily and embrace a wider range of products.
"The Chinese market is significant for us not only for its scale and profit contribution but also future opportunity," Colaco said. "China's share in our global turnover is less than 15 percent and we'd like to see it to grow. So we'll invest more in the market, drive more innovations and expand our portfolio."
At the end of 2015, the company launched a premium range of Friso - Friso Prestige - in the Chinese market, which Colaco said is "doing extremely well". "It reinforced our confidence to introduce more premium products to the market," he said.
The infant nutrition business had grown at a double-digit rate in recent years, Colaco said, making Royal FrieslandCampina one of the leading players in China in that market.
Demand in smaller cities is also promising, he said. The Dutch Lady infant formula brand debuted in some third-, fourth-and fifth-tier cities two years ago, and sales have been growing steadily. This year, sales have almost doubled, according to the company.
Frans Keurentjes, chairman of the supervisory board of Royal FrieslandCampina and chairman of the board of FrieslandCampina Cooperative, said he was impressed by President Xi Jinping's speech at CIIE's opening ceremony, noting that Xi made it clear that China's global trade ambitions would not only benefit the country, but would also improve the lives of people in other countries.
"He extended open invitations to companies and business individuals to make full advantage of the expo," Keurentjes said. "We feel delighted to offer what we have - better nutrition - to the world and also our knowledge and services to the Chinese dairy industry."