Multilateralism protects global trade
Share - WeChat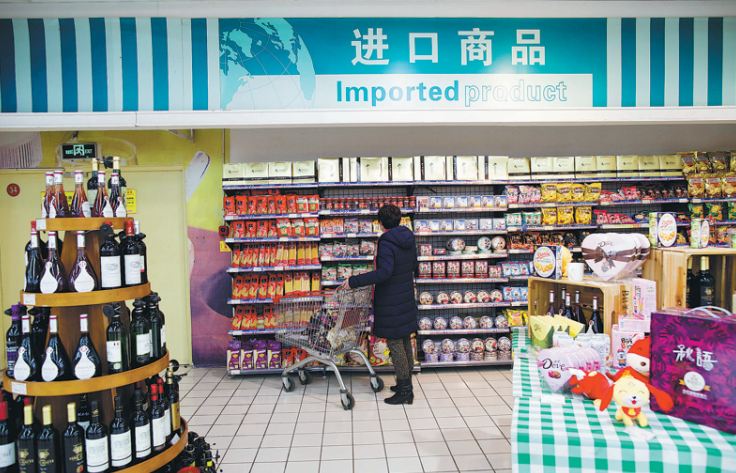 While collaboration between Chinese and foreign companies in projects in infrastructure, resources and manufacturing remains key to unlocking the economic development potential of many countries and regions related to the initiative, digital connectivity will create more business opportunities for Chinese and foreign companies in these markets, and in other parts of the world as well, said Vaughn Barber, global chair for KPMG Global China Practice.
"New and cutting-edge technologies are providing a range of new possibilities for Chinese companies, in both traditional and high value-added industries," Barber said, adding they are helping "boost productivity, further unlock new demand and increase their competitiveness in domestic and global markets".
Barber's view is shared by Xin Guobin, vice-minister of industry and information technology. He said China will accelerate the pace of developing high-end manufacturing and digital technologies to further enhance the country's export capabilities.
China has already taken measures to improve its export structure, with exports of automobiles expanding by 16.3 percent year-on-year and machine tools by 18.7 percent year-on-year between January and September.
Exports of electrical and mechanical products rose by almost 8 percent to 6.91 trillion yuan, accounting for 58 percent of the country's total export value, according to the GAC.
In addition to maritime transportation, over 10,000 railway trips had marked the China-Europe freight train service from 2011 to the end of August. The freight trains transported nearly 800,000 containers of goods. The cargo rail network so far links 48 Chinese cities with 43 cities in 15 European countries such as Germany, Spain, Poland and the United Kingdom.
"The combination of China's competitive labor costs, and foreign capital and technology since the country's reform and opening-up drive, has helped facilitate its trade growth and secure its pricing advantage," said Long Guoqiang, vice-president of the Development Research Center, which is part of the State Council, China's cabinet.
Long said this transformation has also generated handsome returns for foreign companies through both local sales and exports from China.
Because China is omnipresent in the supply chains of many consumer and industrial products across the world, a number of global companies have increased investment in China to sustain robust growth so far this year.
For instance, German chemical giant BASF SE and the US petrochemical group Exxon-Mobil Corp have signed agreements this year with the Guangdong provincial government to build wholly foreign-owned plants, each entailing an investment of $10 billion.
Tesla Inc, the US technology major, is expected to start the construction of a $2 billion electric vehicle plant in Shanghai before the year-end. The factory will have a projected annual capacity of 500,000 e-vehicles.
Foreign direct investment edged up almost 3 percent year-on-year to 636.7 billion yuan in the first nine months of this year. FDI in high-tech sectors, which accounted for 22.5 percent of the total, climbed almost 7 percent year-on-year, data from the Ministry of Commerce showed.
"After benefiting significantly from the first wave of globalization, China is now starting a new influential trend, by growing its domestic market, and by improving the quality (of goods and services) and environmental requirements, both on the industrial and consumer sides," said Denis Depoux, one of the top regional executives of German consulting firm Roland Berger.
To better compete with other established rivals from both domestic and global markets, sportswear manufacturer Nike Inc opened a massive store in Shanghai last month. Nike aims to attract digital-savvy younger Chinese consumers with its digital integration, innovations and personalized services.
"As the government has already lowered its value added tax on imports as well as taxes on vehicles and auto parts, medicines and consumer goods, the CIIE will help push more goods and services trade deals between Chinese and global companies," said Sang Baichuan, a professor of international trade at the University of International Business and Economics in Beijing.