London Stock Connect to open new doors for Chinese investors
Share - WeChat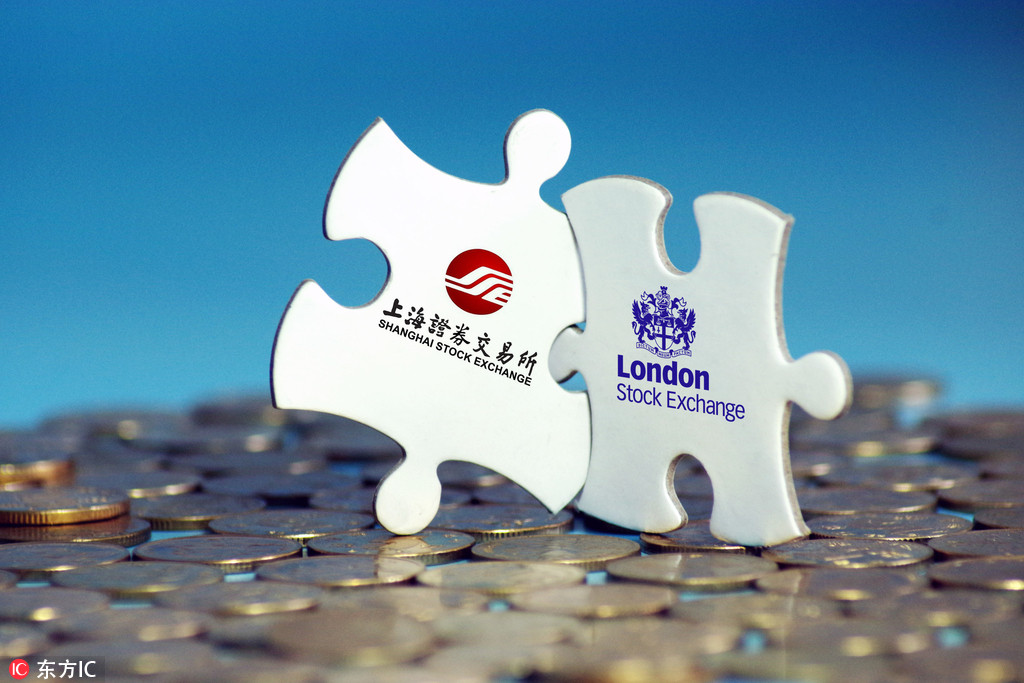 The much-anticipated Shanghai-London Stock Connect seems to be the one bright spot amid the pall of gloom among the investor community in London over the United Kingdom's impending departure from the European Union.
Full of anticipation but also highly elusive - that is how most London investors see it for now.
On the one hand, the opportunity to connect with the world's third biggest stock market is simply too good to refuse. This is particularly so as the MSCI's inclusion of Chinese A shares into its emerging markets index this year has made most fund managers realize that buying Chinese stocks is just a question of when and not if.
But having said that, the way Shanghai Composite Index dropped to a four-year low last month, amid the country's escalating trade tensions with the United States, has made many London investors jittery about the plunge into the unfamiliar world of Chinese equities.
Some investors are of the view that the proposed stock connect is only a symbolic gesture, providing little practical benefits to investors. Why bother to open such a London connect when global investors can already buy Chinese mainland stocks via Hong Kong?
Whilst all these opinions are logical in their own right, one missing view in this London-centric debate is the significance of this connect for Chinese investors.
With the connect due to open as early as December this year, a flurry of excitement is already felt among Shanghai-based investors, who are also engaged in a heated discussion - centered on what they can buy, when they can buy, and how much profits they can make.
In fact, the Chinese investor community is now standing at a new junction hungrily searching for the next goalpost of strategic investment. With China's real estate market slowing down, manufacturing firms feeling the pressure from trade frictions, and domestic stock market performance suffering, many Chinese investors are increasingly eyeing opportunities overseas.
Compounding this trend has been the depreciation pressure on the renminbi, which has spurred many Chinese investors to invest abroad for diversification.
Within this context, the opportunity to buy blue-chip London-listed stocks via the proposed connect are exactly what many Chinese investors have been looking for. In particular, the fact that London-listed companies come from over 60 countries is a big bonus for this diversification goal. For many Chinese investors, diversification is simply important because any abrupt economic downturns in one geographical zone will not create a big loss in their overall portfolio.
But the significance does not stop there. For many Chinese investors, the process of closely scrutinizing London-listed stocks is also a process of gaining an understanding of the global macroeconomic environment and how international capital markets function.
Although China currently has the world's third-largest stock market by capitalization, this market is far from mature. Its big concentration of retail investors means Chinese stock prices are driven largely by speculative flows and quantitative trading strategies.
These speculative flows have significantly contributed to the roller-coaster ride on Chinese stock price charts and made foreign investors jittery. Consequently, foreign holdings of Chinese stocks only constitutes 2 percent of this market. In comparison, over 50 percent of shares on London's stock market are held by investors from abroad.
Inevitably, as Chinese investors acquire more understanding of how London's more mature stock market works, their mindset will somewhat influence how they make trading decisions back home.
After all, the process of China's capital market reform and global integration is not just a story of financial infrastructure upgrade, but also a growth in Chinese investors' vision and experiences. Chinese investors' newly acquired understanding of how to make fundamentals-driven stock picking choices will allow them to invest more like international investors, and that will guide China's stock market to behave more like the international norm.
Beyond capital market connectivity, the stock connect has a bonus ripple effect on UK-China real economy synergy. As Chinese investors become more familiar with the British economy, regulatory environment and key sectors of growth, they are also more inclined to make strategic investments into the UK real economy.