Red tourism pays off for Shaoshan
Share - WeChat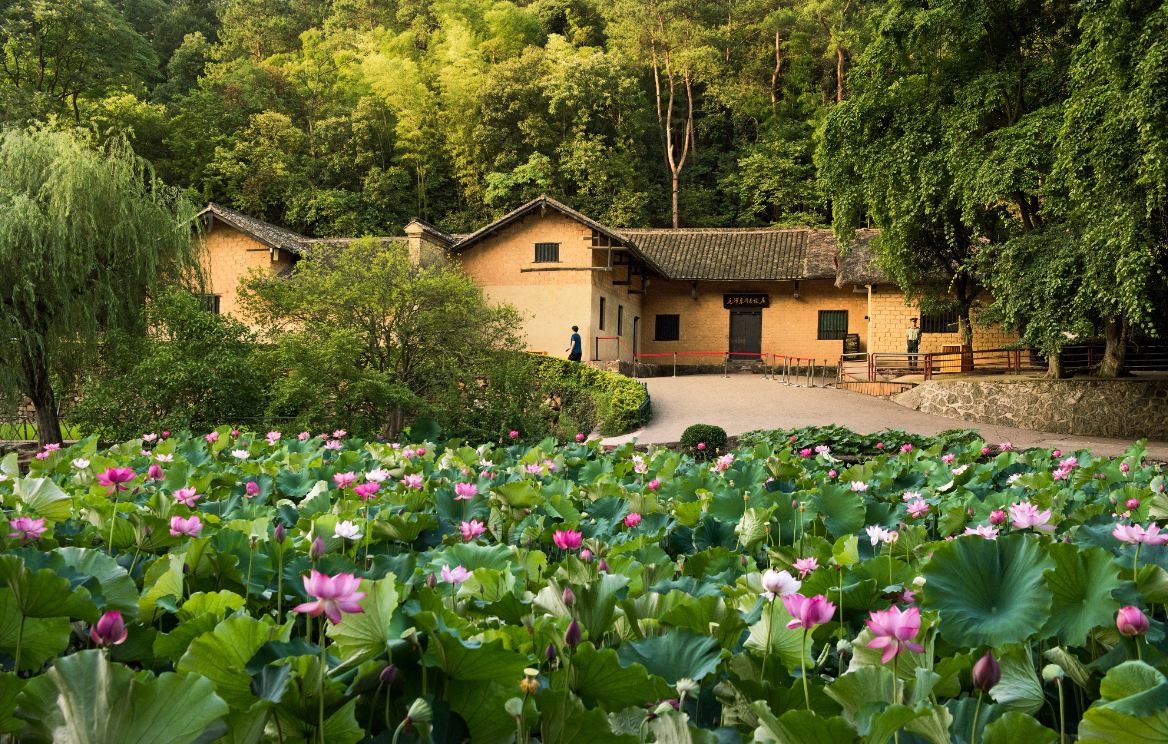 Birthplace of Mao Zedong welcomed 20 million visitors last year
A lack of scenic attractions has not stopped Shaoshan, a small city in Central China's Hunan province, from becoming one of the country's top tourism destinations.
It attracted 20 million visitors last year, cementing its status as one of China's 246 5A-level tourism zones. They all came to commemorate Mao Zedong, the founding father of New China, who was born in Shaoshan in 1893.
During this year's weeklong National Day holiday, in early October, there were more than 10,000 cars and buses parked every day in the parking lot of the local tourism exchange center, where tourists can transfer to shuttle buses.
Almost two weeks after the holiday ended, the center was still full of tourists from all over China.
Mao, who spent his childhood in Shaoshan, went on to join and lead the Communist Party of China, and play a central role in the founding of the People's Republic of China in 1949.
Just two years later, his former residence in Shaoshan was opened to the public as a place of interest, sowing the seeds for the growth of Red tourism in the city.
Following Mao's death in 1976, red tourism further prospered in the 1980s, with many people wanting to express their condolences and commemorate the late chairman of the CPC Central Committee.
"I am on a business trip to Changsha and I took the opportunity to come here to commemorate Chairman Mao," said Cheng Zedong, a 60-year-old Party member from Sichuan province. "It has long been my dream to visit Chairman Mao's former residence and now the dream has finally come true."
Most of the brochures in tourism agencies in Changsha, Hunan's provincial capital, list Shaoshan as a "must-see" tourism destination.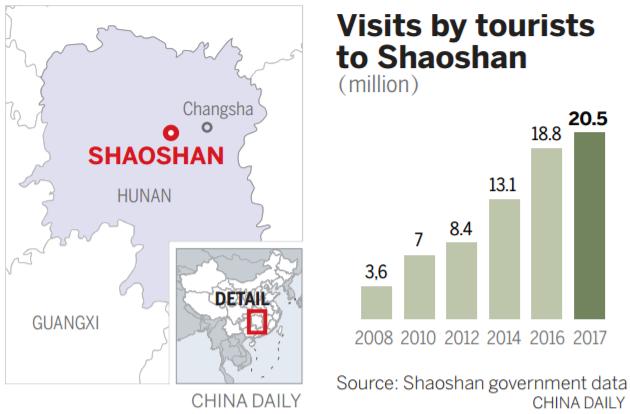 Tourism mushroomed after Mao's former residence was given 5A ranking in 2011, and it is now the main pillar supporting the local economy, reaping 6 billion yuan ($865 million) last year.
Xiong Juan, a local tour guide, said she can earn about 10,000 yuan a month, more than the average monthly income in Beijing.
"In the past, most of the tourists were seniors or middle-aged people," she said. "In the past decade, we have increasingly had more college students, and even middle school and primary school pupils who come in groups. They hope to learn more about China's history and pay their respects to Chairman Mao."
But the tourism boom did create one major problem: Traffic jams.
"The tourism zone is only 5 kilometers from the nearest highway exit," said Yin Zhigang, Party secretary at Shaoshan Tourism Development Group. "However, around the year 2011, there were so many cars and buses that it took four hours for a car to finish the 5-km route."
That's why the group invested 680 million yuan to build the transfer center, which opened on March 25, 2016. Tourists can now transfer from buses or cars to shuttle buses there, or just walk into the tourism zone.
In the three National Day holidays since the launch of the transfer center, traffic has flowed smoothly in Shaoshan's tourism zone. Nowadays it's rare to hear a car horn there.
Earlier this year, the city Party committee and the city government issued a three-year plan on further developing red tourism in the zone. According to a leading local tourism official, they hope to stress the role of red education in the sector.
By 2020, the number of visitors to Shaoshan each year is expected to exceed 26 million, with 30 percent of local residents making a living from tourism.