Kenya to tap Africa to grow tourism
Share - WeChat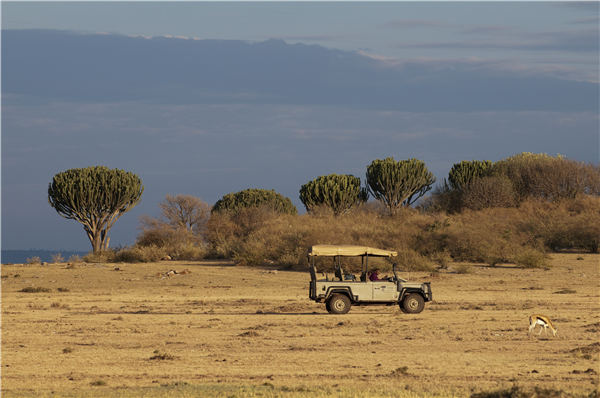 Kenya's tourism marketers have laid out plans to regard Africa as a key regional market to grow its tourism business, a senior official says.
Kenya Tourism Board CEO Betty Radier said earlier this month that Nairobi is also partnering with the rest of East Africa to provide a wider offering for travelers from West Africa, led by Nigeria.
"We are actively engaging with travel agents and tour operators in Nigeria to expose them to the diverse tourist offering in Kenya and the rest of East Africa that would be of interest to travelers from Nigeria and the rest of West Africa," Radier said on the sidelines of the recent Magical Kenya Travel Expo in Nairobi.
Radier says bilateral discussions are ongoing between the tourism ministries of Kenya and Sierra Leone to step up collaboration and travel between the two countries.
About 150 tourism buyers and 20 international media personalities visited a recent three-day expo.
Radier says the expo enabled Kenya to bring together players in Africa's tourism sector to get better insight into the diverse and authentic tourism products that Kenya has to offer.
"We are encouraged that the expo has over the last eight years grown into the ideal platform for business-to-business meetings between leading African products and top-producing global buyers," she says.
This, Radier says, serves to ensure continued business growth and development for Kenya's tourism industry.
She says the expo that drew travel-trade partners from across the continent is helping Kenya to be part of efforts to grow a unified brand for Africa as a destination.
According to the United Nations' World Tourism Organization, the number of outbound African travelers will reach 62 million by 2030 as the continent gradually emerges not only as a tourism destination but also as a tourist-source market.
Africa is Kenya's second-biggest source market by region, contributing 29 percent of total tourist arrivals to Kenya in 2017, according to the KTB.
Kenya has stepped up its marketing blitz to woo key source markets in the wake of a decrease in tourist arrivals caused by spates of insecurity brought about by acts of terrorism from al-Shabab and travel advisories issued by countries that provide key source markets.
The KTB says Uganda is Kenya's top tourism source market in Africa, accounting for 61,542 arrivals-or 6.4 percent-in 2017. In 2016, 51,023 visitors came from Uganda.
Tourism is the second-largest source of foreign exchange revenue for Kenya, after tea. The main tourist attractions are photo safaris through national parks and game reserves, although the country has been diversifying to other areas like ecotourism, conferences and cultural experiences.