Country's largest genome project proves its value
Share - WeChat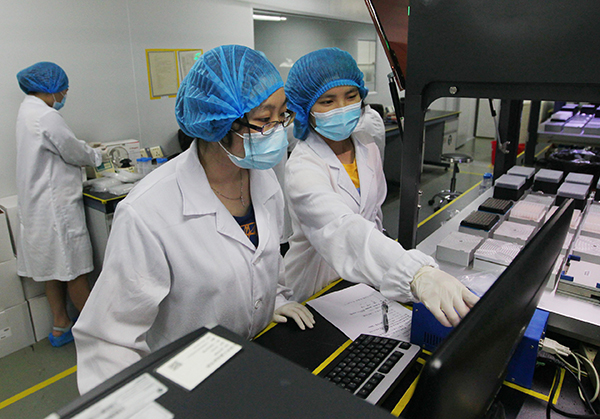 Study will improve development of medicines and health management
A genome study of more than 140,000 people has greatly expanded China's knowledge of its vast population and ethnic groups.
Previous Chinese population studies had only involved thousands of people, mainly Han Chinese from the eastern coast.
The largest of its kind for the Chinese population to date, the study was conducted by Shenzhen-based Beijing Genomics Institute and published in the international academic journal Cell on Oct 4.
"The study is significant to the development of China's medicine and health management industry, which has relied on foreign technology and studies for a long time because we didn't have enough genome data from the Chinese population to work on," said Xu Xun, president of BGI Research and the study's lead author.
It discovered the genetic structure of the various ethnic groups, found six genes that display significant differences of people across latitudes, and identified the gene flow patterns between Europeans, South Asians, East Asians and Chinese.
For instance, people from the southern part of China have developed stronger immunity against malaria than those in the north, but a gene related to fatty acid metabolism has a much higher frequency in most of the northern provinces.
In addition, people in Gansu and Qinghai provinces, a key area of the Silk Road, share more similar genes with Europeans.
It also discovered new associations among Chinese between genes and conditions such as birth defects, infectious diseases and cancers.
About 78 percent of studies in the world about the relationship of gene and diseases are based on European individuals, Xu added.
The latest data cover all 31 provincial-level administrative units in the Chinese mainland and represent Han Chinese and 36 ethnic minorities.
"In the next three years, BGI plans to further expand the database to 1 million," Xu said. BGI started its Million Chinese Genome Project in 2016 and Xu's study represents its first phase.
Genomic study on a national level has been widely regarded as a significant factor for a nation's core competence in the biomedical field.
In the United Kingdom, the leader in the field, one study of 500,000 samples has finished and another project based on a population of five million was announced earlier this month.
BGI researchers admitted there is still a gap between China's genetic research and that in Europe and the United States, but they said it is narrowing.
Today's Top News
Editor's picks
Most Viewed