Tech links bike firm, Shanghai subway
Share - WeChat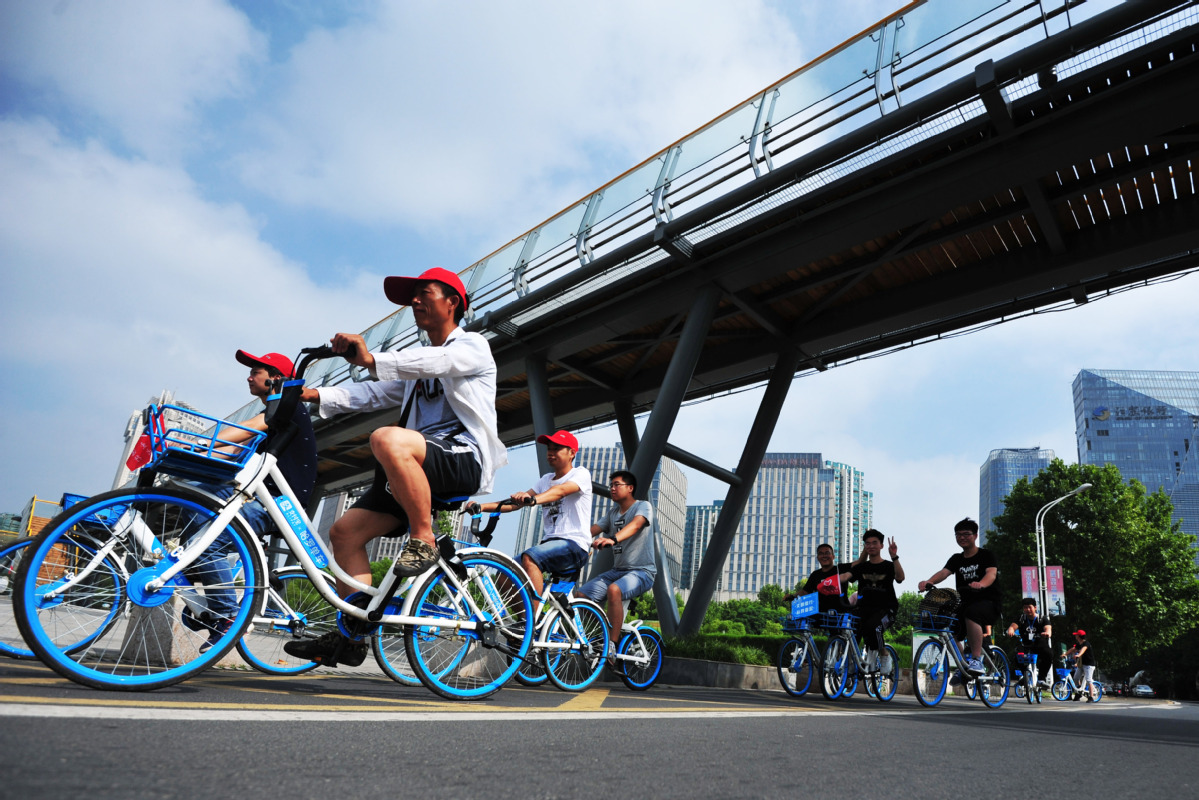 Metro-to-bicycle transfers will be quicker, parking efficiency better
Two-year-old bike-sharing startup Hellobike, now rebranded as HelloChuxing, has forged a collaboration with Shanghai Shentong Metro Group Co Ltd to develop a smart technology to improve subway-to-bicycle transfers of commuters at railway stations, thus creating smoother traffic conditions.
HelloChuxing is Chinese for "Hello Commute", indicating the new technology will broaden the firm's transportation services, and could also give an edge in the cash-burning bike-sharing sector.
In late September, during its second anniversary celebrations, the Shanghai-based company announced its new intelligent transfer system, and labelled it as a foray into the "general transportation vertical".
"Going forward, from bike-sharing to general transportation, we will welcome harder tasks, more ambitious missions, and challenges with a higher level of difficulty," said company CEO Yang Lei in a letter to employees.
HelloChuxing will install Bluetooth-enabled digital fences at shared bicycle parking lots near subway stations. These will locate bicycles available for use more accurately than now with a margin of error of just 10 centimeters.
They will also prevent riders from parking bicycles at undesignated areas. Users will have to park bicycles at authorized areas after use, Yang said.
The system is being designed to a ensure sufficient number of bikes are available at subway station exits. This is expected to ease traffic congestion.
"We plan to roll out the first such trial during the China International Import Expo in November as the expected surge in traffic congestion can benefit from what we call the 'Metro and Bicycle Integrated Smart Connection'," said Jin Tao, head of the information center of Shentong, the local metro operator.
HelloChuxing said it has forged cooperation agreements with major ride-booking apps like Shouqi Limousine and Chauffeur, and Didi Chuxing, as well as the digital mapmaker AutoNavi, but did not share more details.
"All these deals can help HelloChuxing gather more data across different transportation segments and increase traffic among them," said Sun Naiyue, a transportation analyst at Analysys.
Yang said HelloChuxing will utilize artificial intelligence technology to optimize its operations and reduce costs, including that of maintenance manpower.
Unlike other bike-sharing giants like Ofo and Mobike that focus on bigger cities and key cities overseas, Hello-Chuxing is prominent in more than 300 smaller cities and towns in China, where it has garnered 200 million registered users in less than three years.
It also offers electric scooter renting services in over 100 cities. Riders have traveled more than 580 million kilometers using its vehicles so far.
HelloChuxing is in a "relatively sound financial health", said Yang. It has received several rounds of funding from fintech giant Ant Financial Services Group. The company is also among the first to waive deposits for bike users with a good credit record.