Natural attraction
Share - WeChat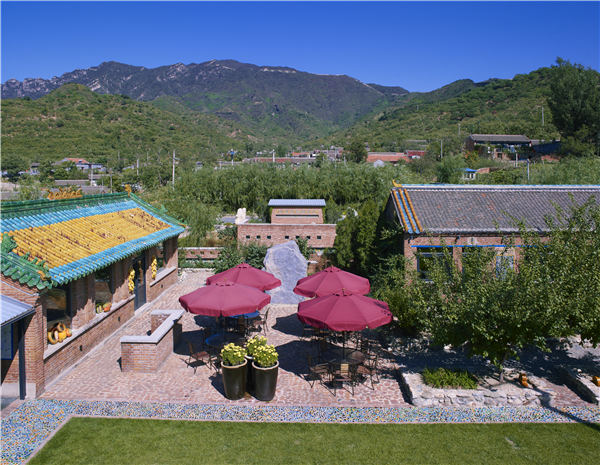 A retreat near the Great Wall offers visitors a taste of rural charm.
From a glazed-tile factory to a popular getaway, Brickyard Retreat is hot on the tourist map for its rural charm and Great Wall experience.
However, the resort wouldn't have happened if it weren't for a chance encounter at the foot of the Great Wall in the 1990s.
The American founder, Jim Spear, is now settled in Beijing's Beigou village and runs a tourism business there with his family.
But it all started one day in the early 1990s when he brought an old army buddy from South Korea to the Mutianyu Great Wall when he made his first visit to China.
"Then, a villager who was operating a souvenir stall struck up a conversation with me. I'm sure he was thinking about selling me a T-shirt," says Spear.
He told the villager that he was not interested in buying a souvenir but envied him for living in such a beautiful place just under the Great Wall.
To his surprise, the villager said he'd help Spear get a house.
"That's how I got a house at the Great Wall instead of a Great Wall T-shirt," says Spear.
The village near Mutianyu was literally at the end of the road and there was almost no modern infrastructure - few paved roads, no sewers, no trash collection and limited electricity, he says.
"We had to pay for our own transformer, poles and wires to make our house livable when we moved here full time in 2005."
But the primitive conditions also made for unique rural lifestyle.
"It's changed a lot with modern conveniences and many newly built homes, but it is still an authentic, live village community," says Spear.
"Our village is quiet. The views are incredible, and the air is usually fresh and clear."
His house is at the top of a little dead end side lane paved with stone that winds up the canyon side away from the public road. There's also a large plot with vegetable gardens and a chestnut orchard.