Connecting mainland and HK
Share - WeChat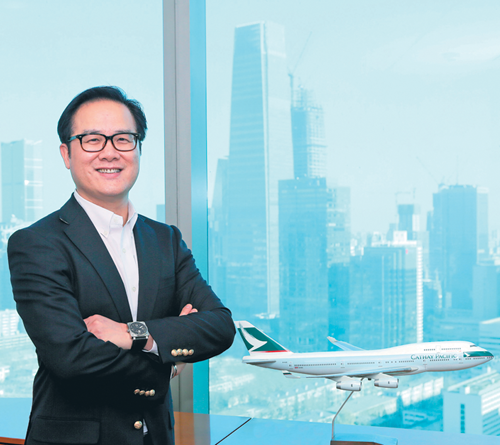 Led by Titus Diu, general manager, Cathay Pacific exploits leisure demand with direct flights
Cathay Pacific, Hong Kong's largest airline, is bullish that demand from the Chinese mainland for leisure and business travel will fuel its growth in the coming years, said Titus Diu, its general manager for the Chinese mainland market and a Cathay veteran with over three decades of work experience.
Diu joined Dragonair (rebranded as Cathay Dragon later) in 1991. Ever since, the aviation industry has never ceased to fascinate him. Since it calls for strong interpersonal skills, he always felt suitably challenged in the industry, he said.
A native of Hong Kong, Diu said Beijing has become his second home, never mind the challenge of alternating between driving on left and on right. In 1996, Diu started to work in Beijing, a city from where he watched the live telecast of Hong Kong's return to the motherland in 1997.
Since then, China's capital has changed a lot, he said. "Back in the 1990s, most passengers of our flights came from Hong Kong and foreign countries, and we sold tickets through tourism agencies. Since 2000, I started to see some Chinese mainland travelers visit Hong Kong with tour groups. From 2015, most people have been visiting Hong Kong by themselves, or transfer from Hong Kong to overseas destinations, and the sales of flight tickets have shifted online.
"The Chinese mainland is a huge market that has grown rapidly, and more travel demand has emerged from second-and third-tier cities. Launching new direct flights that connect those cities and Hong Kong will help Hong Kong to strengthen its edge as an important international hub in Asia."
In January, Cathay Pacific launched direct flights between Nanning, Guangxi Zhuang autonomous region, and Hong Kong. At the end of March, it started direct flights between Jinan, Shandong province, and Hong Kong.
Diu said many business travelers still prefer to transfer in Hong Kong, with its mature transfer operations and multiple flights to major business destinations like New York, London, Tokyo and Singapore, even though more airlines on the Chinese mainland have launched direct flights to overseas destinations.
"Last year, the passenger load factor in first-class and business-class categories has increased, and the growth rate is much higher than that of the economy-class, meaning the Hong Kong airport is still attractive for high-end customers. We are confident that the Chinese mainland market will continue to perform well," he said.
"Driven by the development of Guangdong-Hong Kong-Macao Greater Bay Area, and given the nearly perfect land and boat transportation network of the Pearl River Delta, passengers who transfer from Hong Kong to overseas cities will continue to increase."
In the first six months of this year, the revenue passenger kilometers of Cathay Pacific in the Chinese mainland reached 4.6 billion, an increase of 3.2 percent over the same period of last year.
Cathay Pacific and its affiliate Cathay Dragon have launched more than 30 flights connecting China and countries and regions involved in the Belt and Road Initiative. Cathay's footprint now covers the Middle East, India and Europe.
This year, it will continue to strengthen its Belt and Road footprint. On Oct 28 and 29, Cathay Dragon will launch direct flights from Hong Kong to emerging ASEAN cities like Davao in the Philippines, and Medan in Indonesia. Between the coming November and February next year, it will start operating seasonal flights between Hong Kong and Cape Town of South Africa.
Diu said the BRI has provided positive growth opportunities for Cathay Pacific. Besides, the airline is seeing significant demand for its flights from Hong Kong to India, Sri Lanka and New Zealand.
The 72-year-old airline actively discharges its corporate social responsibility by organizing programs to cultivate young aviation talent. Since 2013, the carrier has offered more than 350 teenage students free weeklong summer camps in Hong Kong to visit its corporate headquarters and learn more about the industry, he said.
"We've organized various aviation-themed activities and training sessions. We hope the events will help teenagers enthusiastic about aviation to know more and consider a career in the sector. We'll continue to hold such events and enable more teenagers to benefit from the program," Diu said.
A frequent traveler, Diu drives around in suburban Beijing with his family and friends whenever he finds some spare time on weekends. In winter, he enjoys skiing, and has been to a number of ski resorts in Beijing, and in the Chongli area of Zhangjiakou, Hebei province. He said he would encourage expats to step outside of Beijing more, particularly over weekends.