French companies keen to seize BRI opportunities
Share - WeChat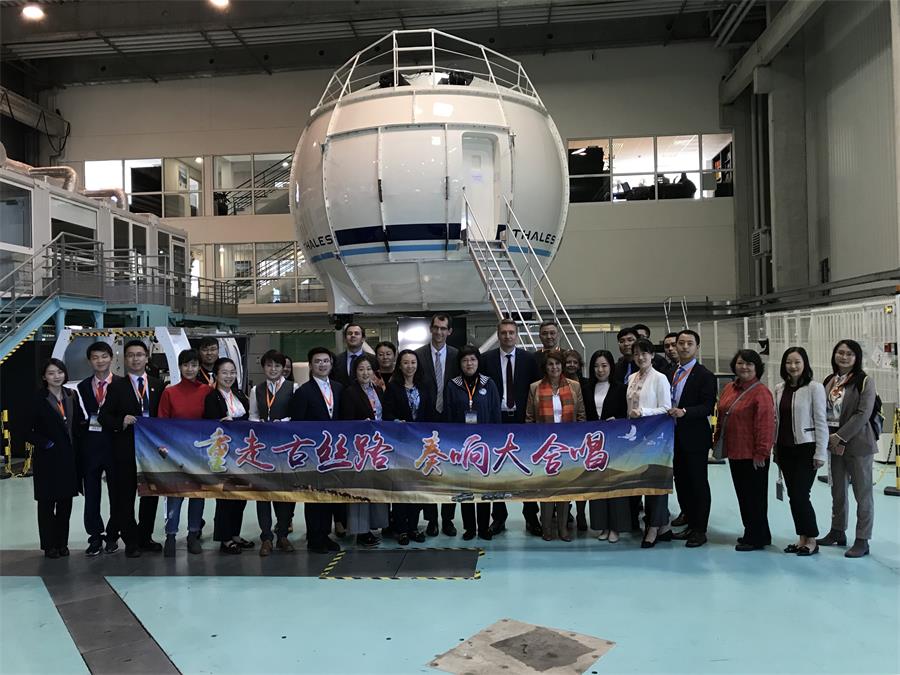 French companies are looking to join hands with Chinese partners to tackle huge trade and infrastructure opportunities in third countries within the area of the Belt and Road Initiative.
First proposed by President Xi Jinping in 2013, the Belt and Road, also known as BRI, is a scheme to improve connectivity of infrastructure, trade, ideas and knowledge between Europe and Asia.
Power equipment giant Alstom is looking to supply technology to assist Chinese hydropower companies bidding for dam contracts in third countries within the BRI, while Schneider Electric is supporting Chinese concrete, steel and water treatment companies looking to secure power and construction deals.
French technology company Thales is deploying the same strategy to seek deals for its rail signaling and air traffic management technology.
"We see China not only as a huge market, but a great space to innovate, to tackle not just China's needs but also third country opportunities along the Belt and Road," said Thales'CEO Patrice Caine.
Thales has teamed up with Chinese rollingstock manufacturer CRRC to seek rail projects in third countries. In such projects, Thales would supply its rail transport signaling system, supervision system and communication system and CRRC would contribute its trains and extensive experience withhigh-speed rail accumulated in China's massive market.
This array of private-sector led interest follows the endorsement of BRI by French President Emmanuel Macron during his visit to Beijing in January. This summer, French senator Pascal Allizard also published a report urging France to take a more active part in the initiative and also to play an important guiding role in discussions between the European Union and China.
Improved connectivity and growing trading volumes in BRI countries has already allowed many French companies to expand their international market influence and supply chain.
One example is the Lyon-Wuhan freight rail line, launched in April 2016. Since then, thousands of bottles of Bordeaux wine, auto parts and French agricultural products have been exported to China.
Decathlon, one of France's leading sports goods retailers, started to transport products made from its Wuhan factory to its warehouses in Dourges by direct rail freight last year, which the company said is "more economical, faster and more ecological" than sea freight.
The new direct train, operated by the Wuhan Asia-Europe Logistics Co., allowed Decathlon's products to reach France in 16-18 days, compared to the 20 days previously needed by sea freight.
Taking advantage of the increasing momentum ofcollaboration, a Chinese delegation led by Chinese People's Association for Friendship with Foreign Countries recently completed a two day visit to France to further explore these opportunities. The delegation mainly comprised of Chinese clean energy and technology companies and Chinese PhD university students.
Wang Yixing, a PhD candidate in aeronautics at Xi'an Jiaotong University, said the trip opened his eyes to innovative technology developed by French companies, which he will bring into his studies and research.
"China's strengthened friendship with France within the framework of BRI has given precious opportunities for students like me to directly learn from leading technology companies," he said. "I feel such open dialogue is important to foster multilateral collaboration in our increasingly globalized world."
Another member of the delegation, Melody Bai, who is co-founder of the Beijing-based accelerator The Jiangmen, said that gaining deeper understanding of French companies'technology strength will allow her to develop a more targeted approach to connecting innovative Chinese startups with French multinationals.
"Many of these strategic partnerships will address the development needs of Belt and Road countries," she said.
Sébastien Goulard, founder of French public affairs consultancy Cooperans, said this collaborative approach is the key to ensure success. In particular, he said huge potential exists for such partnerships to urbanize African countries where French companies already have previous experience working.
"Some countries in Africa are at the very early stage of urbanization and in order to prevent environmental crises, France and China can work together towards sustainable urbanization," he said.
Contact the writer at Cecily.liu@mail.chinadailyuk.com