A vision of the future, available now
Share - WeChat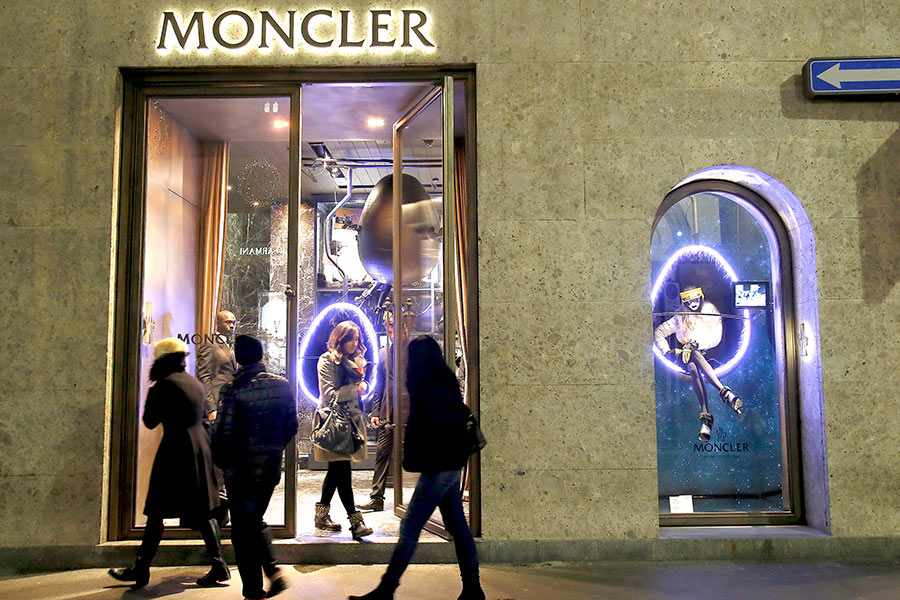 Italian luxury coat maker Moncler's decisive Genius project takes brand's collaborative genealogy to new level
Late in May, luxury coat maker Canada Goose announced its "significant investment" plan in China - a regional headquarters in Shanghai, flagship stores in Beijing and Hong Kong, as well as an e-commerce business branch on Alibaba's Tmall e-commerce platform this fall.
Less than four months later, its Italian rival Moncler followed with a similar decision in September, saying it will also partner with Tmall to launch a pop-up store during the first two weeks of October, selling selected items from its latest Moncler Genius project.
Announced from its global headquarters in Milan at the beginning of the year, the new project has taken the brand's collaborative genealogy to a new level by bringing in eight designers to introduce eight capsule collections at the same time.
Calling it "one house, different voices", Remo Ruffini, CEO of Moncler SPA, defines the project as "a vision of the future, available now".
The long-term project, four years in the making, introduces one or two new collections every month - the speed of fast fashion brands.
In an email interview, Ruffini discussed with China Daily the Genius project's relevance to China, and how it can distinguish the 65-year-old brand from other puffer jacket makers.
What made Moncler decide to partner with Tmall for the e-commerce store at this time? Who are the target customers? How does the strategy differ from that for Moncler's physical stores in China?
The Tmall platform is offering international brands the opportunity to approach Chinese shoppers all over the country with a dedicated luxury experience on the Luxury Pavilion. The launch of the Genius project on Tmall is a milestone for Moncler's digitalization in the country, and a new beginning.
Moncler's e-commerce strategy is worldwide, not only in China, as we have several international e-tailers in the pipeline as well.
We started our digitalization process in China in 2012, when the brand built up the official e-commerce system on the Moncler.cn website.
Among our international customers, Chinese shoppers are more digitally driven today. Our challenge is to have a leading role in China, to create a true digital e-commerce experience, and a better shopping experience with each stage being digitalized, and that can be accomplished online.
How has the Moncler WeChat mini program fared?
In 2017, Moncler launched its first WeChat store based on the app's mini program functionality. Consumers reacted very positively. We are one of the few luxury brands who believed in this great opportunity and we are going to develop a dedicated plan in the following months, each time with dedicated collections.
More in depth, WeChat is the key platform to engage and communicate with our Chinese clientele. This is part of our strategy to send the right message, to the right target audience, at the right time.
What's your overall growth plan in China?
In the first half of 2018, our consolidated global revenues increased 27 percent at constant exchange rates, with both channels seeing double-digit growth. All markets posted results above expectations.
I'm particularly impressed by the results that we achieved in China and Japan, markets in which we are recording very strong double-digit growth. In Asia and the rest of the world (meaning regions other than Europe and North America), revenues increased 42 percent at constant exchange rates, with all markets recording solid double-digit growth in the second quarter.
How would you characterize China's luxury market?
The Chinese luxury market is quite peculiar as millennials (aged 20-34) are the major contributors to its growth. Chinese consumers start to purchase luxury items at an earlier age and buy more frequently. They are digitally savvy, highly knowledgeable about luxury categories and prefer "fashion", "street casual", "new" and "in-season" products. They look to express their unique personalities through distinctive looks.
Exactly those requirements are the ones met by Moncler through its new Moncler Genius strategy.
What types of opportunities do you see arising from the upcoming 2022 Beijing Winter Olympics?
The development of innovative technologies has become an increasingly important feature of competition among companies in China. Moncler's new approach to digital content is increasingly focused on the Chinese market. We believe in a new digital communication strategy for Moncler in China, consistent with the global digital Moncler attitude, that will find us strong and ready for the Winter Games in 2022. The Winter Olympics will give us the opportunity to further strengthen and develop our digital presence in China.
Who do you think is your biggest competitor in China?
Market competition is heating up in China, but what I would like to point out is that Moncler has a unique heritage and positioning that cannot be compared with any other brand. Heritage, quality, uniqueness and consistency define and characterize every Moncler product, a brand that withstands the tides of fashion, because real luxury today is having a high-quality product that lasts. This represents Moncler's main competitive edge also in China.
Canada Goose earlier this year also announced that it would open both online and physical stores in China. Do you think that would pose a challenge for Moncler?
Not at all, for the reasons highlighted in the previous answer.
You have dedicated your whole life to fashion and luxury. What keeps you in the industry?
Moncler today is a global and inclusive brand that means everything to me. I grew up in the fashion environment and I've always been passionate, curious and determined. I realized that becoming an entrepreneur for a fashion luxury brand such as Moncler was my professional path only when I was mature enough to realize my passion.
One of my greatest achievements is the fact that I have been doing exactly what corresponds to my soul. In line with the brand philosophy, above and beyond preset trends and outlines, Moncler has constantly found new ways of expressing itself, offering through the years new interpretations of the concept of the quilted jacket, proposing an individual and unique style.
I always lived in an atmosphere close to what I am doing nowadays, as I grew up between my family house and my family factory. At 14, I owned a prized puffer that I flaunted on my motorbike and at around 20 when I returned to Como, Italy, from the United States, I started the New England business.
How do you think the global luxury goods industry has evolved over the past decade, and how have Chinese consumers influenced that evolution?
Moncler is continuously evolving while keeping its roots alive. Tradition, innovation and quality are and will continue to be at the heart of the brand, always. I do believe that it is the integrity of the past that holds the key to a healthy future. At the time I decided to buy Moncler, I saw the growth potential of the brand. The great results achieved nowadays are truly outstanding and no one could believe such a thing was possible.
What's your vision for Moncler in the next five to 10 years, and what type of role does the Chinese market play in that?
My vision is long term. I'm always thinking what will happen in the next five to 10 years. This is the reason I conceived the Moncler Genius project. A project that already represents a vision of the future.
The Chinese market in particular, but markets worldwide in general, are changing radically and our industry is changing faster than ever. This is why, at Moncler, we have decided to start a new exciting and challenging chapter for our brand, still keeping our unique heritage and traditions alive, while having a clear vision of the future that lies ahead.
I conceived Moncler Genius as a hub for exceptional creative minds working together under the same brand. Moncler Genius stands for eight different and proper collections, each one created for a different audience.