ZJUP sets China's first office focusing on Italian, English publications
Share - WeChat The unveiling of Zhejiang University Press Italian Office was held at the National Central Library of Florence on Monday, marking the first professional press focusing on Italian and English books China has established in Italy.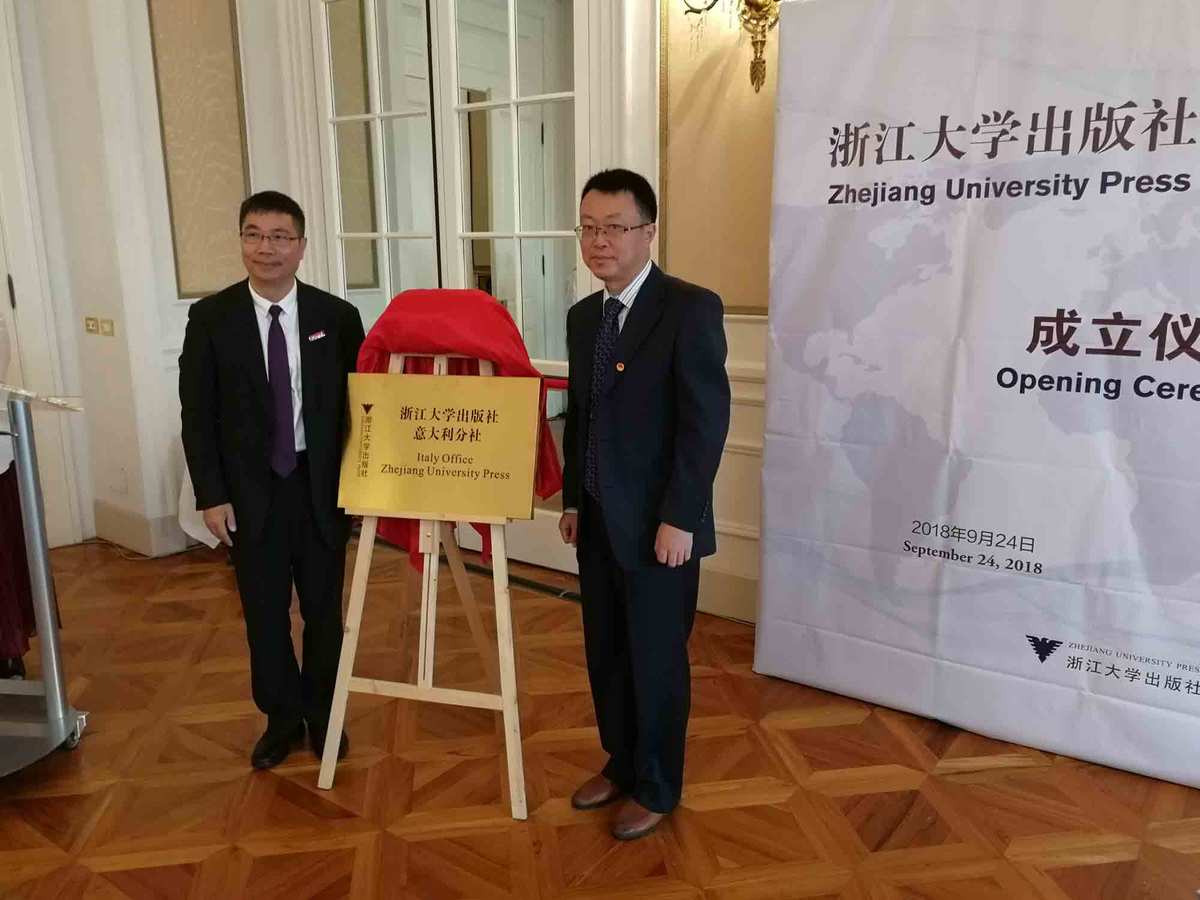 Yan Jinlin, Deputy Consul-General of the Chinese Consulate General in Florence, Luo Weidong, vice-president of Zhejiang University, Silvia Alessandri, deputy director of the National Central Library of Florence, and Lu Dongming, president of Zhejiang University Press attended the event and made speeches. The ceremony was presided over by Zhang Chen, deputy editor-in-chief of Zhejiang University Press.
Luo claimed at the ceremony that Zhejiang University will spare no effort to support the Italian office, which is a natural product of the development of times. According to Luo, the Italian office is an important step of Zhejiang University's "Double First-Class" construction. It will connect with the scientific research and teaching platform of Zhejiang University, strengthen the strategic cooperation with different schools and institutes, collect publication resources with rich characteristics and connotations, explore new internationalization model, cultivate international talents, establish a "bridgehead" for the exchange and cooperation between Zhejiang University and Europe, and thus promote the international cooperative ability and brand influence of Zhejiang University and Zhejiang University Press by complying with national "Go global" strategy.
Lu claimed the Italian office, aiming to enhance the cultural exchange between China and the western world, will publish books that introduce Chinese culture, art, tourism, education and other aspects and reflect contemporary Chinese value, the essence of Chinese cultural thoughts, China-Italy relations, China-Europe relations, China-Italy and China-Europe ideology and culture through further understanding of the requirements of Italian, European and worldwide readers. In this way, different civilizations can learn from and add colour to each other. Meanwhile, the Italian office will keep following the development dynamic of Italian, European and world culture and art, integrate different resources, collect materials worldwide, and publish Chinese, Italian and English books and academic journals of culture and art. Besides, the Italian office will hold exchange activities about Chinese and overseas publishing as well as culture and art, and carry out training programs about culture, art and languages.