Airbus increases capacity at Tianjin final assembly line
Share - WeChat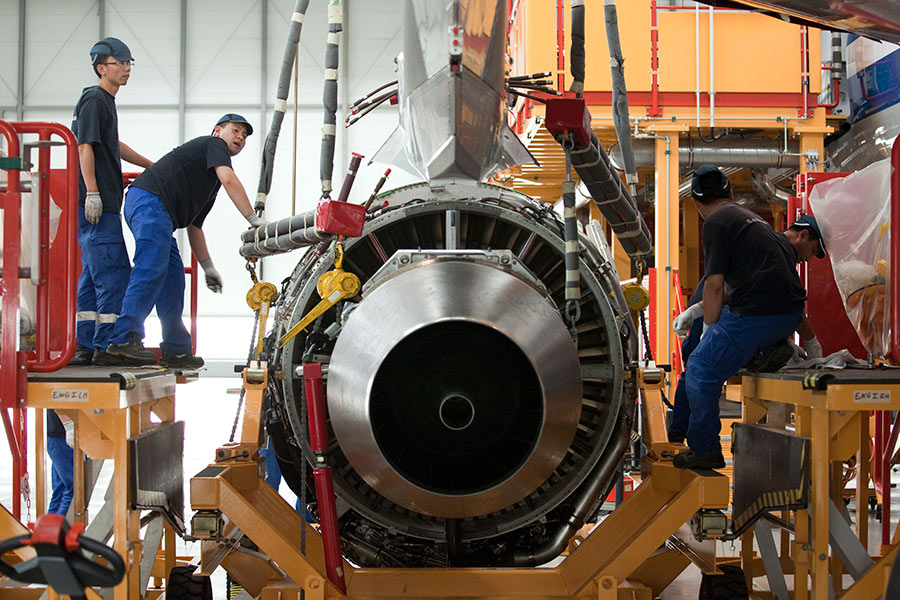 European aircraft manufacturer Airbus SE said it is witnessing the fast and stable growth of China's civil aviation market, and its A320 family final assembly line in Tianjin is increasing its capacity.
Currently, Airbus assembles an average of four-and-a-half A320 aircraft a month in Tianjin, and it will deliver a total of 52 A320s this year. Early next year, it will produce five A320 aircraft a month, and by the end of 2019, it will produce six A320s a month, according to the company.
The production ramp-up follows an agreement between Airbus and China signed during French President Emmanuel Macron's state visit to China in January.
The facility, the third-largest single-aisle assembly line for Airbus after Toulouse and Hamburg, will be in operation for 10 years from this week. By the end of August, it had delivered 378 A320 aircraft to Chinese airlines and Air Asia, and it is looking to attract more customers from Asia.
"We are 100 percent confident of the China market, our largest market, followed by the United States. We are committed to China and bullish on its growth potential. Airbus is looking at bringing in a lot of new ideas every day," said Francois Mery, chief operating officer of Airbus Commercial Aircraft China.
Meanwhile, Airbus now also delivers one A330 airplane a month from its A330 completion and delivery center in Tianjin, the company's first widebody completion and delivery center outside Europe and launched in September 2017.
By the end of this year, the manufacturer will deliver 12 widebody aircraft in total from Tianjin to Chinese airlines, including major State-owned and private carriers.
"We also plan to extend the work in Tianjin to A330neo, and we are expected to deliver the first A330neo aircraft by early 2020," Mery said.
"Compared to 10 years ago, we are doing more complicated assembly work in Tianjin, and we plan to cooperate with more Chinese suppliers, including suppliers of equipment and systems," he said.
By 2020, the total output from the cooperation between Airbus and Chinese firms is expected to reach more than $1 billion. The value was $641 million last year and $120 million in 2008, Airbus said.
"Chinese industrial players are doing more critical manufacturing jobs for global aircraft manufacturers, showing that they have become more skilled and recognized," said Lin Zhijie, an aviation industry analyst and columnist at carnoc.com, one of China's biggest civil aviation websites.
"We would like to form a vertical integration supply chain in China, meaning we will purchase raw materials, do the parts assembly, then the aircraft assembly in China. This will help us to save a significant amount of transportation costs and raise the efficiency, and it's also good for China to develop its strength in aviation manufacturing," Mery said.
Currently, Airbus takes about half of the market share in China, compared with 9 percent in 1996. Its industrial cooperation with China has helped the company in boosting its market share remarkably against archrival Boeing Co of the United States. Boeing unveiled its first overseas completion and delivery center for its single-aisle aircraft in Zhoushan, Zhejiang province, last year.