Geely speeds ahead as Chinese cars win more global confidence
Share - WeChat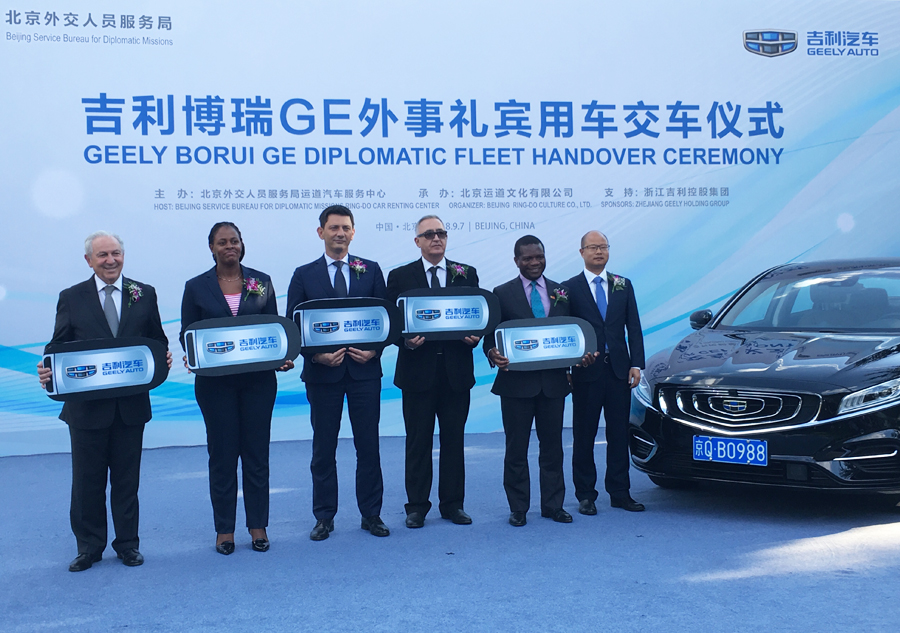 As the Chinese auto industry moves toward the mid- and high-end of the global value chain, Chinese cars have increasingly gained global confidence.
The ambassadors to China from Morocco, Zimbabwe, São Tomé and Príncipe, Armenia, and Montenegro have chosen Zhejiang Geely Auto Group's Bo Rui GEs as their official vehicles in China since Friday.
In the auto industry, Geely plays a leading role in new energy and energy-saving technologies, Aziz Mekouar, ambassador of Morocco, said at the Geely Bo Rui GE Diplomatic Fleet Handover Ceremony at Diaoyutai State Guesthouse in Beijing on Friday.
Mekouar said that the Moroccan Embassy to China has been a loyal user of Geely vehicles, adding that he really looks forward to the Bo Rui GE, which merges smart driving technology with new energy technology.
Paul Chikawa, Zimbabwean ambassador to China, also described Geely cars as "nice, brilliant and comfortable". He added that Africa and China will deepen cooperation and communications as Chinese companies like Geely provide advanced and environmental cars for African countries.
"Geely's vehicles have provided lots of service for diplomatic missions. Their outstanding performance has demonstrated the quality of Chinese cars and gained total trust," Chen Chuang, deputy director of the Beijing Diplomatic Service Bureau, said.
Because of the performance and quality of Geely cars, the Beijing Diplomatic Service Bureau purchased 30 Geely Bo Rui GEs this September. The bureau provides service for more than 400 foreign diplomatic missions, representative offices of international organizations and foreign media organizations in Beijing.