Huili farmers reap the fruits of their endeavors
Share - WeChat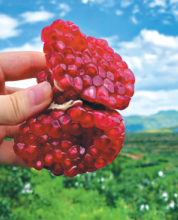 On Aug 25, Zhao Yuzhong and his staff picked the first crop of this year's bumper harvest of pomegranates. The second and third batches will be collected this month and in October. Then, after that, it will be another year before people get to enjoy the taste of the pomegranates from Zhao's plantation in Huili county, Liangshan Yi autonomous prefecture, Sichuan province.
The pomegranate was originally brought to China by explorer and Silk Road pioneer, Zhang Qian, more than 2,000 years ago during the Han Dynasty (202 BC-220 AD).
Now, with the fruit covering around 27,000 hectares, Huili county is the largest pomegranate producing region in China with an annual output of 700,000 tons.
On Sept 2, the first Huili pomegranate launch event and resource-sharing meeting was held in Beijing, gathering together the county's pomegranate companies and farmers to promote their product in the capital.
According to Li Meihua from the public relations department of Huili county, the area now has 20,000 hectares of contiguous pomegranate planting base, the largest in China.
"Our pomegranates weigh, on average, 400 to 550 grams, and the larger ones can weigh over 1,500 grams," says Li. "They are sweet and nutritious.
"We now sell our pomegranates to more than 30 countries and regions, including Southeast Asia, the Middle East and Western Europe."
Zhao brought his pomegranate brand, Duozile, to the launch event, with this year's freshly picked produce. Last year, his fruit was sold to Russia and, this year, he plans to explore new markets including Qatar and Canada.
Zhao's company has planted 133 hectares of organic pomegranate and 333 hectares of green pomegranate in Huili, employing an irrigation system and homemade fertilizer.
"They are picked one by one by experienced farmers, but only once they meet our standards-they have to be at least 80 to 85 percent maturity," Zhao explains. "We control the output of each tree, so that each one bears high quality fruit."
Zhao uses 10 hectares of his cropland to cultivate 64 kinds of pomegranate and cooperates with colleges in Sichuan province to research and discover new cultivar suitable for growing in Huili.
"Most of us plant Tunisian soft-seed pomegranates, which has a thin skin, a beautiful garnet color and has already adapted to the soil in Huili, but we are always looking for new types that can provide a good flavor," says Zhao.
Most Popular