Tour offers students a taste of traditional Chinese culture
Share - WeChat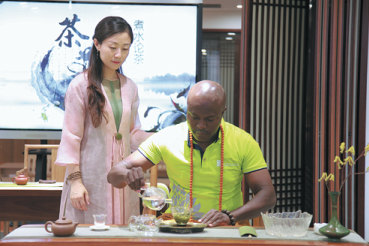 Kpako Valentin, a judge from Benin in Africa, has just returned home from China where he learned about embroidery, textile printing, fan painting and witnessed a tea ceremony.
"I experienced things I only read about in books earlier. But now I have a clearer picture of what the country is about," he says before leaving for home.
Valentin, who is registered as a student at the China Cultural Center in Benin, was part of the 2018 China Culture Center Students Award Tour, which comprised 48 students from Chinese cultural centers in 18 countries including Tanzania, Nigeria, Egypt and Mauritius.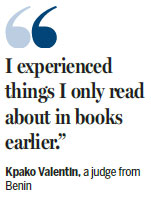 The 10-day tour was to teach them about the Belt and Road Initiative, the Palace Museum and Peking Opera.
Valentin joined the China cultural center last year as he found that he had quite a lot of cases involving Chinese businessmen who run enterprises or projects in West Africa.
"We lack judges, lawyers or interpreters who speak fluent Chinese, so these Chinese businessmen often get confused in court," says the 33-year-old judge from the city of Cotonou.
"So, I saw the necessity of learning Chinese."
For the past year, the judge has taken Chinese classes in the evening after work and borrowed books from the center's library to learn about China's legal system.
"I want to compare Chinese business law with that in West Africa, so I can tell the difference between the two systems," he says.
"I also want to help Chinese businessmen in Africa understand our laws better."
Nigerian student Habib Mohammed will embark on a postgraduate program at the North China Electric Power University in Beijing under a Chinese government scholarship.
He shares the judge's view that learning Chinese will help deepen mutual understanding.
"The Chinese are everywhere. So, I hope that when I return home I can bridge the gap between the Chinese and the locals," says the 22-year-old, whose father studied at Peking University.