FOCAC consensus should deepen trust for a shared future
Share - WeChat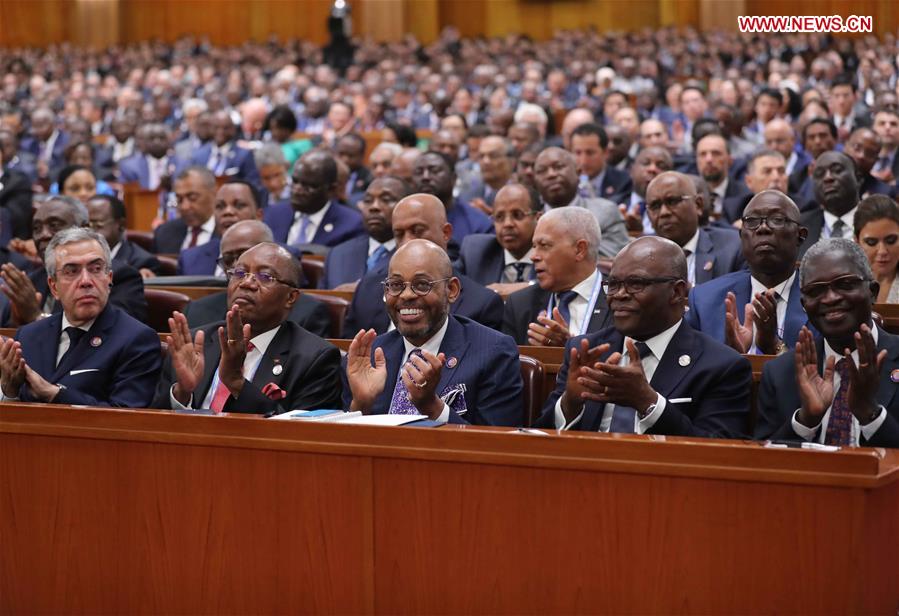 The 7th Forum for China Africa Cooperation (FOCAC) summit was held in Beijing and hosted by the Chinese government. The triennial summit since its inception in 2000 has guided the strategic partnership between China and African countries, raising the hopes of both sides for a brighter future.
As the global community watches the growing relationship between China and African countries, it behoves the two sides to strictly uphold commitments made at improving their comprehensive strategic partnership to deepen trust - an indication that China-Africa cooperation will stand the test of time.
Deepening the trust and commitment will ostensibly serve as security for a shared future as captured by the theme of this year's summit, "China and Africa: Toward an Even Stronger Community with a Shared Future through Win-Win Cooperation". Consensus reached at this year's summit nonetheless will have an impact on over a quarter of the world's population and as such the outcome of negotiations and commitments should reflect trust in the growing relationship.
African countries see their relationship with China as key to solving many of the challenges facing their development agendas. It is for this reason that they welcome Chinese investments and aid in many key areas that previously were overlooked by other partners. Authors Peter Pham, et al, who argued in a recent article published in Foreign Policy magazine - that Chinese investment and aid are good for Africa - stressed that "the world stands to gain from China's engagement with Africa," and that China is the only global actor that is realistically capable of relieving or, at least to date, has even shown interest in tackling Africa's enormous infrastructure deficit, especially in power and transport."
What China stands to gain, according to the authors, is Africa's natural resources and export market to fuel its own growth. The partnership, they say "will only pay off if the infrastructure projects that China underwrites are high-quality, commercially sound, socially responsible, and well-managed. And there is no reason they can't be. However, it is up to African leaders to drive harder bargains and African citizens to demand transparency in the terms of contracts, especially where land or commodity futures are at stake."
However, a key element that the authors failed to stress is the importance of deepening trust by both sides, to hold steadfast to stated agreements despite constant criticisms of Chinese lending undermining African sovereignty. Criticisms like these are drawbacks and should be frowned upon by the two sides if they want to stay focused on the main thing- which is extending the comprehensive strategic partnership to levels where it remains unshaken, no matter the setbacks.
The "five no" approach - no interference in African countries' pursuit of development paths that fit their national conditions; no interference in African countries' internal affairs; no imposition of China's will on African countries; no attachment of political strings to assistance to Africa and no seeking of selfish political gains in investment and financing cooperation with Africa - as emphasized by President Xi Jinping on China's relations with African countries in his address at the opening of this year's summit is an affirmation of China's trust that China will continuously abide by the principles that guide their comprehensive strategic and cooperative partnership.
For a stronger community towards a shared future, the two sides shouldn't be cowed into following Western standards that are alien to their civilisations. In pursuing a common interest China and Africa should follow a people-oriented approach, which seeks the interest of their peoples not at the disadvantage of the other but in a harmonious way that adds value to the friendship and wellbeing of people from both sides.
As declared by President Xi, that "no one can hold back the Chinese or African people as we march towards rejuvenation," Chinese and Africans on a people-to-people level should show respect and engage more with the other to make the vision of a shared future a reality. Besides the high-level visits, the friendship between China and African countries is more invigorated when people from both sides regularly connect through, for example, tourism and education. As more African students embark on study programs in China, Chinese students also should be encouraged to partake in exchange programs between Chinese and African universities. The trust between the two sides should be built on a people-to-people level as we pursue a common interest. It is from the 'ground-up' that the two sides can build a strong future.
Undeniably, a lot has been achieved since the FOCAC summit was instituted. The benefits of previous summits have led to stronger ties between the two sides. In extending the comprehensive strategic and cooperative partnership the current eight major initiatives outlined by President Xi will no doubt strengthen the relationship for generations to come.
A stronger China-Africa relationship with a common destiny in the future calls for an understanding of the civilizations of the two sides by youth. It is only through appreciating the cultures, history and civilizations of both sides that the dream of a common destiny and a stronger community with a shared future will be realized.
The author is a freelance journalist from Ghana.
The opinions expressed here are those of the writer and do not represent the views of China Daily and China Daily website.
Most Viewed in 24 Hours
China Views