Convenience stores slug it out
Share - WeChat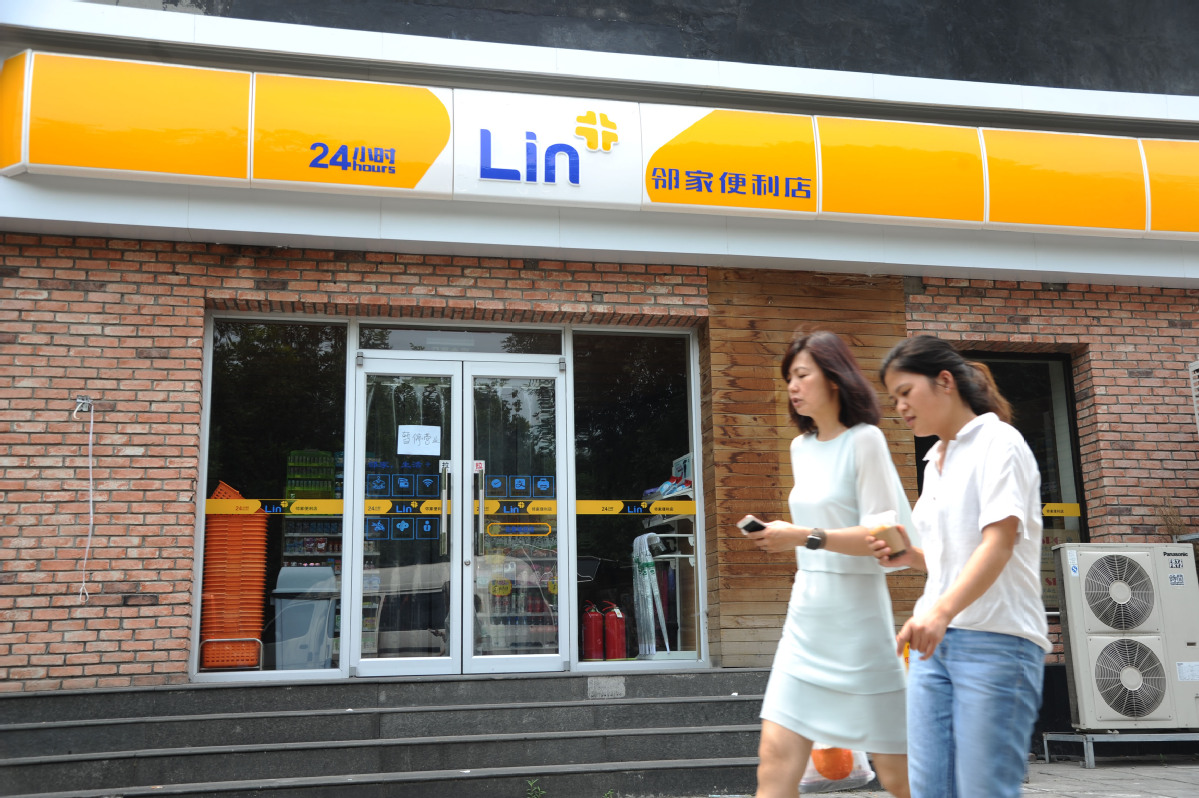 Amid hopes of future growth and demand spike, retail outlet chains brave troubles
Despite tough times and troubles, neighborhood convenience store chains in China are slugging it out, hoping to ride the ever-increasing demand for their services amid perceived prospects for future growth.
These days, consumers are buying all kinds of products, including fast food, ready-to-eat meals, snacks or cold and hot beverages like coffee at neighborhood convenience stores in China, industry insiders said.
They attributed the trend to urbanization and consumption upgrade. Consequently, the sector is witnessing intense competition.
Linjia, a Beijing-based chain founded in 2015, operated nearly 80 stores until recently. Its expansion was quick. But, on Aug 1, Linjia issued a statement that it is shuttering all of its stores.
It further said it is under investigation by the police. Its bank accounts have been frozen, it said.
Further details were not forthcoming. Compared to its competitors, Linjia was in its infancy when it went out of business. It was yet to earn a profit. Its sales revenues would not cover its expenses fully, it said in the statement.
Neil Wang, president of consulting company Frost & Sullivan in China, said: "In recent years, Linjia convenience stores have been expanding rapidly, and they opened a large number of stores in the core business areas. This has resulted in high rental costs and put Linjia in direct competition with 7-Eleven, Family-Mart and Lawson.
"The profitability of the stores can't keep up with the expansion speed, and the unbalanced cost and revenue are the fundamental reasons that has led to the complete shutdown of Linjia stores."
Shen Jun, a retail industry expert, said daily sales revenue of a convenience store needs to reach 5,000 yuan ($730) to 6,000 yuan to make both ends meet.
"This is a sector with low gross profit, and it's hard to manage well. Rapid expansion and capital injections are not necessarily helpful. Companies entering this sector cannot hope for quick success and instant profits," Shen said.
The convenience stores segment entails high operational costs in China. Last year, the rental costs of convenience stores rose 18 percent year-on-year. Costs like water and electricity rose almost 7 percent, and wages climbed 12 percent, according to a report in May from the China Chain Store & Franchise Association.
"Cost control is a priority that China's convenience stores need to consider. Besides, some key factors like upgrade of supply chain, ability to attract more customers, and use of new technologies, will help convenience stores to maintain their edge amid stiff competition," said Wang of Frost & Sullivan.
"Foreign convenience store chains have well-developed supply chains, thanks to their long experience in the sector. Many stores have been able to increase their gross profits by upgrading products, structures and by raising the proportion of fresh food. And most of their fresh food comes from self-owned brands," he said.
Agreed Song Yingchun, founder of Today, another convenience store group. It is important to develop local food and products at convenience stores in China, he said.
"Fresh food is the key. If you could provide breakfast, lunch, afternoon tea and night snacks constantly, it would help drive more frequent visits and ensure stickiness of consumers," he said in an address to Hupan College, a school that Alibaba Group founder Jack Ma and other entrepreneurs opened for startups in Hangzhou.
In 2017, the convenience stores segment in China netted total sales revenue of 85.35 billion yuan.
By 2022, the total sales revenue of the sector is foreseen at 118.56 billion yuan, up 28 percent over expected sales this year, according to market researcher Euromonitor.
Last year, Dongguan Sugar & Wine (Group) Co Ltd, which operates Meiyijia Convenience Store Co Ltd, led the sector with a 10.3 percent market share.
It was followed by Family-Mart Uny Holdings Co Ltd (FamilyMart, 7.5 percent share), Bright Food (Group) Co Ltd (Bright Food, 7.2 percent share), Chengdu Hongqi Chain Co Ltd (Chengdu Hongqi, 7.1 percent share), and Seven & I Holdings Co Ltd (7-Eleven, 6.3 percent share), respectively, Euromonitor said in a report.