Novel way to keep fit
Share - WeChat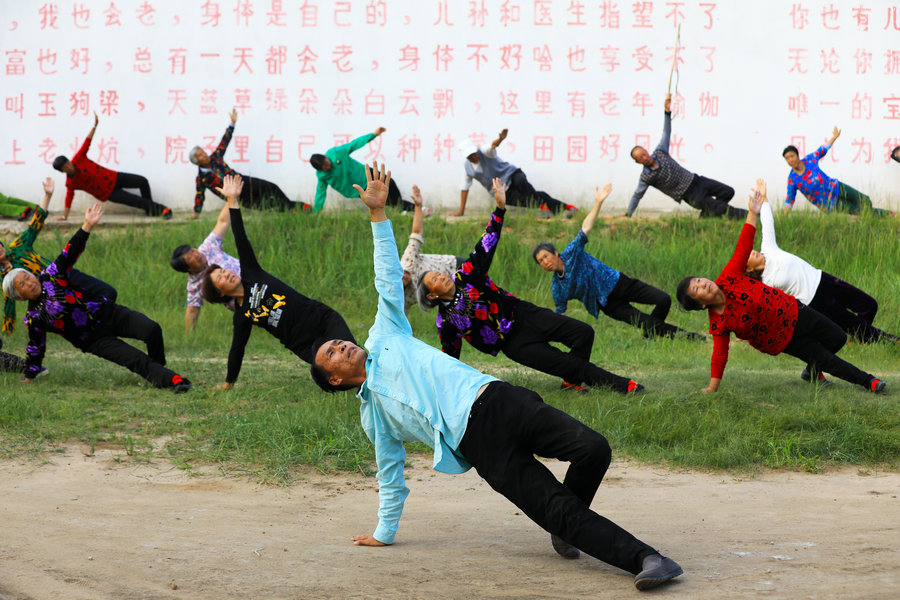 In a small mountain village 300 kilometers northwest of Beijing, many peasants follow routines that resemble yoga, a group of physical, mental, and spiritual practices or disciplines which originated in ancient India.
The village is called Yugouliang, and is situated in Zhangbei county, in Zhangjiakou city, Hebei province.
Till two years ago these villagers did not follow an specific fitness routines, but now they have mastered a series of poses such as independence on one foot, squatting against a wall, plank, sit-up, pushup and headstand.
"Our poses are not strictly yoga. But they reflect rural life. And they keep everyone active," says 52-year-old Lu Wenzhen, who was the first secretary of poverty alleviation in the village since two years ago.
Zhangbei county is one of the 10 most poverty-stricken counties in Hebei province.
The county is dry and short of water, and farmers are at the mercy of the forces of nature.
There are no small shops in the village, and mobile trucks sell vegetables and daily necessities once or twice a week in the village center.
Like many poor villages, most of the able-bodied men in the village have left for the big cities, leaving only the middle-aged and the elderly in the village.
As the popularity of "yoga" in the village grows, the local government says that it will build a nursing home and an exercise studio in the area.