An infusion of Hipness
Share - WeChat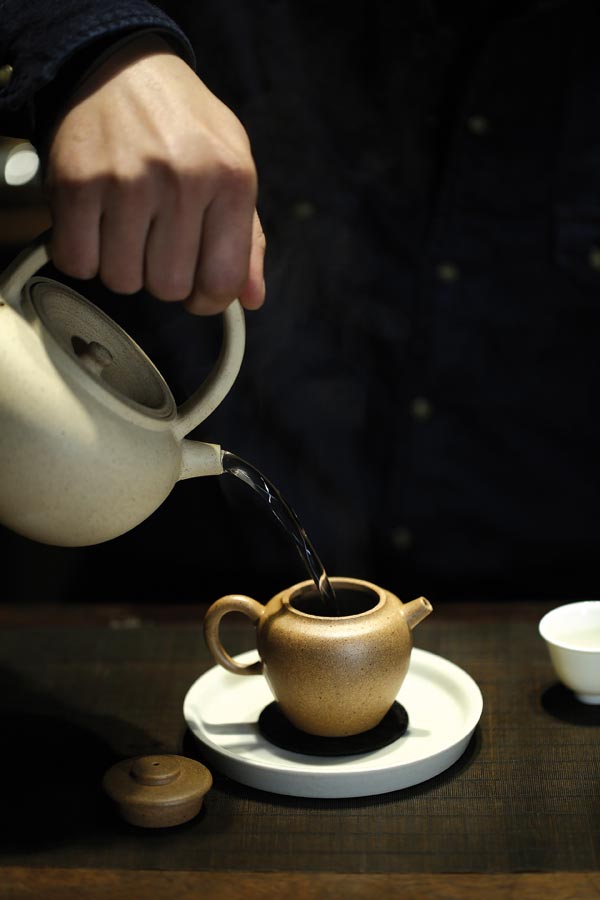 Industry experts say that modern street side stores selling gentrified versions of Chinese tea are leading the way in the beverage's ongoing renaissance in the country
In July, Seattle-based coffee company Starbucks posted one of its worst performance in China with a 2-percent slip in same-store sales and a 7.6-percent decline in operating profit margins for the fiscal 2018 third quarter.
One of the reasons behind this dip in performance, according to experts, is not the rise of competition from within the sector posed by upstarts such as Luckin Coffee and specialty coffee joints. Rather, it is because tea is becoming hip again in China.
"Startups like Luckin Coffee might be market disrupters, but it is the mushrooming tea shops led by Heytea that are the real rivals of coffee today," said Wang Zhendong, the chairman of Shanghai Feiyue Investment Management Co Ltd, a consultancy firm focusing on the domestic beverage market.
Sales of freshly prepared tea soared by 19 percent in 2017 in China, while coffee that is brewed onsite dropped by 4 percent, according to research company Kantar. Euromonitor also estimated that the market for street side shops selling freshly prepared tea will reach 81.1 billion yuan ($11.8 billion) by the end of this year, up by 13 percent.
According to Wang, Heytea, which commands the second largest market share after Taiwanese chain Yi Dian Dian, is one of the major factors behind tea's sudden boom in popularity starting in 2016.
"Heytea has revolutionized China's milk tea market with two breakthroughs. First, it has replaced cheap and not-so-healthy powder with real tea and milk. It has also changed the perception of drinking tea by creating bright and sleek shops that are very 'instagrammable', in contrast to traditional teahouses. All this makes drinking tea more appealing to the younger generation," said Wang.
"In short, they are selling China's most classic beverage in a westernized atmosphere in order to lure the young customers — and it's working."
Milk tea shops are not alone in transforming young people from coffee sippers to tea drinkers in China, where tea is believed to have originated thousands of years ago. From Starbucks to street side shops to multinational conglomerates and local entrepreneurs, a growing number of businesses are entering the fray.
For instance, Starbucks attempted to capitalize on the growing popularity of tea when it introduced its tea brand Teavana to China in 2016. But instead of building an independent chain of tea houses as speculated, Starbucks merely added two new tea beverages on the menus of their thousands of stores in China.
Earlier in August, German company Vorwerk, which is renowned for its electronic household products, unveiled a new tea machine after six years of research and development. Dubbed as the first of its kind in the world, the Temial machine retails for a whopping 5,999 yuan and works like a Nespresso coffee maker.
According to the 135-year-old company, the machine represents a major technical breakthrough because it can adjust factors such as water temperature and brewing time based on the type of tea used. All users need to do is scan a QR code labeled on the tea package sold by the company.
"The idea is to allow young tea aficionados to have a cup of tea anytime they want. It's like having a 24-hour veteran tea master on call," said Gao Ting, head of Temial China.
Comparing pre-packed milk tea sold at street shops to fast food, Gao noted that Temial is targeted at sophisticated middle-class consumers.
Luxury hotel group Shangri-la has also gotten in on the action by pairing its existing Chinese dishes with a variety of spring teas to encourage more young people to drink the beverage. This year, it gathered chefs from 29 of its properties across the country to create a tea-inspired menu for the local market.
Called "A Culinary Journey Inspired by Nature's Bounty", the event is one of the hotel group's three annual campaigns to boost its reputation as a food and beverage destination. The other two campaigns revolve around the Chinese New Year dinner and the hairy crab season in autumn.
At its hotel in Hefei, Anhui province, for example, the famous stinky fish dish is not only paired with Maofeng green tea from the nearby Huangshan Mountain, but also sprinkled with fried tea leaves which give the otherwise greasy dish a refreshing taste and crispy texture.
According to the hotel, orders for dishes in the special tea menu grew by 45 percent during the campaign period from March to May compared with other times of the year. It also started building a team of tea sommeliers three years ago.
Contact the writer at xujunqian@chinadaily.com.cn.