Foxconn unit to focus on R&D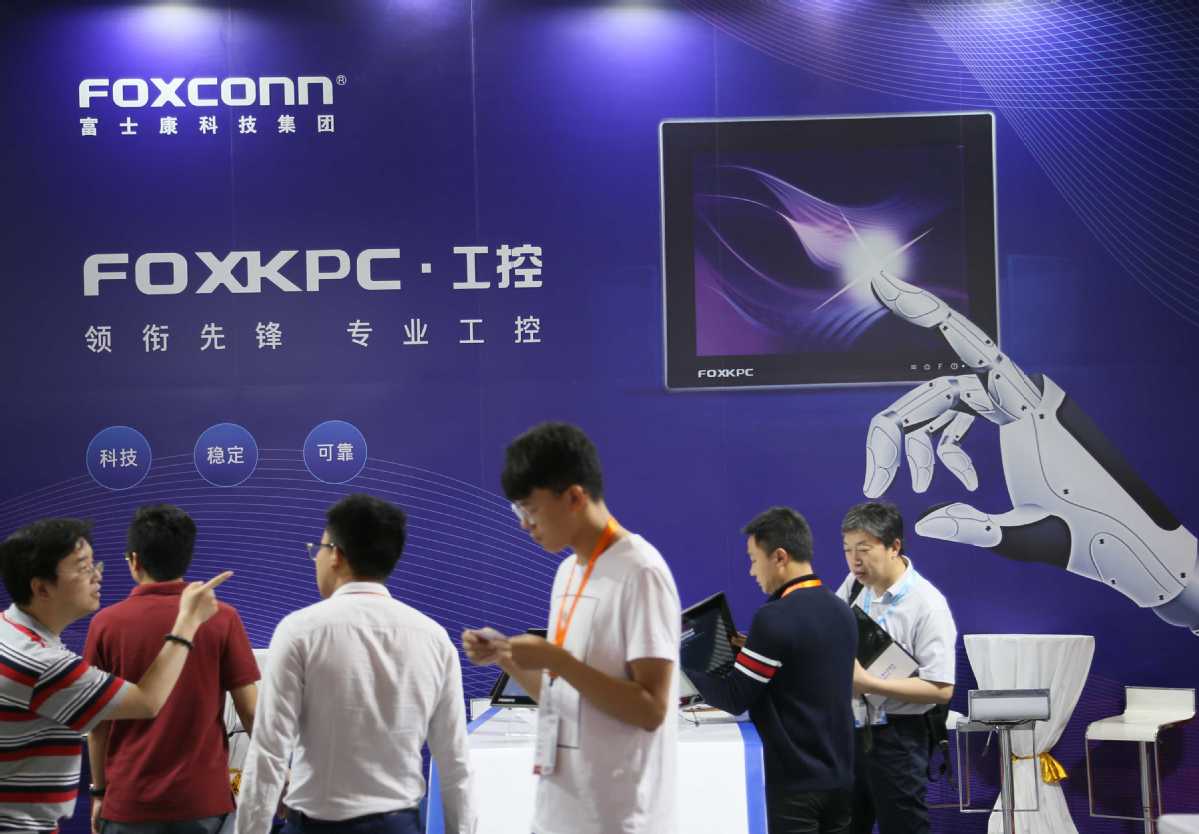 Firm upgrading industrial internet application to offer integrated solutions
Foxconn Industrial Internet Co Ltd, a subsidiary of the world's largest contract manufacturer Foxconn Technology Group, will ramp up efforts to upgrade the application of its industrial internet based on cloud computing, the internet of things, big data and artificial intelligence, and will increase investment in research and development.
The company said on Monday evening that its revenue reached 158.99 billion yuan ($23.1 billion) in the first half of this year, an increase of 16.29 percent year-on-year. Net profit hit 5.44 billion yuan, up 2.24 percent compared with same period last year.
Revenue from communication network equipment rose 28 percent year-on-year to 92.02 billion yuan in the first half of 2018. Revenue from cloud services equipment was 66.3 billion yuan, an increase of 21 percent year-on-year.
The Foxconn unit, which is known as FII and makes electronic devices, cloud service equipment and industrial robots, will invest more in R&D. R&D spending amounted to 3.19 billion ($464 million) in the first six months of the year, up 17.04 percent year-on-year, according to the company.
FII will provide enterprises with integrated solutions based on automation, big data and the internet to help manufacturing enterprises' digital transformation and upgrade intelligent manufacturing.
Labor costs fell 11.91 percent compared with the same period last year, as more industrial robots have been applied in the production process to enhance working efficiency and reduce management costs.
FII has established BEACON, its own industrial internet platform, invested heavily in high-end precision manufacturing and independently developed an intelligent control software system that is related to high-end equipment and core components.
The industrial internet refers to a network of combined, advanced machines with internet-connected sensors and big data analytics, which is expected to boost productivity and reduce costs in industrial production.
The Ministry of Industry and Information Technology released guidelines on the development of the industrial internet in June, with an aim to build infrastructure and industrial systems in the sector by the end of 2020.
In November, the State Council issued a guideline aiming to build three to five industrial internet platforms that will reach international standards by 2025.
The Foxconn unit has become China's most valuable domestically listed tech company after its shares surged 44 percent in its trading debut in Shanghai on June 8.
A total of 1.97 billion shares were issued at an initial offering price of 13.77 yuan per share. The raised capital will fund eight projects related to the industrial internet, cloud computing, 5G and industry upgrades.
It gained final approval for a Shanghai listing in May after a fast-track process, as the country's securities regulator took steps to reform the stock listing mechanism to invigorate the country's capital market and support the new economy.
The listing is viewed as part of efforts by Foxconn, formally known as Hon Hai Precision Industry Co, to wean itself off its heavy reliance on manufacturing smartphones for Apple Inc and to diversify into new areas.
Foxconn Founder and Chairman Terry Gou said in an earlier interview that the industrial internet will witness explosive growth, and there will be more than 50 billion machines connected via the internet of things by 2020.
Gou said was bullish on the potential of the industrial internet to generate opportunities for the manufacturing industry, as the convergence of the real economy and the internet economy looms.
James Yan, research director at Counterpoint Technology Market Research, said the application of the industrial internet will enhance the capacities of Foxconn in intelligent manufacturing, reduce costs and improve operating efficiency, adding that it has gained experience in intelligent manufacturing.
"Small and medium-sized enterprises need to improve their production efficiency and management models, as well as reduce their manufacturing costs," said Xu Lihong, CEO of A. BRAIN Research Institute of Intelligent Manufacturing.