Domestic brands take the pole position in handset shipments
Share - WeChat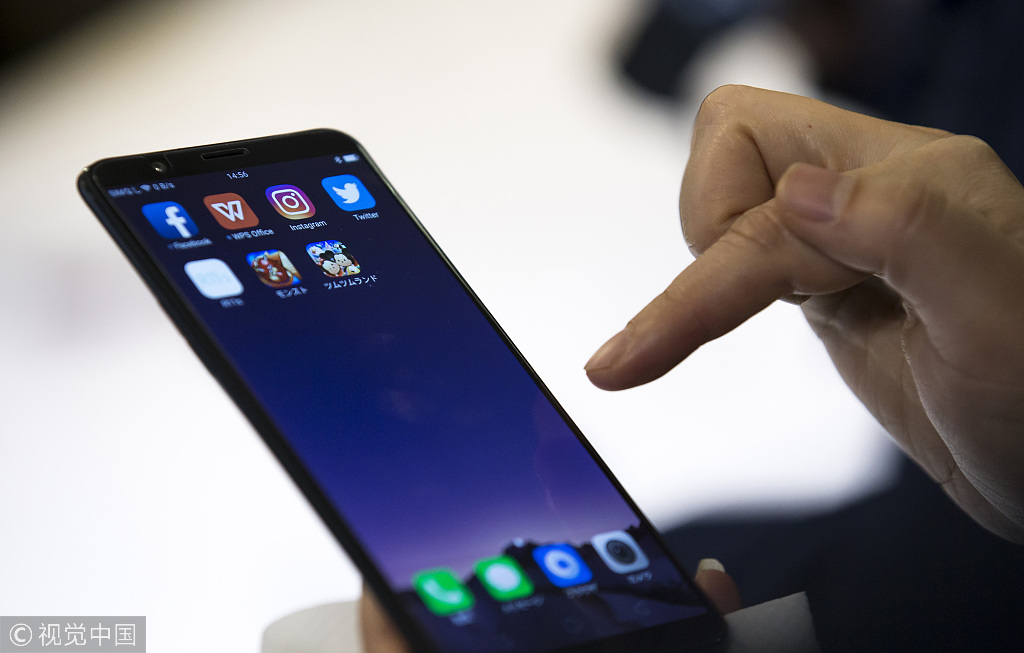 Domestic brands dominated mobile phone shipments during the first seven months of the year as manufacturers stepped up their innovation efforts, an industry report showed on Monday.
Mobile phone shipments in the country totaled 233 million units during the January-July period, with those made by Chinese manufacturers accounting for 90.5 percent of the total, according to the report from the China Academy of Information and Communications Technology, a government think tank.
In July, the proportion of domestic smartphone manufacturers in the country even hit a record high of 95.1 percent, the report showed.
The finding coincides with intensified efforts by Chinese firms such as Huawei Technologies Co Ltd and Oppo Electronics Corp to beef up research and development resources.
Fu Liang, an independent telecom analyst who has been following the sector for more than a decade, said: "Homegrown smartphone vendors are making big strides in product innovation. While attracting most consumers with quality handsets at affordable prices, they are also constantly experimenting with cutting-edge features that resonate well with users."
In the second quarter of 2018, domestic smartphone vendors once again dominated the top four spots, leaving international heavyweight Apple Inc in the fifth position and Samsung Electronics Co Ltd into the category of "others", data from market research company Canalys showed.
Huawei, which has been holding the top spot in China for several quarters, for instance, grabbed a record market share of 27 percent, with shipments of 28.5 million units. Its year-on-year growth hit 22 percent, defying the overall Chinese smartphone market decline of 8 percent.
In sharp contrast, Apple only accounted for 8 percent.
Jia Mo, an analyst at Canalys, said the advance was largely due to Honor, a brand created by Huawei to attract young people. "Honor contributed to 55 percent of Huawei's shipments in the second quarter of this year. It is now the largest smartphone brand in Huawei's consumer business group."
"Enjoying a high level of autonomy within Huawei, Honor has been pushing to make a name for itself in the market. It has expanded successfully into the $500 plus segment with its latest flagship models and continues to erode the market share of its direct competitors in the low-cost segment," Jia said.
Other Chinese smartphone vendors such as Oppo and Vivo Mobile Communication Technology, which occupied the second and third spot respectively, are also maintaining a relatively good momentum, outperforming the overall market.
James Yan, research director at market research company Counterpoint, said Chinese companies "are working hard to differentiate with innovative industrial design as we could see in models such as Oppo Find X or Vivo Nex or Huawei P20 Pro respectively to drive up the upgrade rate. Further, proliferation of features such as artificial intelligence or on-device machine learning and possibly 5G in coming years could drive a wave of upgrades."
Their efforts are more aggressive than those of foreign companies, given that Chinese companies roll out far more new handsets a year, giving them more room to experiment with new features, Yan added.
Zhang Wentao, a 26-year-old bank employee in Beijing, upgraded his iPhone 6 into a Huawei P20 in June. "Apple used to be my only choice for premium devices. But now Huawei turns out to be a more appealing alternative as it looks and works better."
Despite the progress Chinese smartphone vendors have made, Xiang Ligang, CEO of telecoms industry website Cctime, said more efforts are needed to beef up their profit margins, which still lag far behind Apple.
Currently, Apple derives most, or roughly 70 percent, of the profits in the global smartphone market because of its brand value and high average selling prices. This is a gap Chinese companies mush work hard to bridge, Xiang added.
Xinhua contributed to the story.