Puxin's M&A deals shake up tutoring segment
Share - WeChat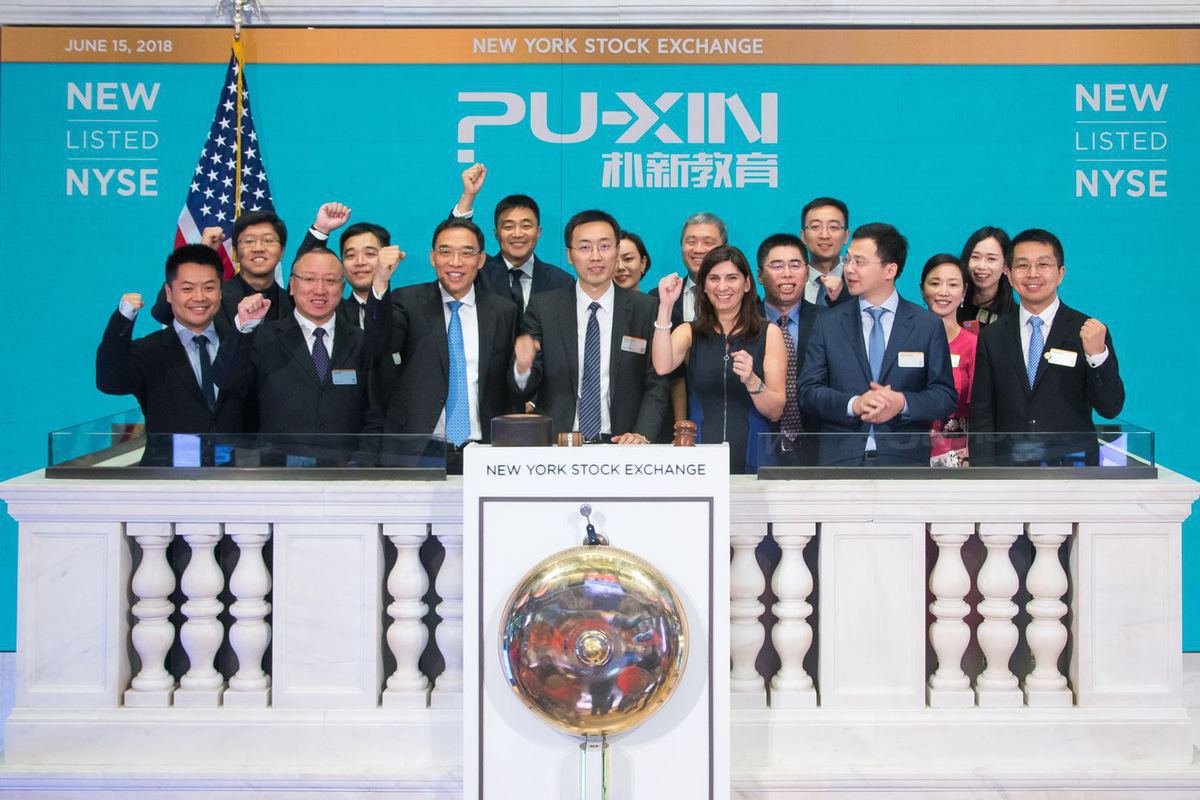 Puxin, a Chinese afterschool tutoring service provider, listed on the New York Stock Exchange on June 15. It is the country's third-largest education company by the number of student enrollment last year.
The Beijing-based platform is also the latest of four Chinese education companies that submitted applications for an initial public offering to the bourses in the United States this year. Its IPO application was preceded by those of Sunlands Online Education Group, Jingrui and Ambow Education Co Ltd.
China's top two players in the field, namely New Oriental Education and Technology Group and TAL Education Group, have been listed in the US stock market for years.
Compared with these companies, Puxin seemed to have received wider market attention. Industry analysts attributed this aspect to Puxin's business model that lays stress on acquisitions and its ability to integrate those companies with itself later.
The majority of players in the education segment prefer to grow organically, but Puxin is a kind of aggregator, swallowing up potential M&A targets. After acquiring a firm, it aligns with its own business (services related to study abroad).
"We believe acquisitions and the ability to integrate and manage the firms acquired are the key to success in China, where the education market is highly decentralized," said Wang Peng, chief financial officer of Puxin, in an exclusive interview with China Daily.
There are over 100,000 providers of after-school educational services in the K12 (kindergarten through 12th grade) sector, he said.
"However, the top five only make up for around 4 percent of the total market share, which leaves a huge space for Puxin to come in."
Wu Jincao, senior analyst at Shanghai-based Sinolink Securities, said Puxin's M&A strategy is a wise one, and should help it to expand quickly.
"Puxin is taking a different path to square up against strong rivals in New Oriental and TAL. Some educational institutions are relatively weak to run a business efficiently. Nor do they have enough financial and management strength to expand in the long term.
"By targeting such companies, Puxin is very likely to become the third-largest player in the market after New Oriental and TAL."
As of now, the Beijing-based Puxin has acquired 48 education firms. From over 450,000 students in 2016, Puxin's total enrollment has increased by 180 percent to 1.28 million last year.
Takeover of more than 40 companies with an intent to turn them around is a big challenge, said Wang.
"To integrate them into one, our basic principle is 'standardization' - Puxin Business System or PBS - where we have 3,000 procedures to unify various ways of operating companies."
Wang compared the procedure to riding a horse. "The horse will get a signal and become docile once you do some standardized actions, indicating that you are a professional. Gradually, this will also turn into an upward and positive circulation."
Puxin's business model has generated 1.28 billion yuan ($187.7 million) in revenue last year, up 192 percent year-on-year. In doing so, Puxin stopped losses at firms it had acquired. Among the first batch of schools it acquired in 2015, the operating margin rate has increased to 10.8 percent in the first quarter of this year from minus 5.5 percent in 2016.
Puxin's IPO on the NYSE came after short-seller Muddy Waters shorted the stock of NYSE-listed TAL, which caused an array of shares of Chinese education companies to fall.
"Shorting itself is a good mechanism and won't influence a company so long as it is doing right and it has communicated sufficiently with the market," said Wang.
Wu from Sinolink Securities said Puxin may face some risks like finding suitable M&A targets. "But overall, its future development and expansion are promising, given its fast growth in the past three years as well as its unique influence on the country's after-school tutoring industry."