Japanese food gets a new twist in China's capital
Share - WeChat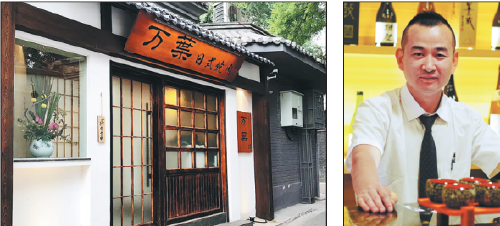 Tianjin's jianbing guozi is a traditional snack that involves using a pancake to wrap fried-dough sticks dipped in a sauce, but Gu Yansheng has now given it a Japanese twist.
In his version, Gu uses a thin piece of wagyu beef grilled for 10 seconds, shallots, mashed radishes and a special sauce.
Gu used to work for the Japanese restaurant Sushi Yotsuba in Beijing, but now he is the manager of its new branch Manyo in the Beihai area of the capital.
Gu, who has two decades of experience with Japanese cuisine, and his master chef Hirobe Tomoyuki have been working on the menu for Manyo for almost a year.
"When it comes to Japanese cuisine, people usually eat sushi, sashimi or sukiyaki," says Gu. "But yakiniku is also classic Japanese food that Manyo wants to popularize."
From the appetizers to the dips for the grilled meat, Gu has created dozens of sauces, all of which have to be made freshly each day.
"I create sauces to highlight the flavor of each ingredient. For instance, for the snowflake-wagyu beef wrap, I added a bit of apple juice to the sauce to make the sweetness stand out," says Gu.
Gu moved to Beijing from Baoding, Hebei province, 20 years ago, when he was 19. And he has stuck with Japanese cuisine since.
"Japanese cuisine has become more popular in Beijing over the years," says Gu.
"When I started in a Japanese restaurant in 1998, there were only a few in the city, but now it's easy to find one."
Gu, who joined Yotsuba in 2013, says: "As a Japanese chef, you have to keep learning new things and create new dishes all the time, or you will be eliminated.
"It's a laborious business," says Gu. "You have to cook with feeling."
Each day, Gu starts at around 10 am to prepare the ingredients and sauces.
All the beef is cut by him.
"You have to know the beef, observe its patterns and decide on its thickness depending on the fat."
The snacks are the most time-consuming items to prepare.
Winter bamboo shoots take about eight hours to cook. The shoots have to be boiled with rice to make them taste sweet.
One of the outlet's top favorites is steamed rice with crabmeat. The crabs are shipped to the restaurant each day for the dish.
When it comes to beverages, Manyo features limited-edition wines from Kanazawa in Japan, which has more than 400 years of history.
The Kagatsuru Junmai Daijingo has a light fragrance of honeydew melon and snow pear, while Maedatoshiiekou Daijingo is fruity and a bit spicy-but both go well with the yakiniku food.
Besides meat, Gu is also good with Japanese desserts.
He now serves a free dessert to his customers each day according to the weather.
"On hot days I'll prepare some ice cream. And, if it's raining, it's good to have tea desserts," says Gu.
Most Popular