Domestic consumption facilitates CPI growth
Share - WeChat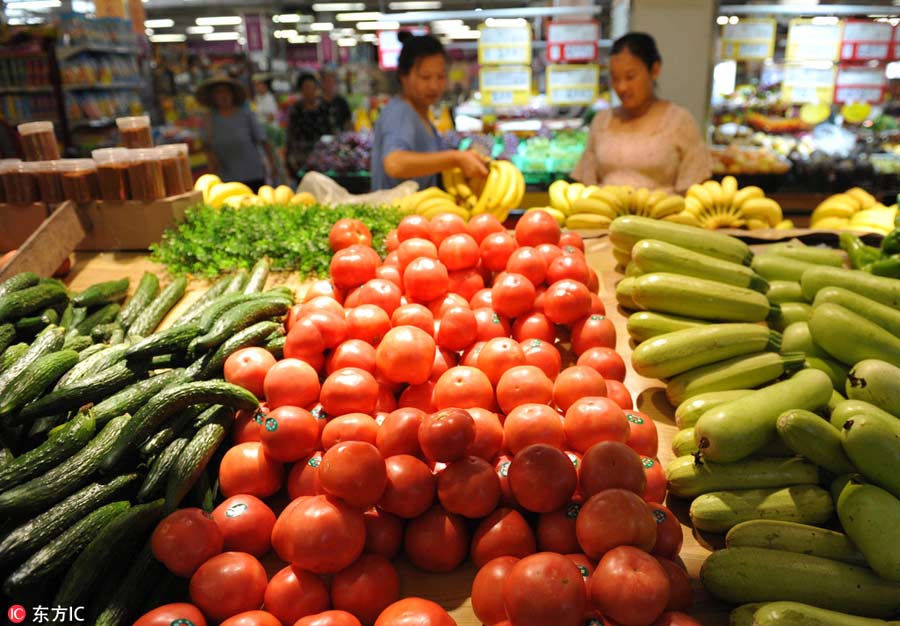 China's year-on-year July consumer inflation registered higher-than-expected growth compared with the previous month's, while factory gate price inflation cooled slightly amid moderate downward pressure and trade friction with the United States.
China's consumer price index, a major barometer of inflation, rose 2.1 percent year-on-year in July, exceeding expectations of 1.9 percent but staying well within the government's preset annual target of "around 3 percent", according to data from the National Bureau of Statistics released on Thursday.
Analysts pointed out that robust domestic consumption activity and summer travel season demand resulted in the monthly CPI figure, as consumption strength backed price increases in transportation, tourism and other service-related sectors.
Such factors should not result in significantly higher prices in the second half of the year, and the full-year result will be within a reasonable range, analysts said, adding tit-for-tat tariffs and accelerating trade disputes between China and the US will have limited influence on prices.
Niu Li, an economist at the State Information Center, said CPI increases might lose steam in the second half of the year, and for the whole year the index should remain at around 2 percent.
Tariffs that the US plans to impose will suppress total demand, and prices in the months ahead will likely see downward momentum, Niu added.
Agreeing with Niu, Lu Ting, chief economist at Nomura Securities, wrote in a note that planned US tariffs will squeeze demand, but "the impact of the 25 percent tariff on $34 billion of US goods should be quite small".
Contending that the expected growth slowdown should limit a further rise in inflation, Lu said the still-muted inflation growth will provide the government with more room to roll out further easing or stimulus measures to contain any additional economic growth slowdowns.
Chinese policymakers have vowed to ensure proper growth in the second half of the year, aiming to implement a more proactive fiscal policy and prudent monetary policy while making policies more forward-looking, flexible and effective.
Niu said the July CPI increase was mainly driven by rising demand and higher prices in the services sector, including the transportation and tourism industries.
The increase was underpinned by the summer tourism season, China's healthcare service pricing system reforms and growth in services sector prices, with the CPI at a normal level, he said.
The increase also reflected the rise in labor costs, while the influence from food prices was quite limited, he said, adding food-price increases affected CPI by about 0.03 percentage point, and nonfood price increases affected CPI by about 0.28 percentage point.
According to NBS senior statistician Sheng Guoqing, nonfood prices have pushed the inflation rate higher, which recorded a 2.4 percent increase year-on-year and 0.3 percent rise month-on-month.
On a yearly basis, medical and healthcare prices ticked up 4.6 percent, transport and communications prices gained 3 percent while accommodation costs rose 2.4 percent.
Educational, cultural and recreational prices increased 2.3 percent.
Food prices went up 0.5 percent year-on-year and edged up 0.1 percent month-on-month.
The price of pork, China's staple meat, continued to slump in July, down 9.6 percent year-on-year, dragging down CPI growth by 0.24 percentage point.
On a monthly basis, however, it registered a 2.9 percent increase, faster than the 1.1 percent rise in June.
The producer price index, which measures costs for goods leaving factories, rose 4.6 percent in July from a year earlier, cooling from the previous month's increase of 4.7 percent.
The PPI increase was higher than expected, but was mainly due to a relatively small comparative base. The index will likely keep rising in July and August, but will probably fall later, according to Niu.
Xinhua contributed to this story.
Contact the writers at liuzhihua@chinadaily.com.cn