Scarred UNESCO World Heritage site recovers slowly after quake
Share - WeChat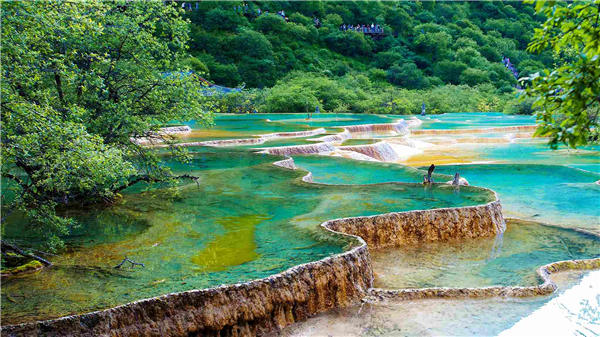 Scars and difficulties
The famous crystal blue water from Sparkling Lake was almost drained after the earthquake, and its carbonate rocks, formed thousands of years ago at the bottom of the lake, are now exposed to the air.
"The carbonate rocks can soon become loose and eroded without water. We are closely monitoring the rocks to make sure they won't pose a threat to the safety of the whole region," said Zhu Zhongfu, senior engineer at the park's management bureau.
Another major site, the Nuorilang Waterfall, cracked in the middle and stopped flowing after the earthquake. After evaluation, experts used crushed carbonate rocks to repair the fissure and now the falls are back.
"If we hadn't repaired it, it might have threatened the safety of 19 upstream lakes," said Du. "Now that the water has resumed its flow, new layers of carbonate rocks will gradually form. We will continue monitoring its recovery status."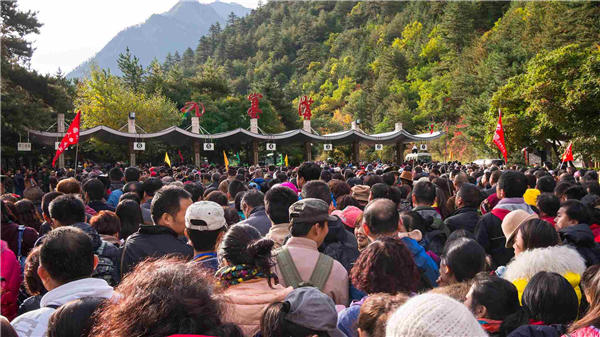 Hope ahead
The powerful earthquake was a blow to the local tourism industry, the region's primary industry. In 2016, Jiuzhai Valley received 7.2 million tourists, including 180,000 foreigners, with the total tourism revenue hitting 9 billion yuan ($1.35 billion). Last year, the number of tourists dropped sharply to 2.5 million, with ticket revenue more than halved.
Though part of the park reopened in March this year, it set strict limits on the number of daily tourists. As a result, most hotels have decided to take this opportunity to upgrade facilities.
In Yatun village, a new road is being planned and a row of Tibetan style log cabins are being built. "We hope the new houses can bring in more tourists and create more jobs in the future," said Sha Song, a local official.
Many others have joined the post-quake reconstruction. Xu Tingfeng used to work as a chef at a local hotel and is now learning to paint the walls at a construction site. Local authorities said that more than 6,500 local residents in Jiuzhai county have joined the reconstruction work so far.
"I love the lakes and mountains here. So we must take good care of them and pass them on generation by generation," said Ren.