Plan hatched to protect turtles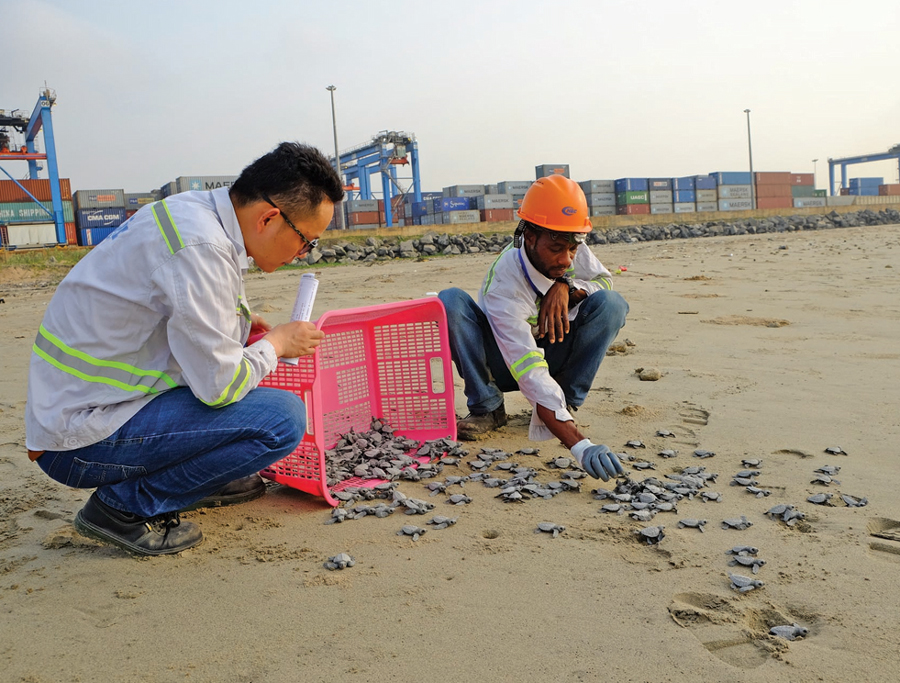 Chinese company links with local Ghanaians to safeguard hatchlings facing threats from man
On a quiet night in the dry season, as several stray dogs wander the beach on the Gulf of Guinea, a leatherback sea turtle suddenly sticks its head out from the soft sand and looks around discreetly.
For six months each year - from October until March - sea turtles lay their eggs on the beach. As the creatures that have been living on Earth for more than 150 million years reproduce along the Gulf of Guinea, millions of baby turtles will hatch and then crawl into the Atlantic Ocean.
However, along the coastline of Tema, Ghana, the normal, quiet life of sea turtles has been disturbed. In addition to poachers who take the turtle eggs, stray dogs eat them.
The sea turtles' species and hatchability have been decreasing in recent years. Although around 10 types of such turtles once lived along the Tema coastline, only leatherback, olive ridley and Chelonia mydas sea turtles are now commonly seen on the beach, and the numbers are decreasing.
Liu Wei, a Chinese engineer working for China Harbor Engineering Co's Ghana Tema New Container Terminal Project, says: "Our project site is located just beyond the beach. When we walked on the beach, we found there were a lot of broken turtle egg shells, most of which were damaged deliberately.
"A lot of baby turtles did not have a chance to see the world before their lives ended."
Liu and CHEC engineers first set foot on the beach in November 2016 with the aim of building a new container terminal in Tema.
During the project launch on Nov 16, 2016, then Ghanaian President John Dramani Mahama said the $476 million project would take engineers 51 months to construct. He said the project would change the shape of Ghana's shipping industry over the next 100 years, bringing the country a complete maritime industry system.
The Port of Tema is on the Gulf of Guinea in southeastern Ghana, around 30 kilometers east-northeast of Accra, the country's capital. Tema is one of two deep-water ports in Ghana and is the country's largest seaport, accounting for around 80 percent of the African country's port logistics capacity. The expanded Tema Port is expected to turn Ghana into an important trade and investment center of West Africa.