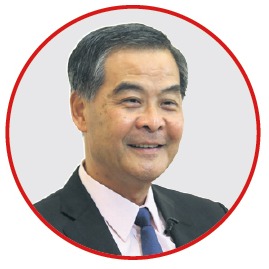 Leung Chun-ying
Hong Kong's former chief executive
BORN:

August 12, 1954, Hong Kong

EDUCATION:

1974-77: Bristol Polytechnic (now the University of the West of England), major in valuation and estate management

CAREER:

1983: Partner at Jones Lang LaSalle; president of the Hong Kong Institute of Surveyors; consultant to the steering group for Shanghai Pudong development; consultant to the steering group for Shanghai land-use reform; consultant to the steering group for Shenzhen land-use reform

1988: Secretary-general of the Basic Law Consultative Committee

1992: Hong Kong affairs consultant to the State Council's Hong Kong and Macao Affairs Office and Xinhua News Agency's Hong Kong branch

1993: Member of the Preparatory Committee for the Hong Kong Special Administrative Region

1996: Lawmaker of the Provisional Legislative Council

1997-2011: Executive Council convener for three consecutive terms

2012-17: Hong Kong SAR chief executive

2017-present: Vice-chairman of the National Committee of the Chinese People's Political Consultative Conference
Hong Kong's changing role in China's transformation
Leung Chun-ying has been a keen participant in process of reform and opening-up
WILLA WU
Hong Kong's former chief executive, Leung Chunying, gazed in fascination at photographs showing the stunning transformation of the Pearl River Delta during the 40 years of reform and opening-up.
The images were satellite images of the delta showing its remarkable evolution from 1992 to 2010.
"I always like to bring along these images when I'm asked to talk about China's reform and opening-up," Leung said. The policy, introduced by Chinese leader Deng Xiaoping in 1978, has lifted around 700 million people out of poverty and has been the driving force of the Chinese economic miracle.
Leung pointed to a satellite photo of Shenzhen, Guangdong province, in 1992. It was almost all green, with barely a sign of urban development. Then he unfolded a 2010 image, revealing the vast expansion of the city's urban development.
"Reform and opening-up has urbanized China with unprecedented speed. It amazed the world and we should promote the policy to more people in Hong Kong," Leung said.
Under the reform policy, Shenzhen has been transformed from a poor fishing village into one of the country's special economic zones. It will soon play a key part in the Guangdong-Hong Kong-Macao Greater Bay Area, the largest economic zone development in the world.
Shenzhen's official data reveals that the city's urban development has grown from 3 square kilometers in 1979 to 934 sq km today.