Suzhou youth orchestra charms Portland
Share - WeChat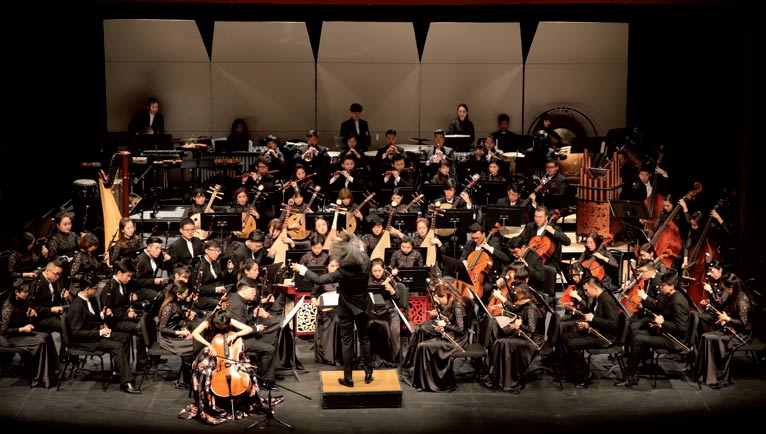 The Suzhou Chinese Orchestra drew hundreds of Chinese folk music-lovers to the Lincoln Performance Hall at Portland State University on Friday where they presented a "Charm of Chinese Music Concert".
The audience was impressed with the young orchestra's energy and professionalism and gave them an extended standing ovation at the concert's conclusion.
"I traveled almost three hours from home to see the beautiful concert," said David Perkins, a Chinese-language teacher who lives in Sisters, Oregon, a town more than 150 miles away.
Bonnie Miksch, director of Portland State University's School of Music, was also in the audience.
"It is very interesting to me that instead of the violins, we have the erhu, which is of a very different timbre from the violin, and against the whole orchestra, a very special color, that I was very struck with. It's very rare to hear something like this, other than on TV, or YouTube," Miksch said. "It's very special to be upclose."
The concert was under the baton of Pang Kapang, who has conducted at the Golden Hall of Vienna 13 times. The program featured six pieces: Celebration Prelude by Zhao Jiping, Jasmine Flower by Wenjin Liu, Butterfly Dream by Zhao Jiping, Variations of Emotion by Liu Changyuan, Peony Pavilion: Touring the Garden by Zhu Changyao, and Macau Capriccio by Wang Danhong.
Peony Pavilion: Touring the Garden is adapted from a play of the world intangible heritage Kun Opera and composed by well known erhu virtuoso and composer Zhu Changyao. At the concert, the piece was also accompanied by a classic singing of Kunqu Opera selections by artist Wang Fang.
Founded last December, the orchestra now has more than 90 members, including renowned musicians and students from top-flight music schools across China. Pang Kapang is its artistic director as well as principal conductor.
"Although Suzhou Chinese Orchestra is still very young, we are passionate and have been dedicated to integrating folk music into the orchestra performance and reinterpreting and expressing traditional Chinese music with international mainstream symphonic language," Pang said.
The orchestra played another concert on Saturday.
To Jian Wang, director of the Confucius Institute at Portland State University, both concerts, which integrated Chinese folk music into the orchestral format, were culturally striking.
"Portland is a city of music. We have a lot of local musicians and people like going to concerts. This concert by Suzhou Chinese Orchestra provided a unique opportunity for the local community to enjoy authentic Chinese music without having to travel all the way to Suzhou, China," Wang said.
The concerts were part of the celebration of the 30th anniversary of the establishment of the Portland-Suzhou Sister City relationship. The two cities forged sister-city ties in 1988.
Portland Mayor Ted Wheeler led a delegation to Suzhou from April 22-27.
Contact the writer at lindadeng@chinadailyusa.com
Most Popular