Multiracial soccer teams welcome, but what about racism in society?
Share - WeChat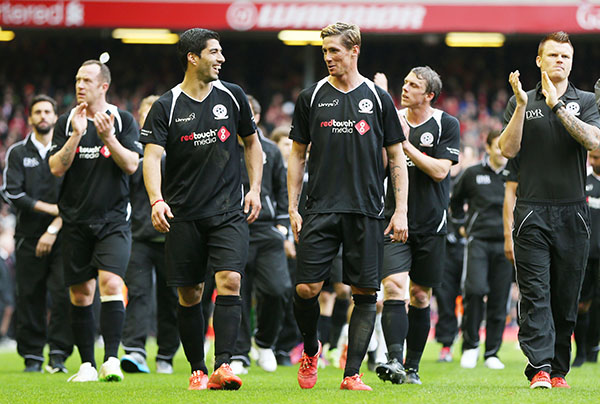 Two Spanish soccer heavyweights, Andres Iniesta and Fernando Torres, made their debut in Japan on July 22, though both of their clubs ended up on the losing side. Still, Japanese soccer fans were excited about their arrival.
Iniesta, a former Barcelona star, has signed for Vissel Kobe, and Torres has left Atletico Madrid for Sagan Tosu. They have followed in the footsteps of some great soccer players who have helped Japan become an Asian soccer heavyweight. Japanese men's national team made it to the last 16 of the World Cup in Russia, the only one from Asia which is home to 70 percent of the world's population.
Japan's national squad made its first World Cup finals appearance in France in 1998 and has qualified for the finals every four years since then. After Japan's professional soccer league, the 10-team J. League, was established in 1991, the beautiful game has developed at an increasing pace thanks to the arrival of some international soccer stars. The J. League signed soccer legends such as Jorginho, Bebeto, Gary Lineker and Arthur Antunes Coimbra, better known as Zico.
Moreover, several Brazil-born soccer players such as Wagner Lopes, Alex Santos and Tulio Tanaka took Japanese citizenship and were enlisted in Japan's national team.
The international soccer stars were role models who inspired Japanese soccer players with their talent. Now there are several Japanese football players playing for the best clubs in Europe.
The Japanese soccer story reflects the benefits of globalization. A bigger winner is the French national football team. Out of the 23 members of the French squad that won the 2018 World Cup, 17 are immigrants or the children of immigrants-12 players have African ancestry. Kylian Mbappe, the 19-year-old wunderkind who is of Cameroonian and Algerian descent, became the face of the French team because of his remarkable display in the tournament.
Diversity is believed to be the French squad's biggest strength. The French newspaper Le Monde said in its editorial on the World Cup victory that the national soccer team, made up of players of many different ethnic groups, showed that "the sense of national belonging goes hand-in-hand with many different histories and different backgrounds".
France's multicultural team has been hailed as representing a real model of integration. But now that celebrations of France's victory are over, the stark reality outside the field is back.
On the Daily Show in the United States, South African comedian Trevor Noah claimed Africa won the World Cup, because of the number of black players in the French team. "You don't get that tan by hanging out in the south of France," Noah said. "France is Africans' backup team."
Criticizing Noah's racist remarks, French twitter users informed him that more than 90 percent of the players in the French team were born in France. Only two were born in Africa, but they came to France at the age of two and have grown up there.
German football star Mesut Ozil resigned from the national side on July 22 due to the "racism and disrespect" he faced since being photographed with Turkish President Recep Tayyip Erdo an in May. German Football Association President Reinhard Grindel, as Ozil said, had made him a "scapegoat" for the team's poor World Cup showing. Germany, the defending champion, was knocked out in the group stage in Russia.
"I am German when we win, but I am an immigrant when we lose," Ozil, who has Turkish ancestry but grew up in Germany, said. Not surprisingly, Ozil's resignation has sparked a debate over integration and racism.
There have been reports of racial slurs, chants and banners, and even bananas were thrown at and monkey gestures made against some players in and outside stadiums. Italian striker Mario Balotelli, who was born in Palermo, Sicily, to Ghanaian immigrants, gave a wake-up call to soccer officials a few years ago.
Soccer racism is only partly about sports; it also reflects society and politics outside the field. But is the world listening?
The author is China Daily Tokyo bureau chief.
caihong@chinadaily.com.cn
Most Viewed in 24 Hours
China Views