Raffarin supports ideas of president
Share - WeChat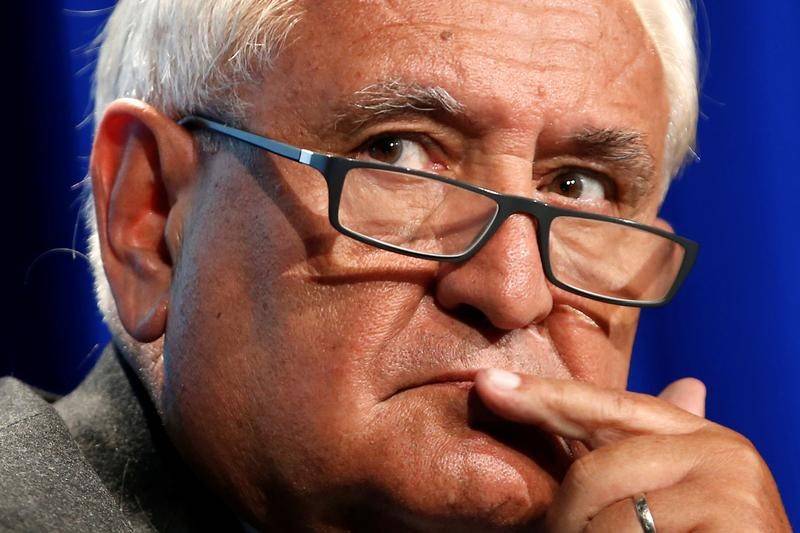 Former French prime minister Jean-Pierre Raffarin has offered his support for President Xi Jinping's big idea that increasing cooperation between nations is the only way to solve the world's problems.
The elder statesman, who is a regular visitor to China, believes Xi's concept of "a community with a shared future for mankind" offers hope for those who fear a return to 1930s-style protectionism.
"This primary objective laid out by Xi Jinping, which is a community for the future of humanity, is something that we all can share," he said.
"It is very closely linked to multilateralism. The fact that we have the commonality of a shared future means that we need to have multilateral governance."
Raffarin, who was speaking ahead of addressing an event at the China Europe International Business School in Shanghai, said the Belt and Road Initiative had in itself an important role in getting countries to work together.
"China is launching these cooperation-based initiatives because it is cooperation that is key to solving tensions on a global scale and also the path to creating a balance," he said.
"This balanced cooperation needs to be built in order to have better world governance."
Raffarin, who was prime minister from 2002 to 2005 when Jacques Chirac was president, sees United States President Donald Trump's escalation of trade tensions as posing a major threat to global economic growth.
"We don't see this situation as just a spat between the US and China, but rather as a unilateral position adopted by the Americans in order to change the terms of international trade. This not only puts at risk global growth but that of the US too," he said.
"I don't think anything positive will come out of the current tension. International trade will be the first victim," he added.
Raffarin believes these current trade tensions make the China-EU Comprehensive Strategic Partnership, which this year marks its 15th anniversary, more important than ever.
"The transatlantic link between the US and Europe is not what it was, and perhaps President Trump is jeopardizing this historic Western priority," he said.
"Today we can see that priority is gradually shifting to the East.
"It might not be on an equal footing yet, but certainly some in Europe are saying we should look more to the East and that we don't look East enough."
Raffarin believes that China has so far shown a more constructive approach during the trade tensions, with Xi Jinping in his speech to the Boao Forum in Hainan in April demonstrating that China is prepared to be more open to foreign investment.
"We can see that with Xi's speech at the Boao Forum and with China holding the first International Import Expo in November (in Shanghai) that China wants to keep the door open and open it some more."
Raffarin also believes the rest of the world needs to learn from the opening-up as demonstrated by the success of Deng Xiaoping's reform and opening-up, the 40th anniversary of which is being marked this year.
"A country like France needs reform and opening-up, and a great many other countries do too. The world is moving fast and we all need reform.
"What was initiated by Deng Xiaoping for China is now very important for the rest of the world," he said.
Raffarin believes there is already an understanding in the West of the significance of Deng's reform.
"I do think people in the West understand this event, even though they might not be fully aware of all the ins and outs. It is aware of the sheer power — intellectual, technological and scientific — that has restored China to its original place as a world power."
Raffarin said France's relationship with China has always been very important politically at home.
Both Deng and former premier Zhou Enlai studied in France after World War I, and Paris restored diplomatic relations with Beijing in 1964.
"It is a point for which there has been a total consensus among France's political leaders, and we see that now with (President) Emmanuel Macron and his new generation coming up," he said.
Raffarin sees cooperation in science and technology being now very important for France and China, with both countries having ambitions in artificial intelligence and other fields.
Raffarin is a supporter of Macron's vision of a more federalist Europe, even though a number of EU countries remain skeptical with military tensions around Europe and problems of migration driving some doubts.
"General de Gaulle, who is still an inspiration for French politics, said that circumstances often trigger decisions. President Macron's proposal, which is to have a more united Europe with closer governance around the eurozone, will be reinforced by events going on around us," Raffarin said.
He believes that with the United Kingdom scheduled to leave the European Union in March, there will be opportunities for Paris to take business away from the City of London financial center.
"We already have a number of financial flows that are being redirected to Paris. We are currently in discussions with Shanghai, for instance, to strengthen our position in relation to China," Raffarin said.
He believes it is important for European countries to work with China, particular with initiatives like the Belt and Road Initiative.
"BRI is an initiative to which France is fully subscribed. So as testimony to that we have taken part in the Asian Infrastructure Investment Bank and the Silk Road Fund, with which we have just signed our first agreement in Paris," he said.