Pinduoduo shares soar on debut
Share - WeChat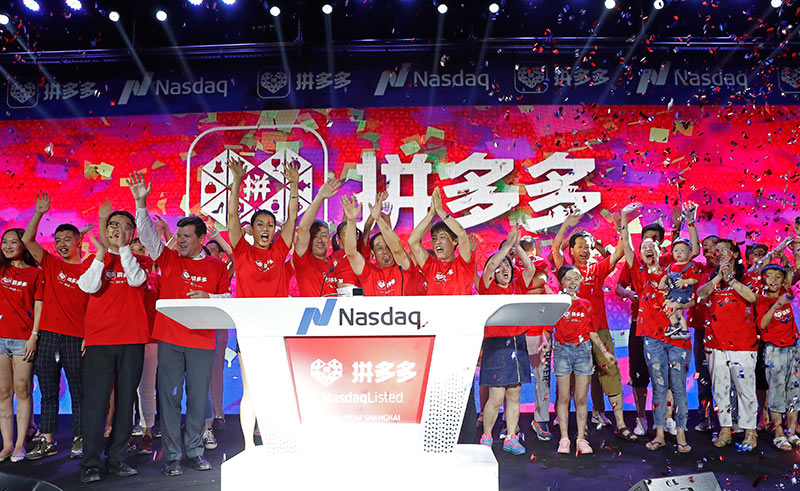 Online discounter's robust business model gains support from investors
The initial success of Chinese online discounter Pinduoduo Inc's Nasdaq debut suggested Wall Street's vote of confidence in its social-commerce business model, but the 3-year-old firm needs to watch out for issues ranging from counterfeits to portfolio limits that could drag on profitability in the long run, analysts said.
Shares of the Shanghai-based company rocketed by more than 40 percent on its first trading day on Thursday, putting its founder Colin Huang among the ranks of the world's billionaires at the age of 38.
Up from its IPO price of $19, the stock closed at $26.70 in New York, valuing the company at $29.6 billion and Huang's 46.8 percent stake at $13.8 billion.
Pinduoduo's focus on user recommendations and social networking to boost sales has set it apart from the traditional search engine model adopted by most e-commerce firms like Amazon.com Inc and Alibaba Group Holding Ltd.
Unlike bigger rivals that are sharpening their focus on drawing top-notch brands and selling bigger-ticket items, Pinduoduo draws in 344 million bargain hunters who are generally more price-sensitive and prefer buying daily necessities in bulk.
Working as a Groupon-Facebook mashup, Pinduoduo fills in the void of a niche e-commerce segment, which even established players like Alibaba and JD have failed to tap into, said Jason Yu, general manager of Kantar Worldpanel for China.
"The economies of scale are still very important in the vast Chinese market. Investors are pinning hopes on Pinduoduo even if the business is still in a money-losing phase," Yu said.
Pinduoduo is also quickly ratcheting up its rivalry with the bigger players, with gross merchandise volume on the platform jumping 8.5 times in the first quarter of 2018, according to its prospectus.
This would dwarf Alibaba's Taobao, a predecessor app featuring customer-to-customer transactions, which racked up just 20 percent of growth for the same period, according to estimates from Li Chengdong, a veteran e-commerce investor who was a strategist at JD.
"Apart from such breathtaking speed of expansion, the average customer acquisition cost is 22.4 yuan ($3.29), one-ninth of Alibaba and one-seventeenth of JD. This gives Pinduoduo a lot of financial leeway for future growth," he said.
There are of course bumps along the road, including being sued for trademark infringement in federal court in New York just ahead of the IPO. Yu from Kantar Worldpanel said the company should prioritize internal management (such as the crackdown on knockoff goods) to maintain business momentum and win consumer trust.
"Fighting counterfeits is capital intensive and a highly complicated process. Pinduoduo has learnt a lot from the likes of Alibaba and imposed stricter fines on unlawful merchants," Huang told a media briefing on Thursday.
Other headwinds include the surging difficulties in acquiring new customers, as well as its lack of core competence in technology and logistics, according to Xu Rongcong, chief retail analyst at China Merchants Securities Co Ltd.
"Pinduoduo needs to consider expanding to a broader customer base with bigger purchasing power and enhancing shopping frequency and per-customer transactions," Xu said in a research note.
Huang said he is aware of the challenges, saying the site will enrich its product portfolio rather than targeting one specific consumer group.
"You could probably find a purchasing link on a luxurious scented soap from France one day on Pinduduo," Huang said. "We may not be able to meet everyone's needs for now. But I am sure we have already met someone else's."