On a ring and a prayer: The quest to translate Tolkien's classic
Share - WeChat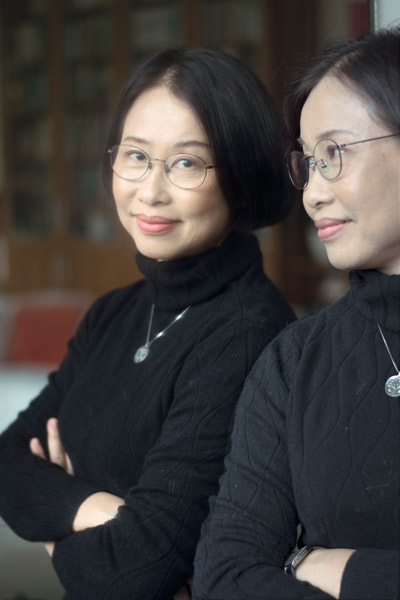 For readers on the Chinese mainland, the name of Teng Jia-wan, a translator from Taiwan, is closely related to British writer JRR Tolkien's The Lord of the Rings, whose latest Chinese version was released in 2013 to a good reception from readers and critics.
Teng contributed 80 percent of the translation to the 1 million-character Chinese version, leaving the rest - poems and appendices - to two other fans of the fantasy, Tu Yun-Tzu and Shi Zhongge.
However, few people know that when Teng first took her college entrance examinations in Taiwan, she got only 2 points in the English test and, in total, she spent four years studying to pass the examinations.
Born in 1962 in the south of Taiwan, Teng went to a vocational middle school to study children's education after failing her high school examinations. After graduation, 18-year-old Teng then wanted to continue with higher education, but her parents had planned a life for her: working to make money for the family, blind dates and marriage by 21.
However, she started work at a factory. And using the money she managed to save, one year later, she left home for Taipei and started preparing for her college entrance exams. But her vocational education meant that she had to study all the courses normally taught at high school on her own.
So, she rented a bed at a Catholic women's dormitory, went to work at a factory during the day and studied in the evening. And, despite always performing badly in examinations, after four years of working and selfstudy, at 23 she was finally enrolled at a Christian university, which offered only three majors: the Bible, English and music. Teng wanted to study the Bible, but that year, few students were enrolled, so Teng had to study English instead.
"As a Christian, I obeyed God's will to study English even if I didn't really like it," she says.
With a weak foundation of the English language, Teng had to work very hard to catch up, so she devoted all her time to learning and study, meaning that she had no time to follow her passion: writing fiction.
"Compared to translation, I am more enthusiastic about creating stories. And even before college, I already had some work published," she says.
After graduating from university, Teng became a Chinese teacher for English speakers in Taipei, and later worked in a company as an interpreter and translator, but her health began to suffer so she quit. Translation then became the only thing that she was capable of, she says, so she started translating books.
In 1997, a heartbreak saw her rethink her life and explore new territory. So, she went to Newcastle University in Britain to study sociolinguistics, which was indeed life-changing.
During the Easter holiday in 1998, Teng and her British roommate traveled to Greece, where they visited the roommate's Greek classmate. When the two got into an enthusiastic discussion about something called The Lord of the Rings, Teng asked about it. And they strongly recommended that she read it, so upon her return to Britain, Teng went to buy the novel immediately.
Once she started reading it, she couldn't put it down, considering it to be "the best story that I ever read", she says.
"I love Tolkien's story about Middle Earth because it's vast, beautiful, profound and melancholy. It makes you really sad, but at the same time evokes an extreme longing for it.
"Reading it became a reward for me during my thesis writing. So, after I produced 500 words, I would take a break to read The Lord of the Rings."
Enchanted by the fiction, Teng aspired to translate it into her native language, only to find there were already five Chinese versions.
Later, in 1998, after Teng returned to Taiwan, she decided to translate The Silmarillion into Chinese. And in 2002, it was published in Taiwan. But since there was no authorized print edition, fans of Middle Earth on the mainland spread The Silmarillion online.
Meanwhile, Teng frequented those online forums both on the mainland and in Taiwan, and that's where she met Shi and Tu.
In 2012, when Teng turned 50, like Bilbo Baggins in The Hobbit, who started his adventure at 50, or Frodo Baggins in The Lord of the Rings, who destroyed the ring at age 50, Teng got the job to create a new translated version of the epic tale, itself a great adventure and mission after 20 years of diligent translation - and much like the tale's Hobbit protagonist, she invited her friends to join her on the quest.
Teng has been a full-time translator since 2004 and is popular among publishers for her high-quality work.
Shen Yu, one of the editors of The Lord of the Rings, with the publisher Beijing Horizon, says that Teng's translation is more literary and accurate than the other versions.
Although she does not have the passion for translation that she has for writing stories, she works extremely hard and quite enjoys the independence and solitude that translation offers.
"You don't have to face people or talk, which I like a lot. But still it's a job that requires perseverance, endurance and self-discipline," she says.
Most Popular