Apple powers up green efforts
Share - WeChat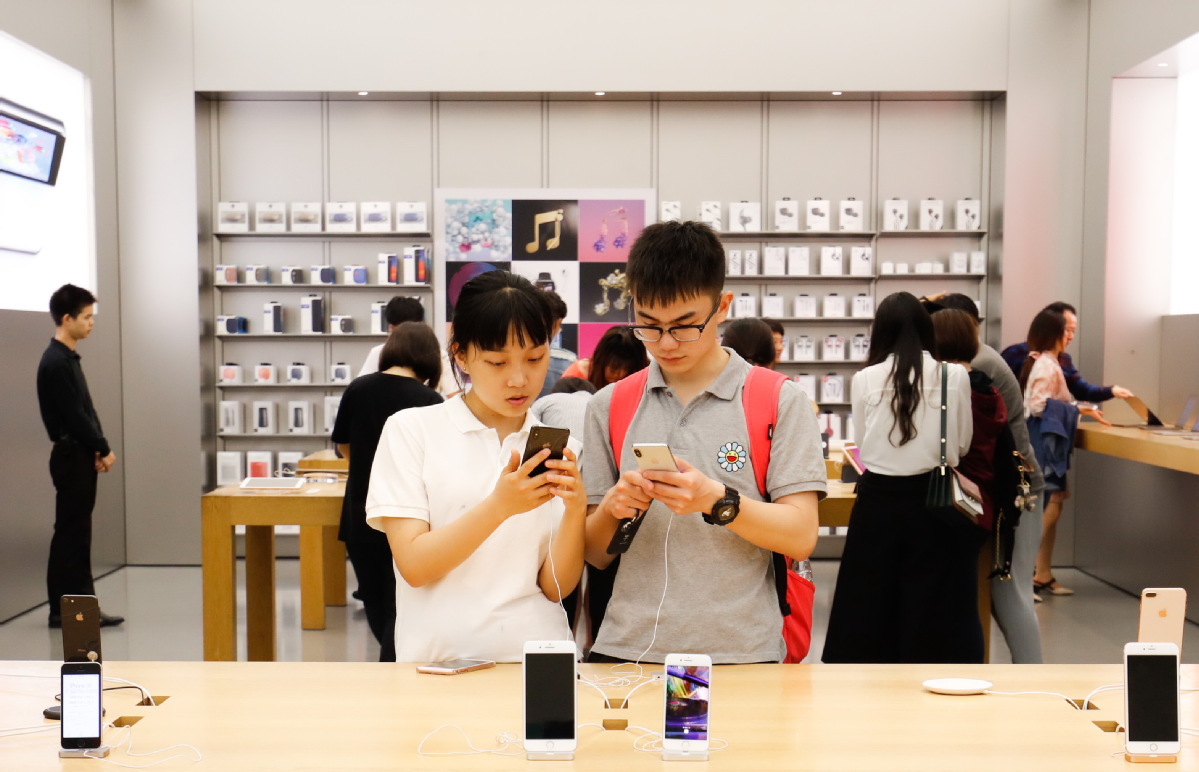 Tech giant plans to promote clean energy in China with $300m fund
Apple Inc is ratcheting up resources to address environmental challenges with a newly announced $300 million fund to promote clean energy in China.
The move is part of broader efforts by the United States-based tech heavyweight to tackle climate change and increase the use of renewable energy within its supply chain.
It also comes as the US and China are locked in a trade dispute, triggering concerns about possible negative impacts on businesses.
Under the initiative, Apple and 10 initial suppliers will jointly invest nearly $300 million over the next four years into the China Clean Energy Fund.
The fund will invest in and develop clean energy projects totaling more than 1 gigawatt of renewable energy in China, the equivalent of powering nearly a million homes.
"We're thrilled so many of our suppliers are participating in the fund and hope this model can be replicated globally to help businesses of all sizes make a significant positive impact on our planet," said Lisa Jackson, Apple's vice-president of environment, policy and social initiatives.
The 10 initial supplier partners include Catcher Technology, Compal Electronics, Golden Arrow and Sunway Communication.
Transitioning to clean energy can be complex. This is especially true for smaller companies that may not have access to viable clean energy sources. By virtue of its size and scale, Apple said in a statement that the China Clean Energy Fund will give participants the advantage of greater purchasing power, and the ability to attain attractive and diverse clean energy solutions.
The China Clean Energy Fund will be managed through a third party, DWS Group, which specializes in sustainable investments and will also invest in the fund, the California-based company added.
Apple and its suppliers aim to generate more than 4 gigawatts of new clean energy worldwide by 2020 - representing one-third of Apple's current manufacturing electricity footprint.
Xiang Ligang, founder of telecom industry website cctime.com, said Apple has been pouring resources into environmental efforts in recent years, but the new fund plan came amid mounting concerns that a trade war between the US and China will weigh on companies working in both countries.
Earlier this month, the US proposed plans to impose additional 10 percent tariffs on $200 billion worth of Chinese imports, after it had already slapped additional 25 percent tariffs on $34 billion of Chinese goods. China retaliated, putting tariffs on $34 billion of US imports.
China is an important market for Apple. In the quarter ended in March, Apple posted revenue of about $13 billion in China, the world's largest smartphone market, a 21 percent year-on-year rise, the company's financial reports show.
But Apple's presence in the country fell to fifth place in terms of smartphone shipments, accounting for about 11.3 percent of market share in the first quarter of 2018, data from the market research company International Data Corp show.
"The new fund is an effort by Apple to strengthen its ties with Chinese suppliers," Xiang said.
In the global arena, Apple is also facing mounting competition from Chinese rivals such as Huawei Technologies Co Ltd.
In the first quarter of 2018, though Apple maintained its spot as the second-largest smartphone vendor with shipments of about 52.2 million iPhones, its 2.8 percent growth rate pales against Huawei's 13.8 percent year-on-year rise. Huawei shipped 39.3 million smartphones in the same time frame, according to IDC.
Yu Chengdong, CEO of Huawei's consumer business group, said in June that the Chinese tech giant aims to ship nearly 200 million smartphones this year, close to Apple Inc's annual shipment of 200 million to 210 million.