Seeing red
Share - WeChat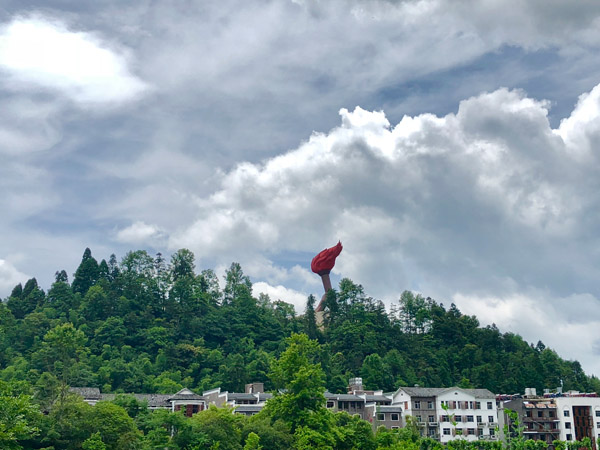 Red tourism-both at home and abroad-is finding favor among young Chinese. Xu Lin reports.
A group of people dressed in the uniform of the Chinese Red Army are marching down the street. One of the "officers", Dong Yafei, proudly walks in step with a red flag draped on his shoulder.
They're not extras for a TV drama, but tourists at the Jinggang Mountain on the border of Jiangxi and Hunan provinces.
"It feels different to tour revolutionary sites in an army uniform. I choose my words more carefully and I find myself acting differently-such as in the way I walk-because I want to show my respect," says Dong, 28, an office worker from Beijing.
In May, he visited Jinggang Mountain, where China's first rural revolutionary base was established in 1927. It's a popular red tourism site with the Chinese, especially those who like to enjoy experiences like Dong's.
In 1928, Mao Zedong, Zhu De, Chen Yi and He Long joined forces at the Jinggang Mountain, making the place a key site for the Red Army and one of huge historical significance for tourists.
"I had only read about it in textbooks, but when I visited, the descendants of the Red Army soldiers told us the story with details that you can never get in a book," says Dong, adding that, as time passes, there will be fewer people to recount the stories of the revolution.
Dong also says that while red tourism attracts many visitors to Jinggang Mountain, it's also a very picturesque place, carpeted with green bamboo. And there are also different souvenirs available, made from the ubiquitous plant.
Speaking about the significance of the place, Dong says: "These revolutionary pioneers endured great hardship to win the final victory. It's similar to building a career-there are many difficulties. Those who run, or work at, startups can learn from it."