Stage sirens take to the silver screen
Share - WeChat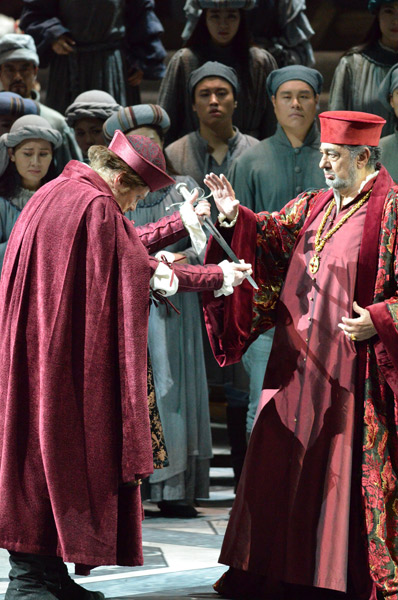 The National Centre for the Performing Arts' International Opera Film Exhibition will take place at 17 cinemas in 10 Chinese cities - including Beijing, Dalian, Shanghai, Hangzhou and Chengdu - from Aug 4 to Oct 13, and will see 265 screenings of 13 opera film productions by four of the world's leading theater companies.
The NCPA's 2015 production of Giuseppe Verdi's opera Simon Boccanegra, which was conducted by Chun Myung-Whun and features Placido Domingo, will open the exhibition.
The NCPA initiated the opera film project in 2013 and of the 76 operas the NCPA has produced since it opened in 2007, nearly 30 have been turned into opera films.
Audiences will be able to watch another three opera films produced by the NCPA, including the musical drama The Beautiful Blue Danube - The Story of Johann Strauss' 1872 US Tour based on the composer's visit to the United States in the late 19th century; The Long March, a work based on the two-year tactical retreat of the Red Army to evade Kuomintang forces in 1934, and the Peking Opera film, You and Me.
According to Zhao Jiachen, vice-president of the NCPA, the International Opera Film Exhibition has brought nearly 500 screenings to 10 Chinese cities since 2016, attracting a total audience of around 380,000 people.
"Theaters worldwide are using more alternative content, such as opera films, to appeal to customers. So, combining the latest technology with opera is a great way to attract audiences," says Zhao.
Tenor Wang Haitao, who plays a commander in the NCPA's production of The Long March, says that unlike most opera performances in theaters, the film production gives the opera a more "cinematic" look and requires the actors to modify their performances and look at the cameras rather than the conductor or audience.
"For the audience, it's a different way of appreciating the art form, which is easier," Wang says.
Most Popular