ACG market gains fresh momentum
Share - WeChat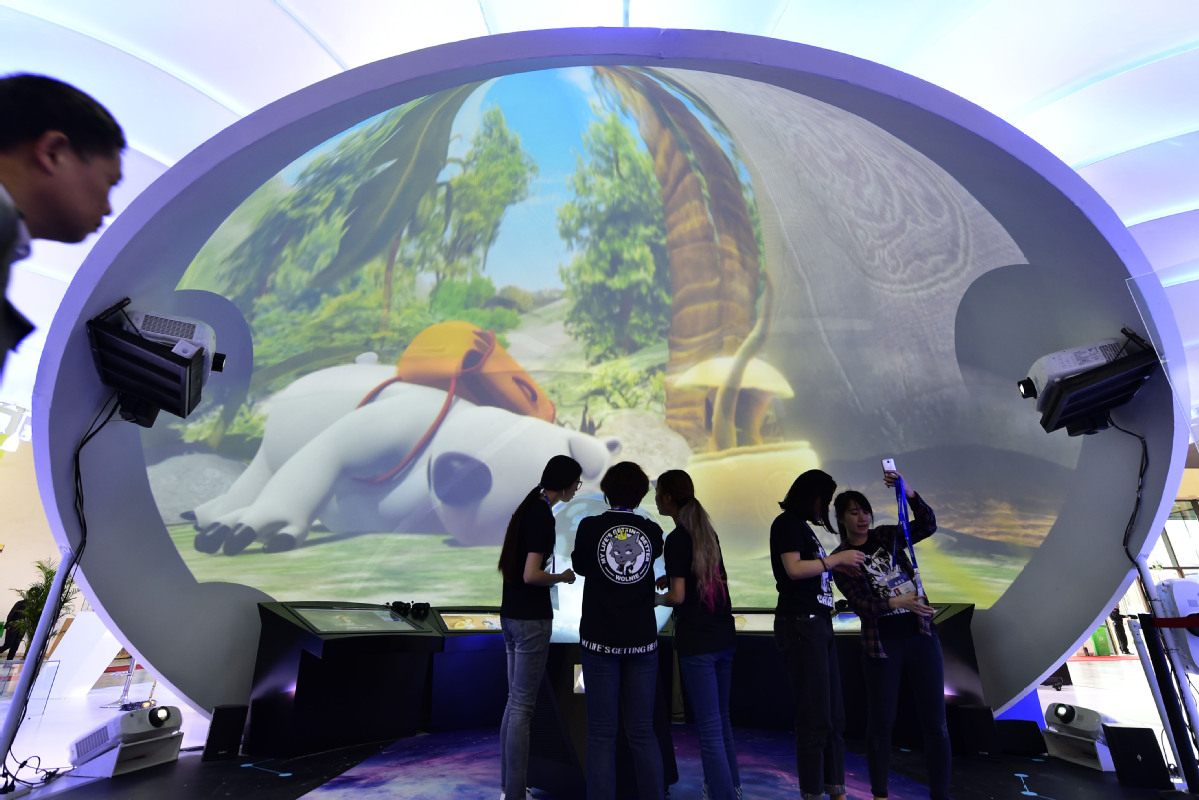 Young tech-savvy mobile users boosting demand for animation, comics, games
Animation, comics and games are gaining new momentum in China as the purchasing power of the tech-savvy younger generation grows.
High-definition smartphone screens, powerful processors, booming mobile internet technologies and multifunction software have made on-screen reading and video-watching enjoyable and convenient.
Figures from the China Internet Network Information Center back up this internet boom, showing that among the 772 million Chinese netizens, 97.5 percent are mobile phone users, which provides a larger base for the evolving ACG industry.
Lu Xiaoyin, chief operation officer of Perfect World Games, a Chinese movie and gaming company, said the younger generation, particularly those born in the period between 1995 and 2000, are not like their parents, and demand a different kind of entertainment content.
"Today, most game players are under 30," Lu said. "They usually pay close attention to the application of the latest technology. And they also have strong personalities and different hobbies."
According to Lu, the rising purchasing power of the younger generation offers ACG companies big potential for growth.
Perfect World launched a new mobile game last year targeting ACG users called Mengjianji, which made it to the top four most downloaded apps on Apple's iPhones.
Now the company wants to move forward, saying it will continue to innovate its key intellectual property rights-protected products to cater to the younger generation's diversified and personalized cultural needs. Its products will continue to span the genres of ACG, movies and TV dramas, it said.
Shenzhen-based consultancy firm CIConsulting said there were more than 300 million ACG fans by the end of 2016 and their passion would create a market worth 600 billion yuan ($90 billion) in China by 2020.
Dong Minna, an analyst at Beijing-based internet consultancy Analysys, said the whole industry chain surrounding ACG culture was at the early stage of development, and the market would enter a higher gear after three to five years.
"Those young groups usually have a high degree of loyalty to things they really like, such as the ACG culture. And they also will be picky about content and service offerings. However, once they select a specific ACG platform, they will be willing to pay for those they really love, such as playing related games or watching videos."
At the recent China International Cartoon and Game Expo in Shanghai, high-tech animation products attracted much attention.
Co-hosted by China's Ministry of Culture and Tourism and the Shanghai government, the expo attracted more than 350 companies from home and abroad.
A series of forums, designer shows and a special exhibition themed Belt and Road were held during the five-day event, which concluded on July 9.
The latest comic books, cartoons, video games, related tourism services and publishing, and interactive technology projects of technology were shown at the expo.
Equipped with the latest singing voice synthesizer technology, virtual idol Luo Tianyi has been "invited" to the expo to interact with visitors.
China's animation industry has grown steadily in recent years, with its gross output value in 2017 reaching more than 160 billion yuan.
"The animation industry has become one of the most vigorous and high potential industries among the cultural industries," said Zhang Xu, vice-minister of culture and tourism. "It is now playing an increasingly important role in our social and economic development," Zhang said.
Sun Xiangjuan, who used to work in animation, took her child to the expo.
"My kid loves painting, and I think these hobbies may actually make her a cartoonist in the future," Sun said. "As long as we guide our kids appropriately, cartoons can have positive effects on them."
Xinhua News Agency contributed to this story.