Hydropower plant shows off domestic expertise
Share - WeChat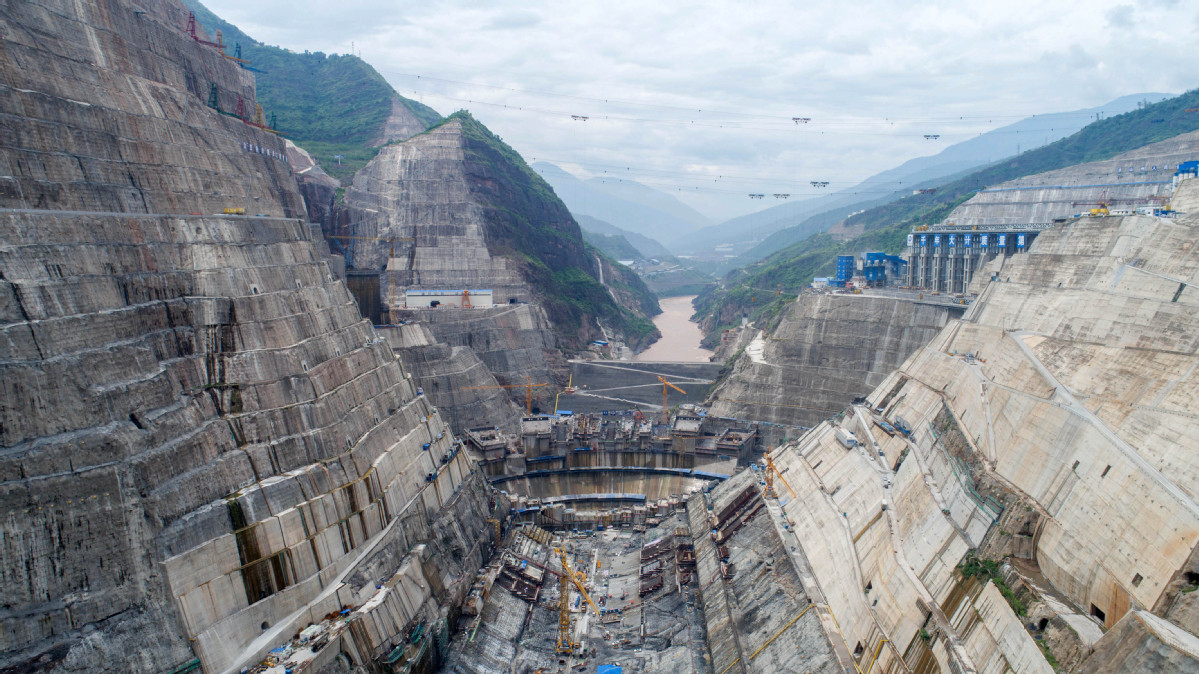 Baihetan station to improve nation's energy structure, boost construction and equipment know-how exports
The world's second-largest hydropower project using China's domestically made equipment will help the country export its construction and equipment know-how around the world, analysts said.
The Baihetan hydropower station is located on the Jinsha River, on the upper section of the Yangtze River straddling Sichuan and Yunnan provinces. It will use 16 turbines made by Chinese companies, each with a capacity of 1 gigawatts, according to Tu Yangwen, an official with China Three Gorges Corp, the project's contractor.
The Baihetan hydropower plant is expected to enter operation by 2021, and will be second only to the Three Gorges Dam in terms of total installed capacity, according to China Three Gorges Corp.
Baihetan is expected to generate more than 60 terawatt hours of electricity per year, around two-thirds of Beijing's consumption in 2015. Thermal power generating capacity of more than 62 tWh and 19.68 million metric tons of coal will be replaced every year after the hydropower station starts operation.
"China's wide-ranging know-how and experience when it comes to the construction of hydroelectric plants is second to none given the nation had already installed 313 gW by the end of 2017," said Joseph Jacobelli, a senior analyst of Asian utilities at Bloomberg.
"The country is also self-sufficient when it comes to the equipment for such plants thanks to its deep understanding of hydro plants, and it has already been successfully exporting its construction and equipment know-how abroad in recent years too, such as in sub-Saharan Africa."
Chinese companies' cost control abilities will also provide the country with an advantage in exploring clean energy markets abroad, as Chinese clean energy companies continue to expand their presence overseas, he added.
Domestic turbines are as good as those from overseas companies, according to China Three Gorges Corp. The company added the country's hydropower equipment has made great strides in recent years and become a strong competitor in the international market.
The Baihetan hydropower station, a major west-to-east electricity transmission project in China's resource-rich western region, will meet the power demand in Yunnan and Sichuan, while supplying power to the East China Power Grid, Central China Power Grid and China Southern Power Grid.
Wang Hao, an academician with the Chinese Academy of Engineering, said Baihetan dam's operation will substantially boost the share of hydropower in China's energy mix, as the country is rich in hydropower resources.
The Baihetan project will be an important direction for China's energy consumption in the future, as the country currently still relies on fossil energy, Wang said.
China has vowed to raise its installed capacity for hydropower to 380 gW by 2020, as it is a cheaper and cleaner alternative to coal, as part of efforts to phase out polluting fossil fuels.