Young people redefining their culture
Share - WeChat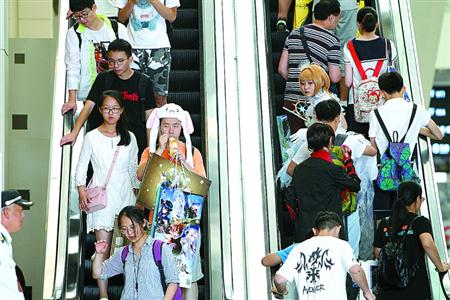 The 14th China International Cartoon and Game Expo ended on July 9 in Shanghai. Another famous game expo, China Joy, will open on Aug 3 in the same city, a metropolis breeding culture for young people with an inclusive and open attitude.
According to a research report, Shanghai is the main force for comic and animation exhibition, and the city ranks top in China for a number of exhibitions. Young people of the post-90s or post-00s generations are defining new Chinese culture with cosplay, live commenting and gufeng music, namely pop music with Chinese elements.
Cosplayers could be seen everywhere at the expo. Cosplay is a way to express love for characters in animation and games, and cosplayers pay tribute by making or buying their costumes, as well as using behavior, language and other expressions of the characters.
Though it was once stigmatized, cosplay is being accepted by more people. "Many years ago, if you dressed up as a cosplayer, you would receive strange or hostile stares," said one cosplayer at the expo. "But now, everyone has a high degree of tolerance and will not talk behind our backs. They all treat and understand young people's culture with kind attitudes."
An interesting phenomenon is that when asked about the most impressive animation, Yang Bolun, an animation fan from the post-00s generation, listed several Chinese animation works, like Aotu World and Assassin Wu Liuqi. The norm of Japanese and American animation dominating the domestic market is gradually changing.
"Chinese animation is not as childish as it used to be, and its plot is also more reasonable and more localized," Yang said. Yang and his classmates planned to buy products and souvenirs from Chinese animation at the China Joy exhibition, and hoped to see producers of the shows there.
Animation that is enjoyed by young men may find new means of expression for traditional culture. The rich traditional cultural resources in China are bound to provide endless inspiration for animation. Young audiences have great confidence in the future development of Chinese animation.
Most Popular